Australia's Response to Typhoon Yolanda
Typhoon Yolanda (international name Haiyan) struck the Philippines on 8 November 2013 as a Category 5 typhoon with wind gusts reportedly up to 275 km/hr. It has been reported as the most powerful typhoon to make landfall in history. The level of destruction caused by the typhoon has been described as comparable to the impact of the 2004 Indian Ocean Tsunami.
The UN has declared this a level 3 disaster, the highest level. The typhoon first hit Guiuan, Eastern Samar Province, in the early morning HOURS and made subsequent landfalls in Tolosa (south of Tacloban City), Leyte Province; Daanbantayan and Bantayan Island, Cebu Province; Conception, Iloilo Province; and Busuanga, Palawan Province. It left a wide path of destruction and debris in its wake, including damaged roads, fallen trees and debris that severely limited access to people in need immediately after the crisis. Over 12 million people have been affected and an estimated 4 million people have been displaced.
Rapid Disaster Response
On 9 November, within hours of Yolanda's landfall, Australia released A$390,500 worth of pre-positioned emergency relief supplies in affected areas through the Philippine Red Cross and the United Nations Population Fund. Two Australian disaster response specialists were deployed in advance of the Typhoon.
Australia's Foreign Minister Julie Bishop rapidly scaled up Australia's assistance to A$10 million on 11 November as the extent of the disaster became clearer. On 14 November, Australian Prime Minister Tony Abbott, announced a further A$20 milllion bringing Australia's total contribution to A$30 million.
With Australia's support, Australian NGOs – including World Vision, Care Australia, Oxfam, Caritas, Plan International and Save The Children – were able to provide emergency food, shelter, water and sanitation services to Samar, Eastern Samar, Leyte, Southern Leyte, Cebu and Negros Occidental.
Australian Government emergency response included deployment of defence assets including an C-17A Globemaster and a C-130J Hercules aircraft, and amphibous ship on humanitarian operation; and a two 37-member Australian Medical Assistance Team (AUSMAT), which established a 50-bed field hospital with surgical capability next to Tacloban Airport. The hospital operated 24/7 and treated hundreds of patients a day. The AUSMAT field hospital was designated as surgical hub in Tacloban. UK and Philippines Department of Health doctors and nurses also joined the Australian field hospital on 17 November. Philippine President Benigno S Aquino Jr visited the hospital on 17 November.
On 17-18 November, Australian Ambassador Bill Tweddell visited Tacloban and Cebu and met the head of the Filipino relief effort, General Roy Deveraturda, who said: "We will never forget the assistance from Australia." General Deveraturda has a Master's degree from the University of New South Wales in Australia.
On 26 November HMAS Tobruk arrived at Ormoc in support of 'Operation Philippines Assist'. More than 500 Australian Defence Forces (ADF) personnel were deployed to the Philippines in to assist in the clearing of debris and repair and reconstruction of schools in the Ormoc area. HMAS Tobruk has amphibous capability and assisted in the delivery of supplies to outlying islands and difficult to reach communities. In the early weeks of the operation, ADF evacuated more than 1,250 people, transported almost 200 officials into the disaster zone and provided 360 tonnes of emergency relief supplies.
Teams of Australian Disaster Victim Management specialist and DFAT humanitarian and consular experts were also deployed, working closely with Philippine officials.
DFAT handled calls from people in Australia seeking information about the Typhoon, and more than 2,000 Australians were confirmed as safe.


Overview of Australian Humanitarian Assistance
Australia is providing up to A$102 million (PhP4.08 billion) to support people and areas affected by Typhoon Haiyan. This contribution is helping the Government of the Philippines respond to immediate and life-saving needs of around 220,000 people; and support the recovery and rehabilitation of areas affected by the typhoon.
Disaster Response and Humanitarian Assistance
A total of up to A$41 million (PhP1.64 billion) was delivered through partners in the United Nations, Red Cross society, and international and local NGOs to meet emergency relief needs such as food, water, sanitation, health care, shelter, logistics and coordination support. Australians were also among the first international personnel to arrive in the worst affected areas.
A$3.4 million for the deployment of two 37-personnel team Australian Medical Assistance Team, serving as the surgical hub for Tacloban City
A$19.250 million for the United Nations Action Plan. Key priorities for the Action Plan are: immediate water, sanitation and hygiene; essential health services; nutrition services for children and mothers; food; emergency shelter and non-food items and logistics support. This was delivered through the following agencies:

A$7 million to the United Nation Children's Fund
A$1 million to the United Nations Office for Coordination of Humanitarian Affairs
A$1.25 million to the United Nations Population Fund
A$5 million to the World Food Programme
A$5 million to the World Health Organization

A$7 million for Red Cross society contributing to their appeals to provide essential support in food and non-food items, sanitation, emergency shelter, health and early recovery needs:

A$3 million to the Australian Red Cross; and
A$4 million for the International Committee of the Red Cross.

A$600,000 for the deployment of Australian Federal Police Disaster Victim Management Specialists and equipment, and DFAT humanitarian and consular experts
A$5 million for Australian NGOs to provide early medical, shelter and livelihood assistance for typhoon affected families and communities
A$3.75 million for Philippine non-government partners to provide psychosocial support, assistance to people with disabilities and other vulnerable groups, and shelter assistance
A$500,000 for Community and Family Services International
A$250,000 for Handicap International

A$1.5 million for Catholic Relief Services
o AUD 1 million for Gawad Kalinga
o AUD 500,000 for Philippine Red Cross
A$1 million for emergency relief stores, including sleeping mats, tents, water containers, mosquito nets, and health and hygiene kits
A$390,500 worth of prepositioned stores of non-food items including:

A$342,500 worth of non-food items such as sleeping mats, blankets, mosquito nets, water containers and hygiene kits with the Philippine Red Cross; and
A$48,000 worth of health kits for women with the United Nations Population Fund

A$65,000 worth of gifted medical consumables and pharmaceuticals from the departing AUSMAT field hospital to the Philippines Department of Health
A$50,000 for the ASEAN Coordinating Centre for Humanitarian Affairs (AHA Centre) to support the deployment of operational staff to coordinate international assistance from ASEAN nations
Deployed three (3) Australian UNDAC members to assist with the coordination of incoming international humanitarian assistance and in conducting and collating needs assessments
Deployed 16 people from the humanitarian specialists from the RedR register
Deployed 12 DFAT Rapid Response Team members and 7 DFAT surge support staff from Canberra and Indonesia Post to Manila Post and to the field and 46 RRT members to operate the Canberra Humanitarian Crisis Centre to assist with implementing the Australian response
Deployed two (2) 2 Australian disaster recovery specialists from the Australian Civilian Corps: one provided national-level advisory support to the Philippines' National Economic Development Authority in planning and drafting the Reconstruction Assistance on Yolanda Plan, and one assisting the United Nations Development Programme and the Manila Post with early recovery coordination and planning
Australia's support also included the deployment of military and police assets valued at AUD 30 million (PhP 1.2 billion), specifically:
An amphibious landing ship, HMAS Tobruk, carrying several amphibious watercraft and helicopter which delivered 110 tonnes of relief supplies to outlying islands;
Two C17 and three C130 aircrafts reinforced the aviation hub in Mactan Cebu with 90 personnel deployed which conducted 250 air operations, and transported 3 million pounds of cargo and over 5,000 displaced people and humanitarian workers;
Over 550 Australian Defence personnel deployed across Ormoc, Mactan, Tacloban and Manila under Operation Philippines Assist, which undertook debris clearing and repair of 175 classrooms allowing 15,500 children to return to school; and
Australian Federal Police disaster victim management specialists and equipment and training of Philippine counterparts
Support to Recovery and Rehabilitation
A$31 million (PhP 1.24 billion) is committed to support recovery and rehabilitation efforts of the Government of the Philippines in areas affected by Typhoon Haiyan. This assistance is aligned with the Reconstruction Assistance for Yolanda, and being delivered through existing programs and partnerships of the Australian Government in the Philippines
A$20 million for construction of up to 500 classrooms in areas affected by Typhoon Haiyan through the Basic Education Support Transformation Program with the Department of Education
A$3 million for construction of up to 75 classrooms and day care centres through the National Community Driven Development Program with the Department of Social Welfare and Development
A$4 million in community small grants to help approximately 570,000 people restore livelihoods through the Philippine-Australia Community Assistance Program
A$3 million to help affected communities build back better through risk assessments, updated land use planning and building codes, early warning systems and emergency response teams initially in Tacloban City and five other affected municipalities through Climate Change Commission and UNDP
A$1 million for replenishment of pre-positioned stocks of dignity kits, rice and high energy biscuits with WFP and UNFPA
Chronology of Announcements
Emergency Response and Humanitarian Assistance
9 November 2013 - Foreign Minister Julie Bishop approved the deployment of A$390,500 worth of emergency relief supplies to assist people devastated by Typhoon Haiyan
11 November 2013 - Foreign Minister announced A$10 million assistance
14 November 2013 – Foreign Minister announced an additional A$20 million
8 December 2013 - Foreign Minister announced an additional A$10 million assistance
Recovery and Rehabilitation Support
21 February 2014 – Foreign Minister announced A$20 million assistance through the Basic Education Sector Transformation (BEST) Program
25 March 2014 – Ambassador announced additional A$10 million assistance for for recovery and reconstruction activities
Typhoon Yolanda News
Australia provides further assistance to communities affected by Super Typhoon Yolanda
Australian Ambassador to the Philippines Bill Tweddell today announced an additional Php403 million (A$10 million) to assist local governments and communities affected by Super Typhoon Yolanda in November 2013.
"On behalf of the Australian Government and people, I am pleased to announce that Australia will provide a further contribution for recovery and reconstruction activities in areas devastated by Super Typhoon Yolanda" Ambassador Tweddell said. [More...]

Australian Defence Force completes Yolanda recovery operation
Australian Defence Force (ADF) personnel have completed their recovery assistance mission in the Philippines and will return to Australia later this week.
The ADF recovery mission to areas severely affected by Super Typhoon Yolanda (international name: Haiyan) officially ended today (16 December) at a ceremony in Ormoc, Philippines, attended by Australian Department of Foreign Affairs officers, Australian Army officers and local officials including the Mayor, Mr Edward C. Codilla [More...]

Australian Soldiers and sailors help kids go back to school in Ormoc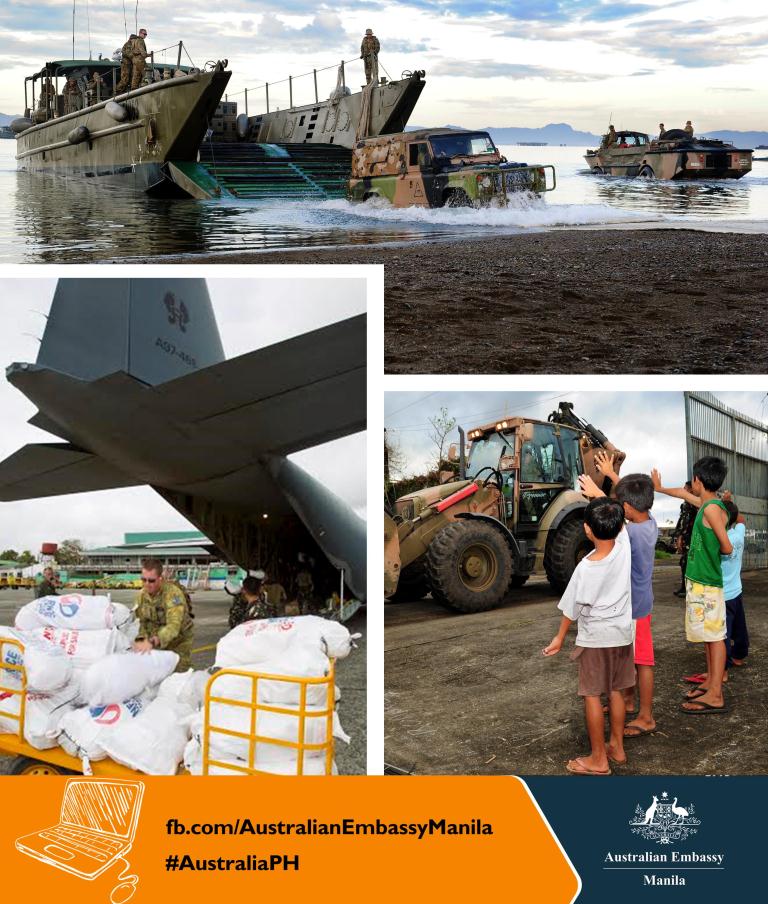 Australian Defence Force engineers and sailors working in Ormoc as part of a 'Recovery Support Force' have focused their clean-up efforts on local schools, helping more than 14,500 students return to classes at 13 schools since school started back on December 2nd.
Since arriving at San Antonio beach from Australian amphibious ship 'Tobruk' on November 27th, the Australian troops have been busy, cleaning up the schools in partnership with the Australian Government and Philippines Department of Education.
The troops' efforts over the past 12 days have repaired 175 classrooms, removing over 850 cubic metres of debris and recycling which filled 185 truckloads. [More...]

Australia boosts Typhoon Haiyan assistance
Minister for Foreign Affairs, the Hon Julie Bishop MP, announced on Sunday, 08 December 2013, an additional AU$10 million to Australia's humanitarian response in the Philippines, bringing Australia's total contribution to AU$40 million. [More...]
Foreign Minister Julie Bishop updates the House of Representatives on Australian Government Response to Typhoon Haiyan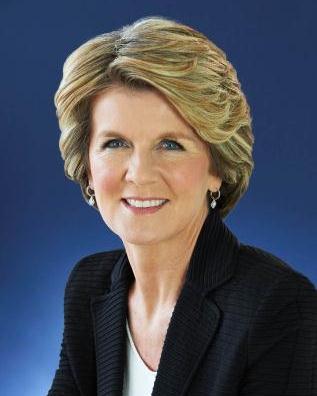 "The Philippines is a wonderful nation with many challenges on its hands. It did not need the extra challenge of this worst ever landfall typhoon that they had to experience in recent weeks. A terrible crisis, a terrible tragedy often takes the world's attention and then we move on very quickly. The world moves on because there is so much to grab our attention. But we need to remain focused on the victims of Typhoon Haiyan and, as we said yesterday at the community day, they will always remain in our thoughts, and our actions and support will always be with them." [More...]
Australia delivers on shelter for those most in need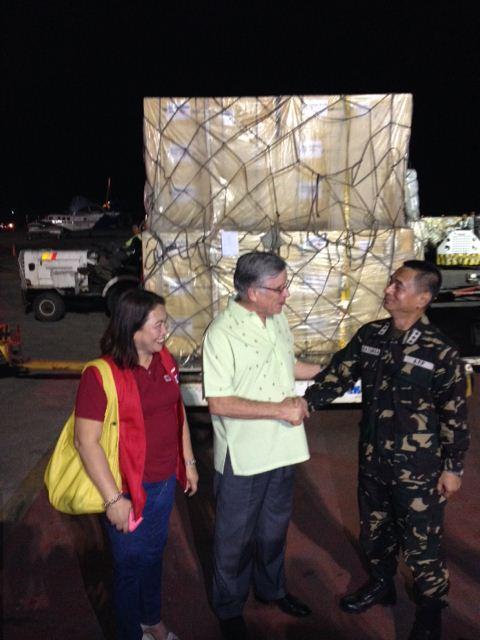 The Australian Ambassador to the Philippines Bill Tweddell has handed over 1,000 family tents to the Department of Social Welfare and Development during his second visit in a fortnight to the Typhoon affected area.
Ambassador Tweddell visited Cebu City to inspect the progress of the Australian response to Typhoon Yolanda.
The United Nations estimate that 1.1 million houses were damaged in the Typhoon.

"Food, water, and the health of people affected by Typhoon Yolanda remain pressing priorities, but the initial focus in those areas is giving way to one of the other priority areas for the Philippine Government: Shelter," Mr Tweddell said. [More...]
First Australian medical team departs Tacloban, second team arrives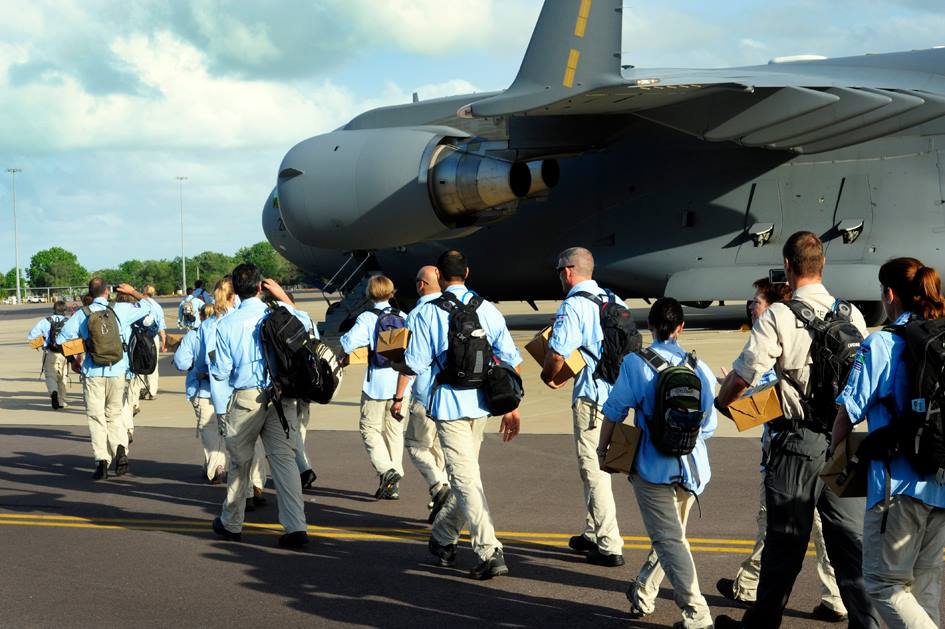 The Australian medical team which has been providing life-saving surgery to victims of Typhoon Yolanda will depart Tacloban today. There will be a seamless transition to a second Australian medical team which arrives tomorrow.
Australia's Ambassador to the Philippines Bill Tweddell paid tribute to the teams' work, saying it was a fine example of Australian-Filipino cooperation.
"The 37-member Australian medical team treated 1400 patients and operated on 137 people over ten days in Tacloban, often with the assistance of Filipino medical staff," Mr Tweddell said. [More...]

Australia deploys field hospital as surgical hub, evacuates over 1,000 from Tacloban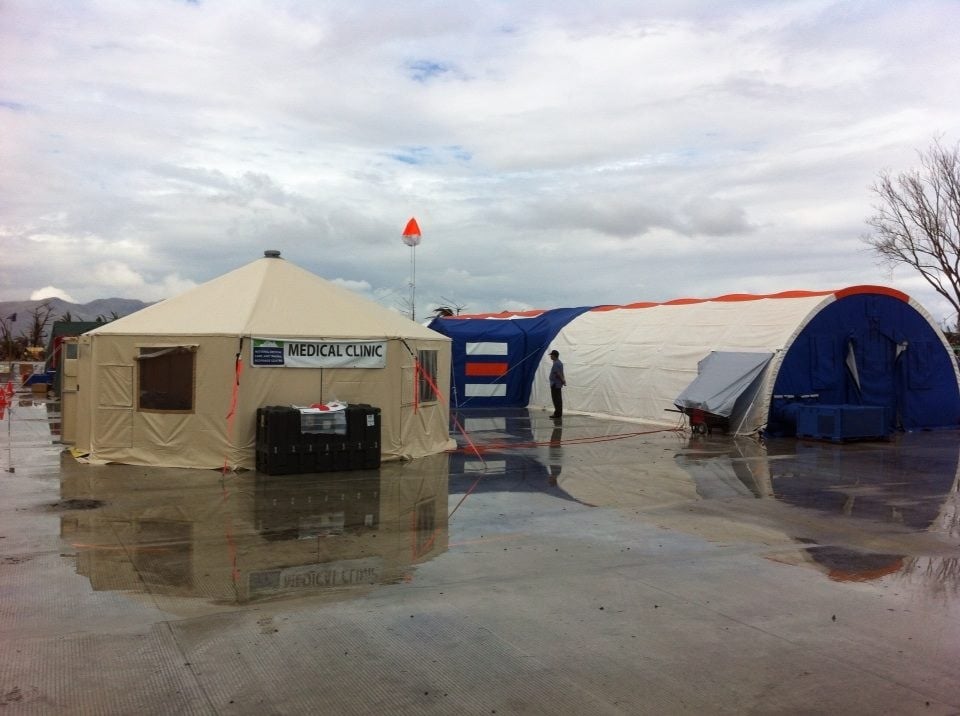 Australian Ambassador Bill Tweddell personally inspected over the weekend Australian relief operations around Cebu and Leyte, just as the Australian Medical Assistance Team (AusMAT) quickly set up a 50-bed field hospital that is now functioning as the surgical hub in Tacloban. The city bore the brunt of devastation from Typhoon Yolanda (international name: Haiyan). The field hospital is equipped with an X-ray facility, two operating theatres, five triage outpatient tents, and medical supplies to treat up to 4,000 patients and perform up to 200 operations. [More...]
Civilian and Defence Force teams deployed by Australia for Yolanda relief operations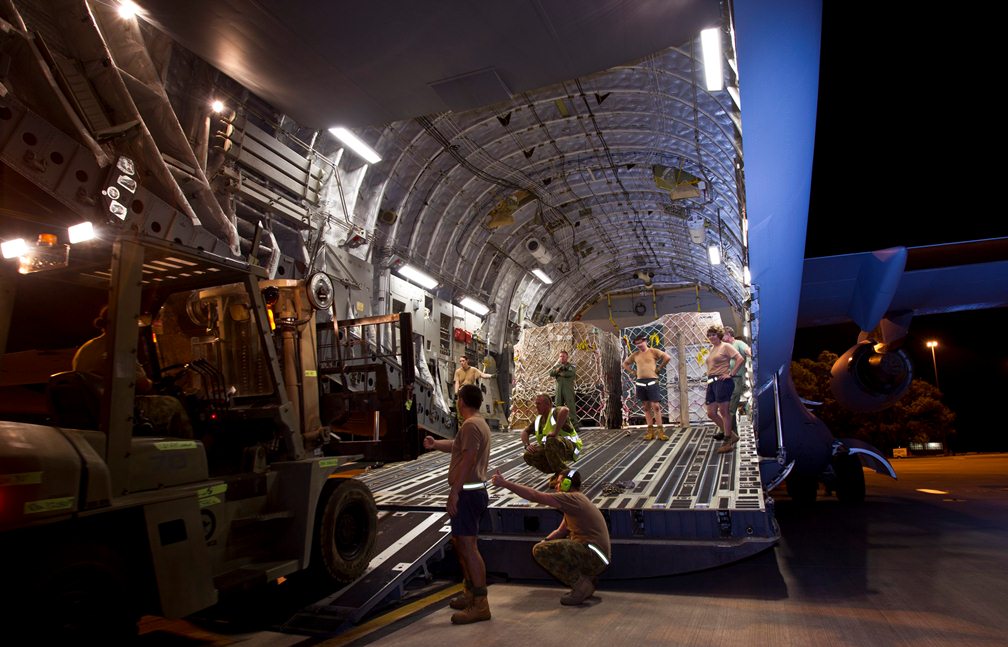 An Australian Medical Assistance Team (AusMAT) -- composed of eight doctors, 19 nurses, and seven logisticians, environmental health specialists and pharmacists -- has been treating survivors at the Tacloban airport, but is now setting up a deployable 50-bed hospital capable of treating up to 4,000 people and perform up to 200 operations. Like the rest of the Australian relief assets, the AusMAT is self-contained and brings with them much needed equipment and supplies to carry out their operations. The AusMAT arrived on an ADF C17 flight from Darwin, Australia on Wednesday. [More...]
Australia increases assistance to victims of Typhoon Yolanda to PHP1.2 Billion
Australian Prime Minister Tony Abbott has announced the Australian Government is increasing its contribution to the recovery effort for the devastation caused by Typhoon Yolanda (Haiyan) to PHP1.2 billion (A$30 million). The announcement of the additional PHP820 million (A$20 million) comes on the back of Australia's immediate response of PHP15.5 million (A$390,500), announced by Australia's Foreign Minister Julie Bishop, which she rapidly increased to PHP410 million (A$10 million) as reports of the devastation started to filter through. [More...]
Statement of Prime Minister Tony Abbott on additional assistance for Typhoon Haiyan
Australia provides further assistance to victims of Typhoon Yolanda
Statement from Prime Minister Tony Abbott on Typhoon Haiyan
Australia responds to urgent relief needs for victims of Typhoon Yolanda
Australia's Statement on Typhoon Yolanda
---