PHILIPPINES-AUSTRALIA FRIENDSHIP DAY - 22 MAY
Philippine Presidential Proclamation No 1282, Series 2016 declared 22 May 2016 and each year after as Philippines-Australia Friendship Day.
We intend to bring the celebration to a different city each year. In 2019, we headed to Cebu.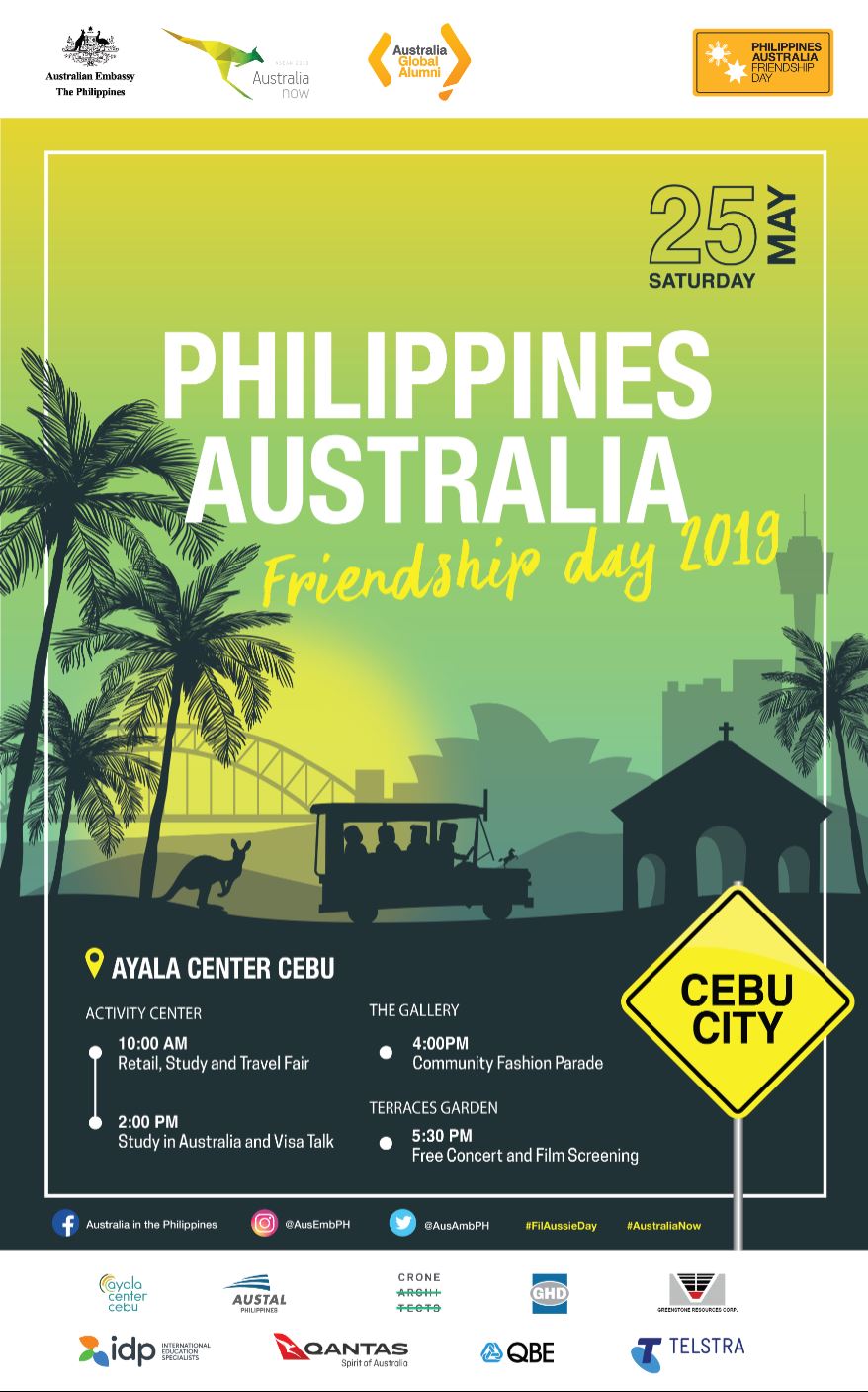 2018: Philippines -Australia Friendship Week in Davao
The City Government of Davao declared 21 to 27 May 2018 as Philippines-Australia Friendship Week in Davao, in recognition of the enduring friendship between our countries.
The week-long celebration opened on 21 May in Davao City Hall with a proclamation of Philippines-Australia Friendship Week, and will culminate in a three-day festival and concert at SM Lanang Premier on the weekend of 25-27 May. The weekend festival at SM Lanang Premier will feature booths by Australia-educated entrepreneurs; booths from Australian universities; and a visa information session led by the Embassy's Chief Immigration Officer. As part of the celebration, shoppers at SM Lanang Premier and SM City Ecoland will get a chance to win tickets for two to Australia via Qantas. The highlight of the Philippines Australia Friendship Week is a concert on Saturday, 26 May at 6:00 PM at SM Lanang Premier. The concert will feature Indigenous Australian didgeridoo artist Jeremy Donovan; legendary singer Pilita Corrales, and Davao's young acts making a splash in the international music scene - indie band Thea and beatboxer Neil Llanes.
In the News
2017: Inaugural Philippines-Australia Friendship Day in Manila (Bonifacio Global City)
The Australian Embassy and the Australia Global Alumni in the Philippines marked the first official Philippines – Australia Friendship Day with an outdoor festival on Saturday, 20 May at the Bonifacio High Street Amphitheater.
Inspired by Australia's lively outdoor lifestyle, the festival will feature a free film screening and concert, a food and fashion fair, kid's games and a traditional Aussie sausage sizzle hosted by alumni and volunteers.
The award-winning Australian family film Paper Planes will screen in the afternoon, followed by a fun paper plane making competition. To cap off the festival, Australian sax duo Half Sound with Erick Calilan and Tusa Montes, Indie Alternative band Oh! Flamingo and Filipino rock icons Razorback will perform. Read more here.