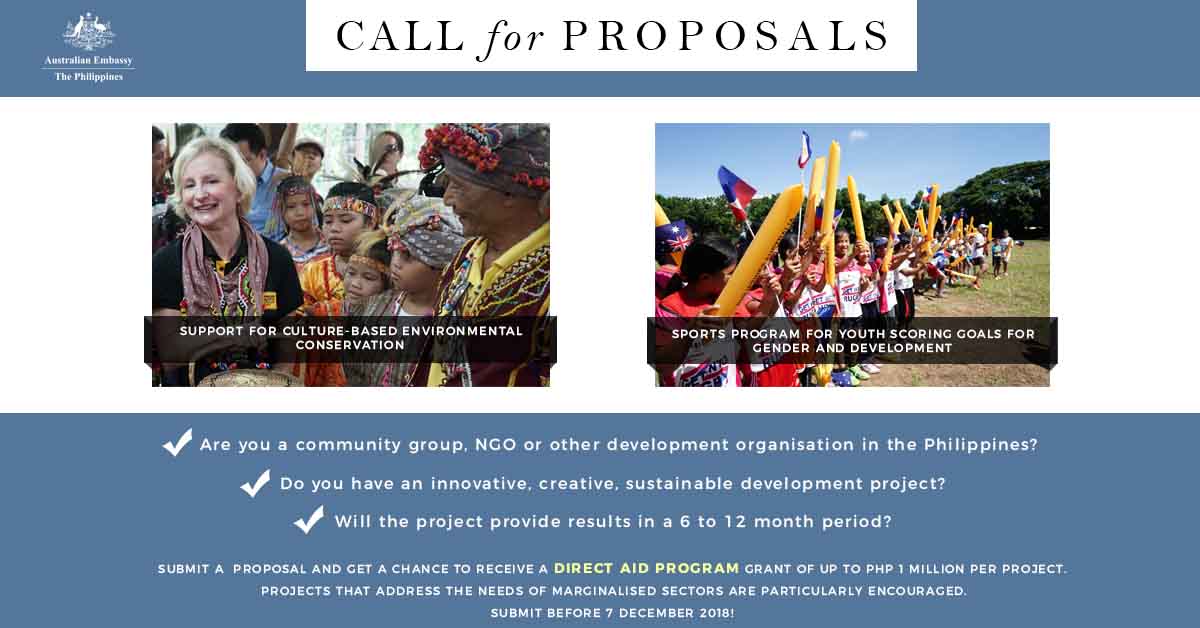 2018 Direct Aid Program (DAP) Call for Proposals
The Direct Aid Program is a flexible small grants scheme funded by the Australian Government and administered by the Australian Embassy in the Philippines. The Embassy is pleased to announce a call for proposals for DAP for the 2018-2019 financial year.
Eligibility for Funding
Community groups, NGOs, and other organisations engaged in development work in the Philippines that are primarily managed by Filipinos and registered with the Securities Exchange Commission (SEC), the Cooperative Development Authority (CDA), or the Department of Labor and Employment (DOLE), are welcome to apply.
Consistent with the Australian Government's Smartraveller advice for the Philippines, DAP will not fund activities in locations listed as "do not travel" or "reconsider your need to travel" (click here for relevant Smartraveller advice).
Amount and Timeline
Under the program, grants are provided to projects that can demonstrate direct benefits to local communities. Grants of up to PhP1 million per approved project will be provided with a 6-12 months implementation period. Approved projects are expected to commence implementation immediately.
Priorities for Assistance
DAP encourages activities that address the needs of marginalised sectors including disadvantaged children; women and girls; indigenous peoples; persons with disability; the youth, LGBT community, poor farmers and fisher folks, remote rural communities and the urban poor.
DAP also encourages projects that address cross-sectoral needs and those that meet multi-sectoral objectives.
DAP will prioritise the following initiatives/projects for assistance:
· child protection
· promotion and protection of the rights of women and girls
· sustainable livelihoods and income generation, especially promoting women's economic empowerment
· community-based development facilities (e.g., water and sanitation systems, learning/training centres)
· environmental projects (potentially with health and income-generating outcomes).
· sports diplomacy
· disaster risk-reduction initiatives
Assessment Criteria
Successful proposals must meet the following criteria:
· have a development focus and benefit the local community. Priority is given to innovative and creative projects that might act as catalyst for further development in the community;
· directly meet specific needs of disadvantaged and marginalised groups;
· have tangible results by the end of the implementation period;
· there is a commitment on the part of the local community to implement the activities and sustain them;
· provides substantial counterpart contributions, such as the resources of the proponent and the community either in the form of labour, technical support, administrative cost, materials, existing assets or cash. There should be evidence of capacity to sustain recurrent costs associated with the project;
· appropriate institutional support arrangements are in place through the proponent organisation, local government and/or the local community; and
· integrate gender, child protection, social inclusion and environmentally sound practices in project implementation.
Submission Details
Please submit proposals following the prescribed format (click to download) via email, postal mail or courier no later than 5 December 2018 to:
The Secretariat
Direct Aid Program (DAP) Manila
Australian Embassy in the Philippines
Level 23 Tower 2 RCBC Plaza
6819 Ayala Avenue, Makati City
Email: DAP.Manila@dfat.gov.au
files should not be more than 5MB to guarantee receipt
Please note that DAP will notify applicants of the outcome of the call for proposals but will not provide feedback on individual applications. DAP will only contact shortlisted organisations for further information, if necessary.