Civilian and Defence Force teams deployed by Australia for Yolanda relief operations
15 November 2013
A combination of civilian and Australian Defence Force (ADF) assets that have been deployed by the Australian Government to Central Visayas are currently working with local and international teams in massive relief and recovery operations following the devastation of Typhoon Yolanda (international name: Haiyan).
An Australian Medical Assistance Team (AusMAT) -- composed of eight doctors, 19 nurses, and seven logisticians, environmental health specialists and pharmacists -- has been treating survivors at the Tacloban airport, but is now setting up a deployable 50-bed hospital capable of treating up to 4,000 people and perform up to 200 operations. Like the rest of the Australian relief assets, the AusMAT is self-contained and brings with them much needed equipment and supplies to carry out their operations. The AusMAT arrived on an ADF C17 flight from Darwin, Australia on Wednesday.
The ADF also has a Royal Australian Air Force (RAAF) C-130J Hercules that has been ferrying international medical teams, supplies and survivors between Tacloban and Cebu. If required, a second C-130 and another C-17A Globemaster are ready to deploy to the Philippines.
The Royal Australian Navy ship HMAS Tobruk, is also scheduled to arrive in Central Visayas. HMAS Tobruk is a Landing Ship Heavy (LSH) with amphibious heavy lift capability, on-board accommodation, and the ability to support helicopter and landing craft operations.
The relief teams on the ground are part of the PHP1.2 Billion (A$30 Million) of humanitarian assistance that the Australian Government has provided for recovery efforts in the Philippines.
Australia's contribution includes:
• PHP 530 million (A$13 million) to the United Nations Flash Appeal;
• PHP 530 million (A$13 million) to be provided through Australian non-government organisations and their partners on the ground for immediate life-saving assistance;
• PHP 82 million (A$2 million) for the urgent deployment of an AusMAT;
• PHP 41 million (A$1 million) for non-food items such as tarpaulins, sleeping mats, mosquito nets, water containers and health and hygiene kits to assist families affected by this disaster; and
• PHP 41 million (A$1 million) to be provided to the Australian Federal Police to provide disaster management specialists.
Australian Ambassador Bill Tweddell said the Australian Government stands ready to provide further assistance, if and when required.
"We are greatly concerned by the suffering that our friends in the Philippines are experiencing. The Australian Government is here to assist in whatever way we can to help families and individuals start the process of recovery."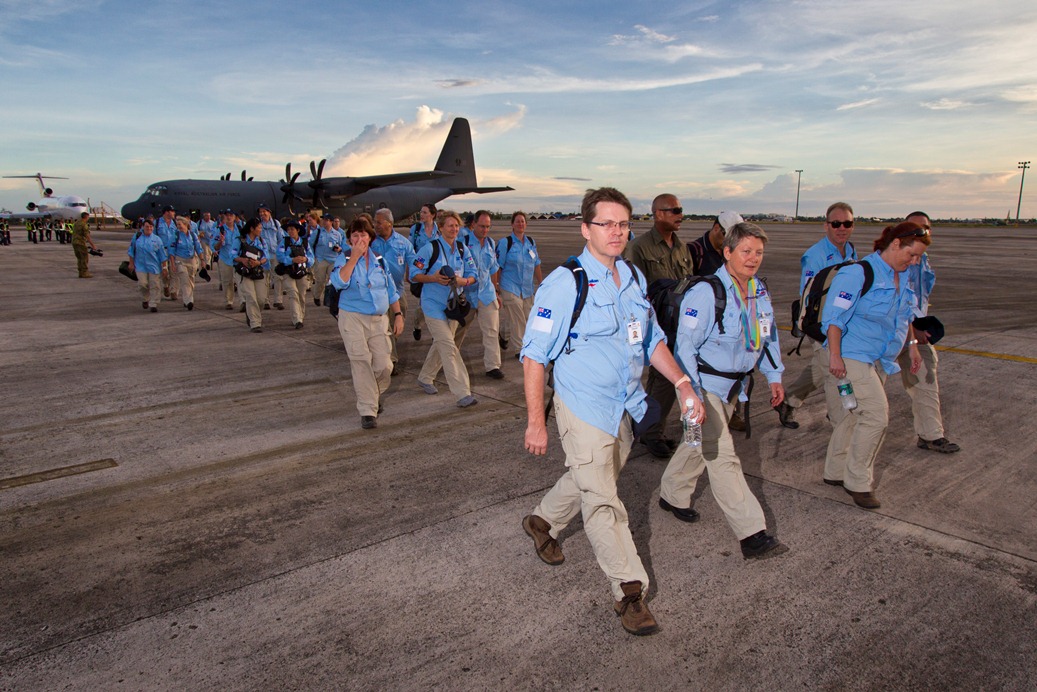 AusMAT members disembark from the RAAF C-130J Hercules on arrival at Mactan-Cebu, 13 November. (Photo: CPL Glen McCarthy © Commonwealth of Australia, Department of Defence)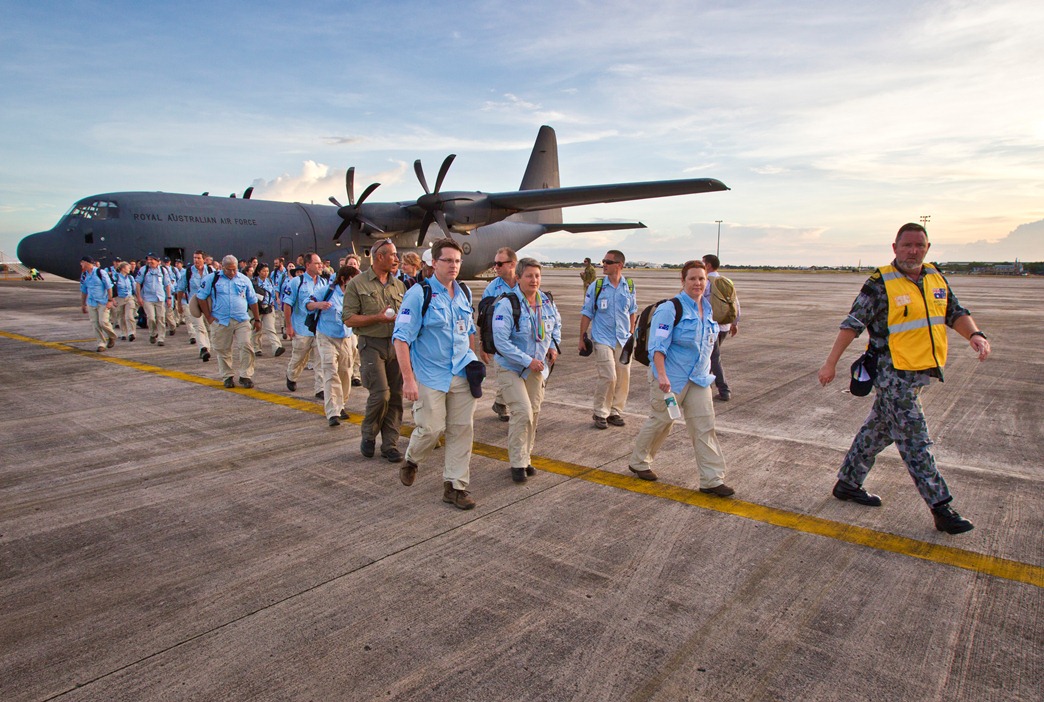 AusMAT members disembark from the RAAF C-130J Hercules on arrival at Mactan-Cebu, 13 November. (Photo: CPL Glen McCarthy © Commonwealth of Australia, Department of Defence)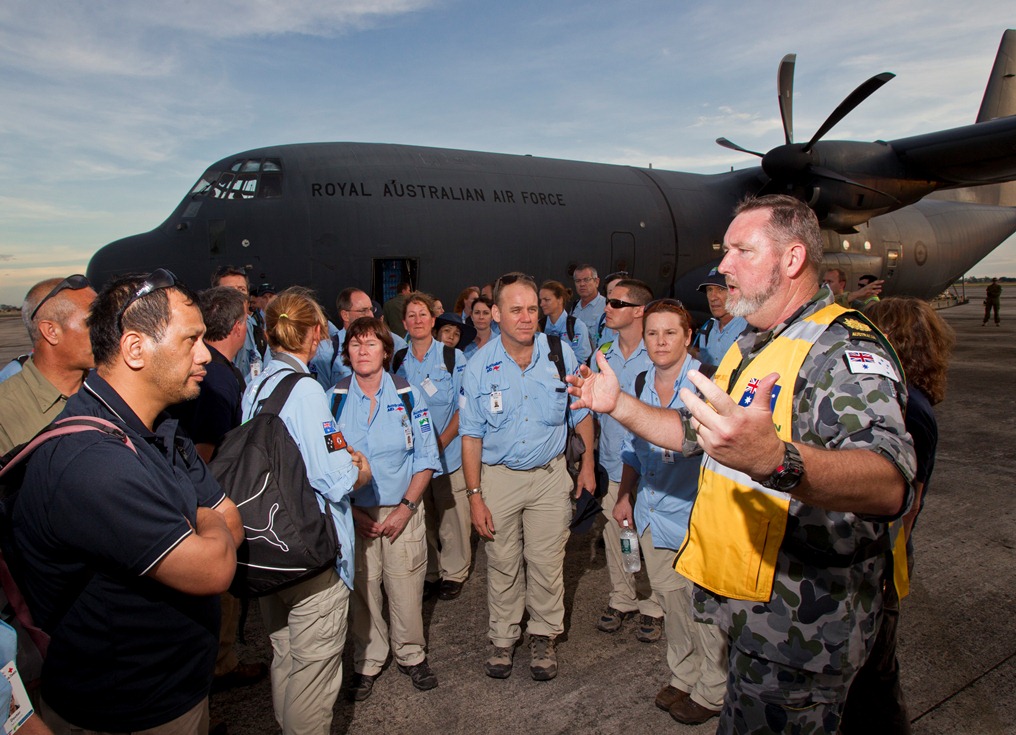 Once disembarked from the RAAF C-130J Hercules, Australian Official, Navy Warrant Officer Chuck Connors of the Australian Embassy(right), welcomes the civilian AusMAT on their arrival at Mactan-Cebu. (Photo: CPL Glen McCarthy ©Commonwealth of Australia, Department of Defence)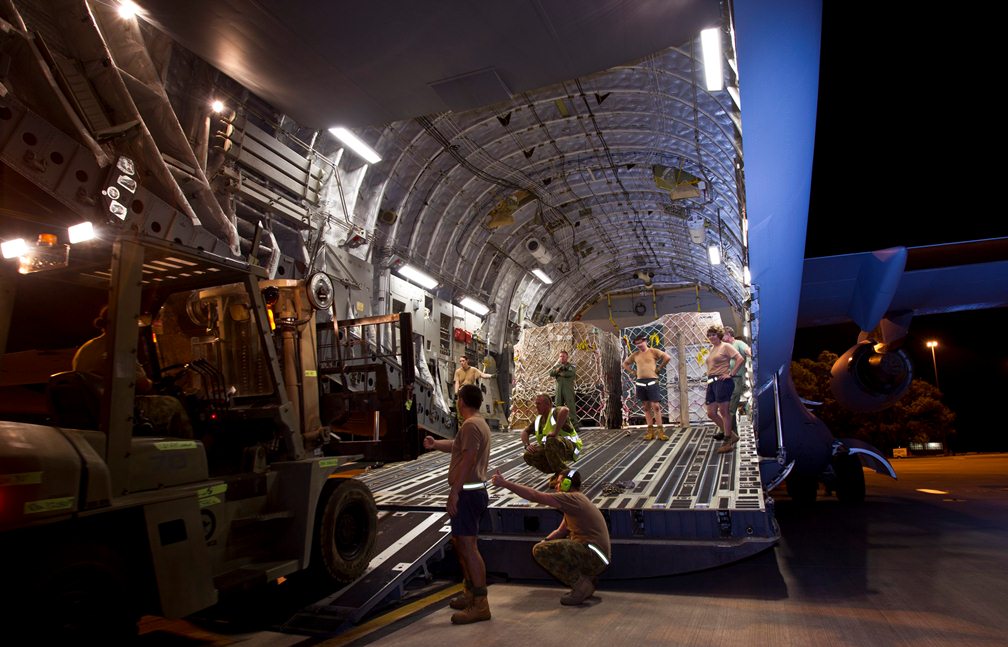 Members of No. 1 Airfield Operational Support Squadron Darwin load a forklift last Tuesday into the cargo hold of a Philippines bound No.36 Squadron C-17A Globemaster that arrived on 13 November 2013. The forklift was used to unload supplies upon arrival in the Philippines. (Photo: CPL Glen McCarthy ©Commonwealth of Australia, Department of Defence)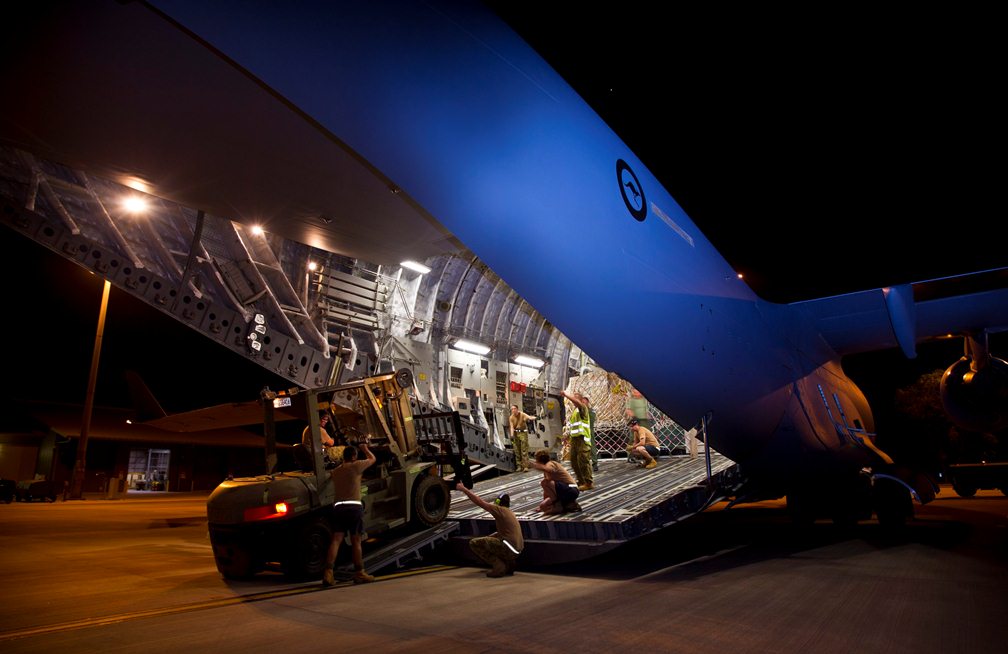 Members of No. 1 Airfield Operational Support Squadron Darwin load a forklift last Tuesday into the cargo hold of a Philippines bound No.36 Squadron C-17A Globemaster that arrived on 13 November 2013. The forklift was used to unload supplies upon arrival in the Philippines. (Photo: CPL Glen McCarthy ©Commonwealth of Australia, Department of Defence)
The following stock images of HMAS Tobruk are courtesy of the Australian Defence Image Library (http://images.defence.gov.au/)
(Photos: LAC David Cotton ©Commonwealth of Australia, Department of Defence)