AUSTRALIAN EMBASSY AWARDS OUTSTANDING FILIPINO ALUMNI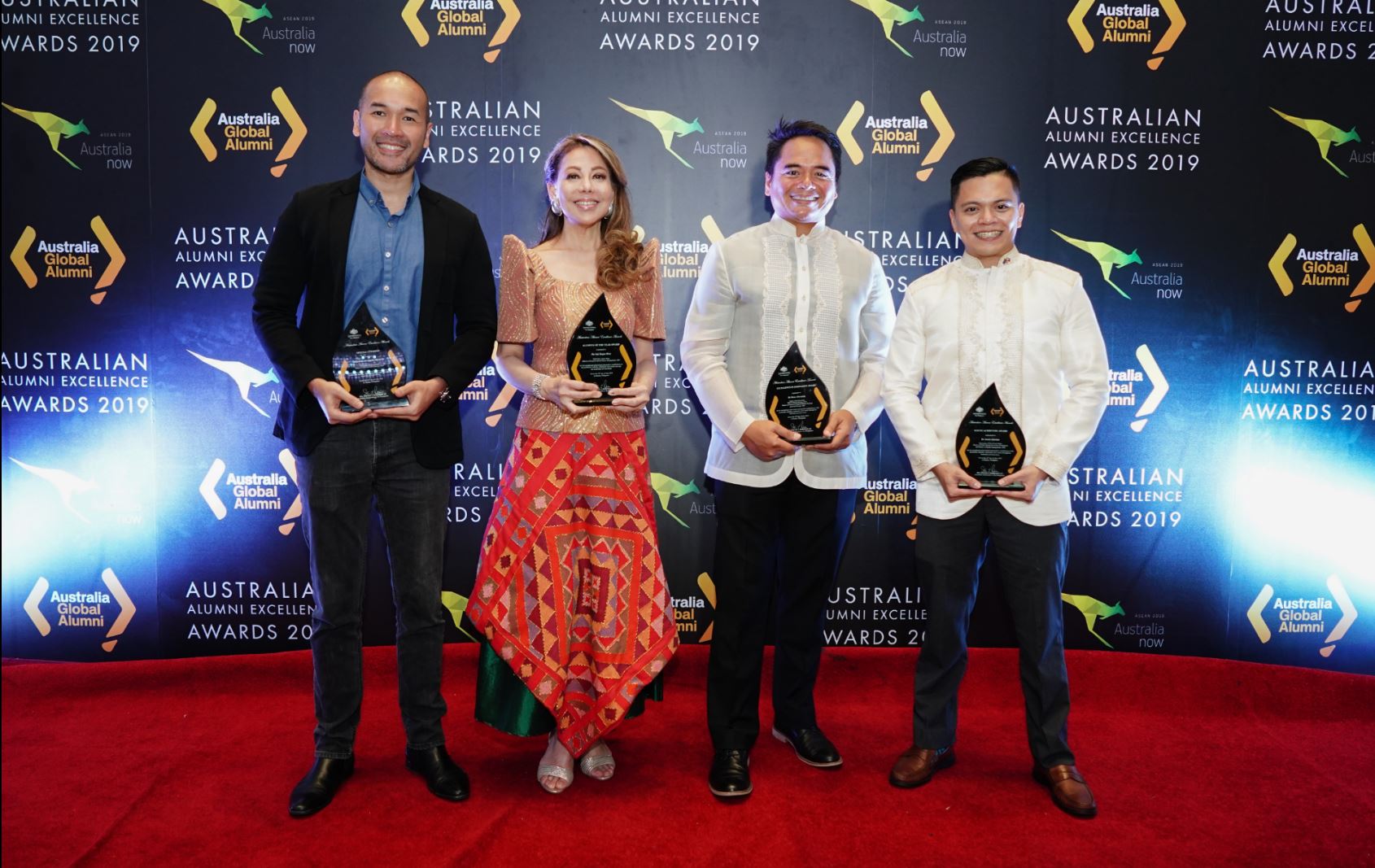 Photo from left: Prof. Abelardo Apollo David, Jr. Special Citation recipient; Ms. Joji Ilagan-Bian 2019 Alumnus of the Year; Dr Rene Abesamis, Excellence in Innovation Award; and Dr Jason Alacapa, Young Achievers Award.
The Australian Embassy celebrated the exceptional achievements of Australian-educated Filipinos at the 2019 Australian Alumni Excellence Awards. The annual awards night was held at the historic The Manila Hotel, site of the first Australian Consulate-General in the Philippines.
Australian Ambassador to the Philippines Steven J. Robinson AO said, "Our alumni are excelling in diverse fields, in the Philippines and on the global stage. Our annual Australian Alumni Excellence Awards highlight the contribution alumni make to our two countries. Last year, we honoured the General Benjamin Madrigal, who went on to become the Armed Forces of the Philippines Chief of Staff. This year's awardees are equally inspiring and are making significant contributions to the Philippines."
Among the 15 finalists, four were honoured with the Alumni of the Year Award, the Excellence in Innovation Award, the Young Achiever's Award and the Special Citation for their achievements:
· Ms. Joji Ilagan-Bian is the 2019 Alumni of the Year awardee, for her significant contribution to the Technical and Vocational Education Training (TVET) sector in Mindanao. She established foundations and schools in Davao City, including the first international school in Mindanao that allows students to earn globally-recognised certifications. Her initiatives helped create a favourable business and investment climate in Davao City. She pursues strong collaboration between the TVET sectors of Australia and Mindanao, which includes sending Mindanao-based TVET leaders to Australia for enterprise-based training and benchmarking. Joji completed a short course on Enterprise-based management and Tech-Voc Education Business Planning at the Technical and Further Education (TAFE) New South Wales.
· Dr. Rene Abesamis has been awarded the Excellence in Innovation Award for his contributions to Philippine and global marine science. His work focused on how marine protected areas can help restore coral reef biodiversity and productivity. Recently, he led multidisciplinary research on fish larval dispersal, involving top Filipino and international scientists. This cutting-edge research, which combines genetic analysis and computer modelling, aims to help reverse decades of decline in fisheries and biodiversity in the Philippines, and even mitigate the impact of climate change. Dr. Abesamis received his Masters in Tropical Marine Ecology and Fish Biology and PhD in Marine Biology from James Cook University.
· Dr. Jason Alacapa is the winner of the Young Achievers Award. He currently leads the implementation of innovative health systems for the World Health Organisation STOP TB Partnership. The project adopts a sustainable social enterprise hub-and-spoke model in public health in the Philippines. Dr. Alacapa completed his Master of Public Health in Economic Evaluation and Master of Health Management at the University of New South Wales.
· Prof. Abelardo Apollo David, Jr. received a Special Citation award for his contribution in empowering persons with disabilities (PWDs) and children with special needs. He established Living Learning Centers in key Philippine cities – the largest private school for children with special needs. He also formed the Rehabilitation and Empowerment of Adults and Children with Handicap (REACH) Foundation, Inc., which provides underprivileged families access to a network of health and education services. Dr. David received his Master of Occupational Therapy (Contemporary Practice) from the University of Queensland.
Each year, close to 13,000 Filipinos choose to study or train at Australia's world-class institutions. Distinguished Australia Global Alumni include Cabinet Secretaries and other high-level government officials; scientists and esteemed members of the academe who are pioneers in their fields of study; and business people and entrepreneurs who are innovating and creating economic opportunities.
To learn more, visit: www.philippines.embassy.gov.au, follow @AusAmbPH on Twitter and Australia in the Philippines on Facebook.