Australian Government hands over guidebooks and manuals at conclusion of PHP 1.6 billion strategic civil service program
Manila, Philippines – Amanda Gorely, Australia's Ambassador to the Philippines, recently led the ceremonial handover of human resource and organisational development knowledge products to senior executives at 27 Philippines Government agencies. This ceremony marked the conclusion of the seven-year, PHP 1.6 billion Philippines Australia Human Resource and Organisational Development Facility (PAHRODF).
"Australia is committed to supporting the Philippine Government to strengthen the civil service and achieve its vision of becoming the leading Center of Excellence for Strategic Human Resource and Organizational Development in the ASEAN region" said Australian Ambassador Amanda Gorely. "Australia was the first international partner to focus on human resources and organisational development as a pathway to good governance."
Ambassador Gorely added, "The guidebooks and manuals will help carry on the reforms initiated under the Facility. I trust that these materials will encourage and inspire other government agencies to adopt strategic human resource management, and lead to transformational changes."
In his keynote speech during the handover ceremony, Undersecretary Rolando Tungpalan of the National Economic and Development Authority (NEDA) underscored PAHRODF's contribution to strengthening the Philippines civil service.
"Through the PAHRODF, I believe we have begun the process of building confidence right where it matters: in the government's most valuable assets - its institutions and the civil servants," he said.
Speaking on behalf of the Philippine Government, Undersecretary Renato Solidum of the Department of Science and Technology (DOST) recognised the value of PAHRODF's support and the significant role of its knowledge products in sustaining the gains of the Facility.
"Our partnerships with PAHRODF have tremendously improved our capacity to fulfill our mandates, make our work more effective, efficient and of high quality, make us more adaptive to the demands of the times. These knowledge management products will serve as guides to improve our HR and OD systems, and for other organizations to apply," he said.
PAHRODF is the Australian Government's flagship program for supporting human resource management, organisational development, and institutional change in the Philippines. The program, which ran from 2010 to 2017, supported 38 organisations including the Civil Service Commission (CSC), Department of the Interior and Local Government (DILG), Department of Social Welfare and Development (DSWD), and Department of Education (DepEd) and the Commission of Human Rights (CHR) among others. Through Australia and PAHRODF's support, these partner government agencies strengthened HR management in their organisations and improved their effectiveness and efficiency in delivering services to Filipinos.
Australia's support included development of competency-based HR systems for recruitment and promotion; learning and development; strategic planning; performance management; coaching and mentoring; and leadership development.
PHOTOS:
\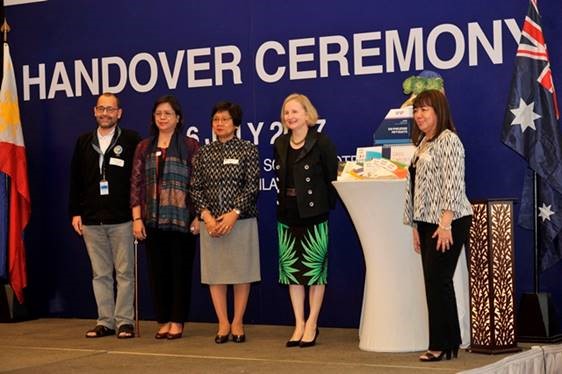 Caption: From left, Chair Chito Gasco of the Commission on Human Rights, Assistant Secretary Ester Aldana of DILG, Chair Alicia dela Rosa-Bala of CSC, Australian Ambassador to the Philippines, Amanda Gorely, Facility Director Milalin Javellana of PAHRODF
Representatives from the Economic cluster of agencies supported by PAHRODF: From left, Attorney Gwen Garcia of PCC, Under Secretary Jose Miguel Dela Rosa of NEDA, Assistant Secretary Ireneo Vizmonte of DTI, Under Secretary Liza Medenilla of DPWH, Under Secretary Raul Asis of DPWH, Under Secretary Agnes Bailen of DBM, Australian Ambassador to the Philippines Amanda Gorely, Facility Director Milalin Javellana of PAHRODF