AUSTRALIA JOINS BRIGADA ESKWELA ACROSS THE PHILIPPINES
The Australian Embassy in the Philippines helped schools across the Philippines prepare for the opening of classes by joining the Department of Education's (DepEd) Brigada Eskwela.
Australian Ambassador to the Philippines Amanda Gorely joined parents and other stakeholders in re-painting teacher tables and student armchairs at Camp Siongco Elementary School in the town of Datu Odin Sinsuat, Maguindanao on 19 May 2017.
Ambassador Gorely also handed over construction materials for minor classroom repair, construction manual, and classroom construction repair and maintenance posters to the school.
"We are happy to help schools prepare for the opening of classes in June. The Embassy has participated in the Brigada Eskwela since 2010. This is part of Australia's broader support to the Philippines' education reform," Ambassador Gorely said.
"The Philippines and Australia have been longstanding friends and partners. We are pleased to be supporting Brigada Eskwela in time with the celebration of the first Philippines-Australia Friendship Day this weekend." Ambassador Gorely added.
Launched in 2003, Brigada Eskwela promotes the Filipino spirit of 'bayanihan' or volunteerism, bringing together parents and members of the school community and partners from the private sector.
Australia participated in the national launch of Brigada Eskwela on May 15, 2017 in Cebu City. Australian Embassy First Secretary Felicity Lee distributed the Ligtas ang Batang Handa (A Prepared Child is a Safe Child) promotional video and print materials to selected schools.
Produced by ABS-CBN's Bantay Bata 163 with funding support from the Australian Government's Direct Aid Program, Ligtas ang Batang Handa promotes emergency and calamity awareness, helping children become better prepared for emergencies or calamities.
First Secretary Lee and representatives from the Australia Government-funded Basic Education Sector Transformation (BEST) Program joined the Partners' Gallery Walk-In Exhibit and motorcade at the DepEd-XII Ecotech Center in Barangay Lahug, Cebu.
DepEd Secretary Leonor Briones officiated the National Brigada Eskwela opening ceremony at the Ramon Duterte National High School, also in Cebu.
In Manila, at least 100 volunteers from the Australian Embassy in the Philippines and BEST Program led a cleanup drive and distributed school supplies and classroom repair materials at Padre Zamora Elementary School in Pasay City on 17 May 2017. Doña Juana Elementary School in Quezon City, Ricardo P. Cruz Sr. Elementary School in Taguig, selected schools in Visayas and Mindanao also received cleaning and repair materials from the BEST Program.
In Mindanao, classroom repair materials amounting to P1.7 million were also distributed by the Basic Education Assistance in Muslim Mindanao (BEAM-ARMM) Program to 52 madaris schools during the Brigada Eskwela week.
Last year Australia allocated P8.9 million for the refurbishment of 277 public schools and 53 madaris schools in ARMM.
From 2010 to 2015, Australia spent AUD233,000 in support of Brigada Eskwela activities nationwide, benefitting 150 public schools.
Education remains a top priority of Australia's development assistance to the Philippines, cornering at least AUD40.8 million of its AUD82.9 million total development assistance this year.
Australia's support for the country's education reforms included the development of curricula, construction and repair of classrooms as well as other school facilities, and scholarship grants, which are geared towards promoting inclusive socio-economic development.
Photo caption: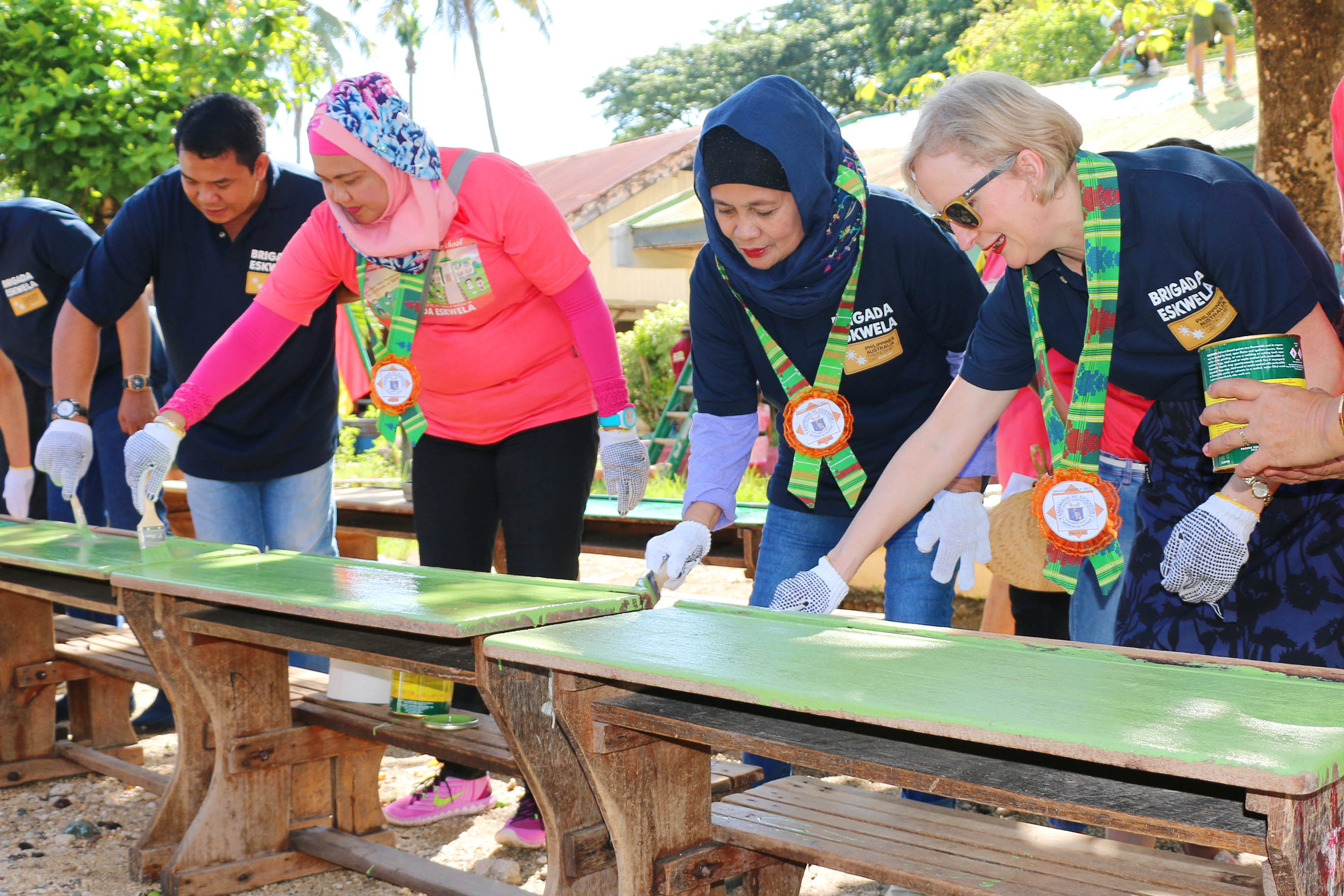 Australian Ambassador to the Philippines Amanda Gorely joins DepEd-ARMM officials in re-painting desks during the Brigada Eskwela held on 19 May 2017 at Camp Siongco Elementary School in Datu Odin Sinsuat, Maguindanao. Australia has been supporting DepEd's Brigada Eskwela since 2010.