AUSTRALIA SUPPORTS PHILIPPINES BUSINESS COALITION FOR WOMEN'S EMPOWERMENT
Seven large corporations employing a total of 300,000 Filipinos have formed a new coalition to ensure gender equality within their businesses.
Australia's Foreign Minister, The Hon Julie Bishop MP, led the launch of the Philippines Business Coalition for Women's Empowerment (PBCWE) during her high profile visit to Manila on 16 March.
Australian Ambassador to the Philippines, Amanda Gorely, who welcomed the Minister, said, "We are very pleased that Minister Bishop was able to launch this key initiative during her visit to the Philippines. She is at the forefront of, and driving change, in Australia and the globe on empowering girls and women."
The seven founding members of the PBCWE are Accenture, Ayala, Convergys, Magsaysay, Inc., Natasha, SyCip Gorres Velayo & Co., and Stores Specialists Inc. The Coalition is established in cooperation with the Philippine Women's Economic Network (PhilWEN).
"This is a strong coalition, and impressive in the diverse sectors and industries that it covers," said Ambassador Gorely. "Our hope is that through their leadership, other companies will join the coalition, and together we can change the future for women and girls, and let them achieve their full potential."
PBCWE will lead business sector efforts to institutionalise gender equality in the workplace. These large employers have committed to: close the gender pay gap; progress women into leadership and management positions; improve female workplace participation and working conditions; and develop leaders and managers who will drive the gender equality agenda in their operations.
Australia is providing over A$1 million dollars (PHP35 million) to support the activities of the coalition through the Investing in Women program. Part of the investment will go to EDGE certification for Philippine companies. The EDGE tool is a global standard to assess businesses' policies and practices against gender equality benchmarks and help companies take steps to create more equitable and profitable workplaces.
Investing in Women is a $46 million Australian Government initiative in the South East Asian region (Philippines, Indonesia, Vietnam and Myanmar) to support women's economic empowerment.
The program will support the Philippine Government's efforts in promoting gender equality and economic parity.
A 2016 report by McKinsey & Company found that should the Philippines increase the workforce participation of women by just 1 percentage point each year, by 2025 it would add $40 billion to the Philippine's GDP or a 9% increase. ###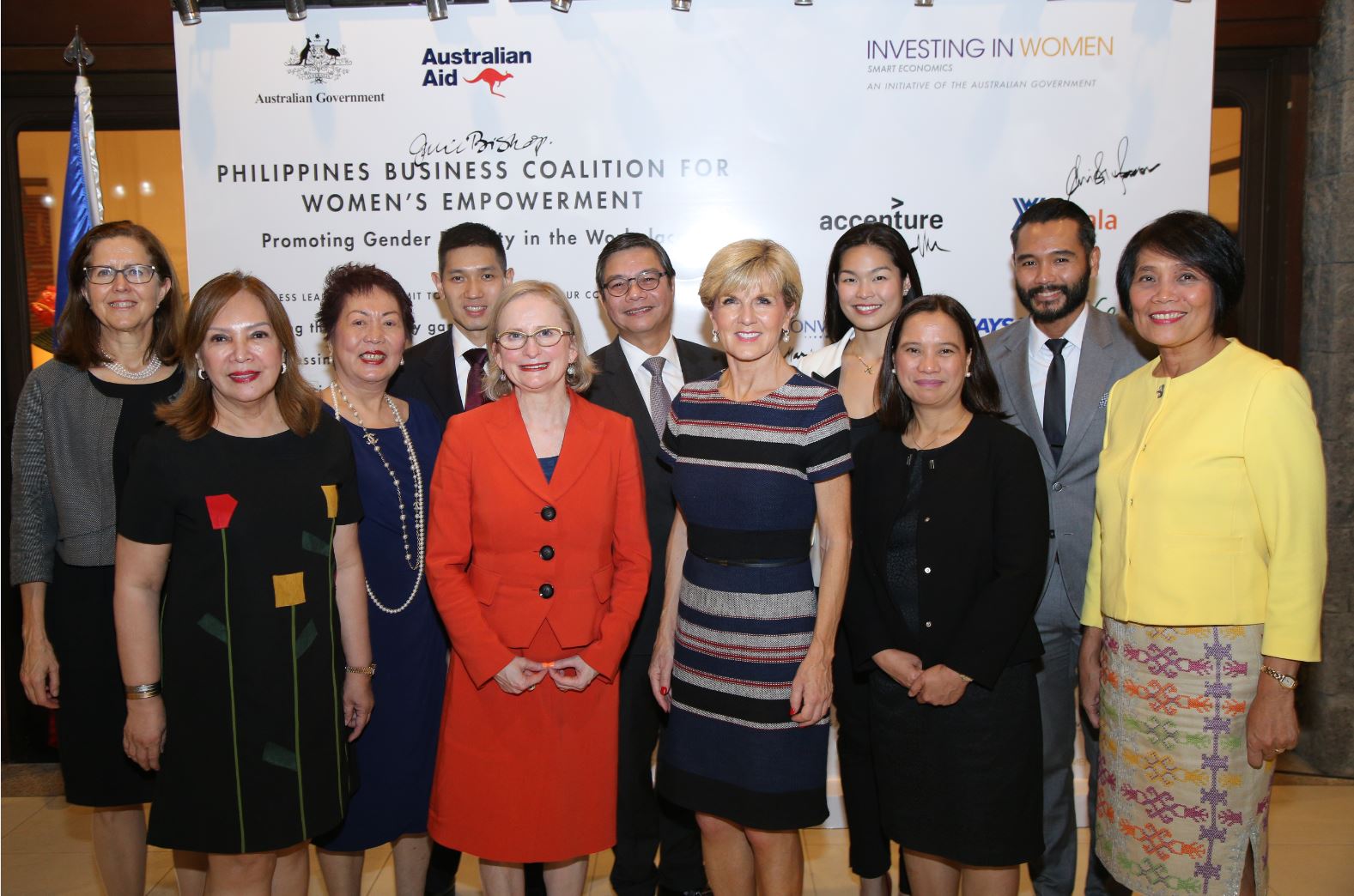 ​Australian Foreign Minister Julie Bishop MP (center right) is joined by Australian Ambassador to the Philippines Amanda Gorely (center left), Investing in Women CEO Julia Newton-Howes (far left), PhilWEN Chairperson Ma. Aurora Geotina-Garcia (far right) and founding members of the PBCWE (from left) - Marife Zamora (Convergys Philippines, Inc), Dr Victoria Jardiolin-Villa (Natasha), Michael Tantoco-Huang (SSI Group), J. Carlitos Cruz (SGV and Company), Maria Christina Tecson (Ayala), Rosenni Basilio (Magsaysay Group of Companies), and Douglas Yballe (Accenture Philippines).