AUSTRALIAN EMBASSY AND CCP HOST EXHIBIT AND BOOK LAUNCH FOR INDIGENOUS PEOPLES' MONTH
The Australian Embassy in partnership with the Cultural Center of the Philippines is hosting an exhibit from 11-23 October 2016 to mark the Indigenous Peoples' Month.
The exhibit showcases a variety of photos from the book, "Re-Imagining Australia: Voices of Indigenous Australians of Filipino Descent" by Deborah Wall, PhD a Filipino-Australian journalist and researcher who specialized in Aboriginal studies and oral history.
Australian Ambassador Amanda Gorely and Cultural Center of the Philippines President Raul Sunico hosted a reception on 18 October to showcase the exhibit and launch Ms Wall's book.
"We are pleased to host Deborah's exhibit and book launch in the Philippines which highlights the link of Indigenous Australians to their Filipino roots. This coincides with the celebration of Indigenous Peoples' Month in October, and our celebration of Australia's 70 years of diplomatic relationship with the Philippines," said Ambassador Gorely.
Wall explains, "My book, Re-imagining Australia: Voices of Indigenous Australians of Filipino descent, is my way of recognizing the voices of the pioneering work of Manilamen in Northern Australia. I hope that this book contributes to a deeper understanding of what it means to be both Australian and Filipino within our nation state."
The book recounts the story of the "Manila Men", the first migrant Filipinos to northern Australia in the late 1800s working in the pearling industry. A large number of Indigenous Australians are descendants of these Manila Men. Some of these Australians are narrators of the book and have accompanied Ms Wall to the Philippines to trace their Filipino ancestry.
Wall's book and the visit of the Australian descendants of Manila Men represent the historical links and deep people-to-people ties that we celebrate as part of the 70th anniversary of Philippines-Australia relations.
For updates on the #First70Years celebration, visit www.philippines.embassy.gov.au, like Australia in The Philippines on Facebook, and follow the Australian Ambassador on Twitter at @Ausambph.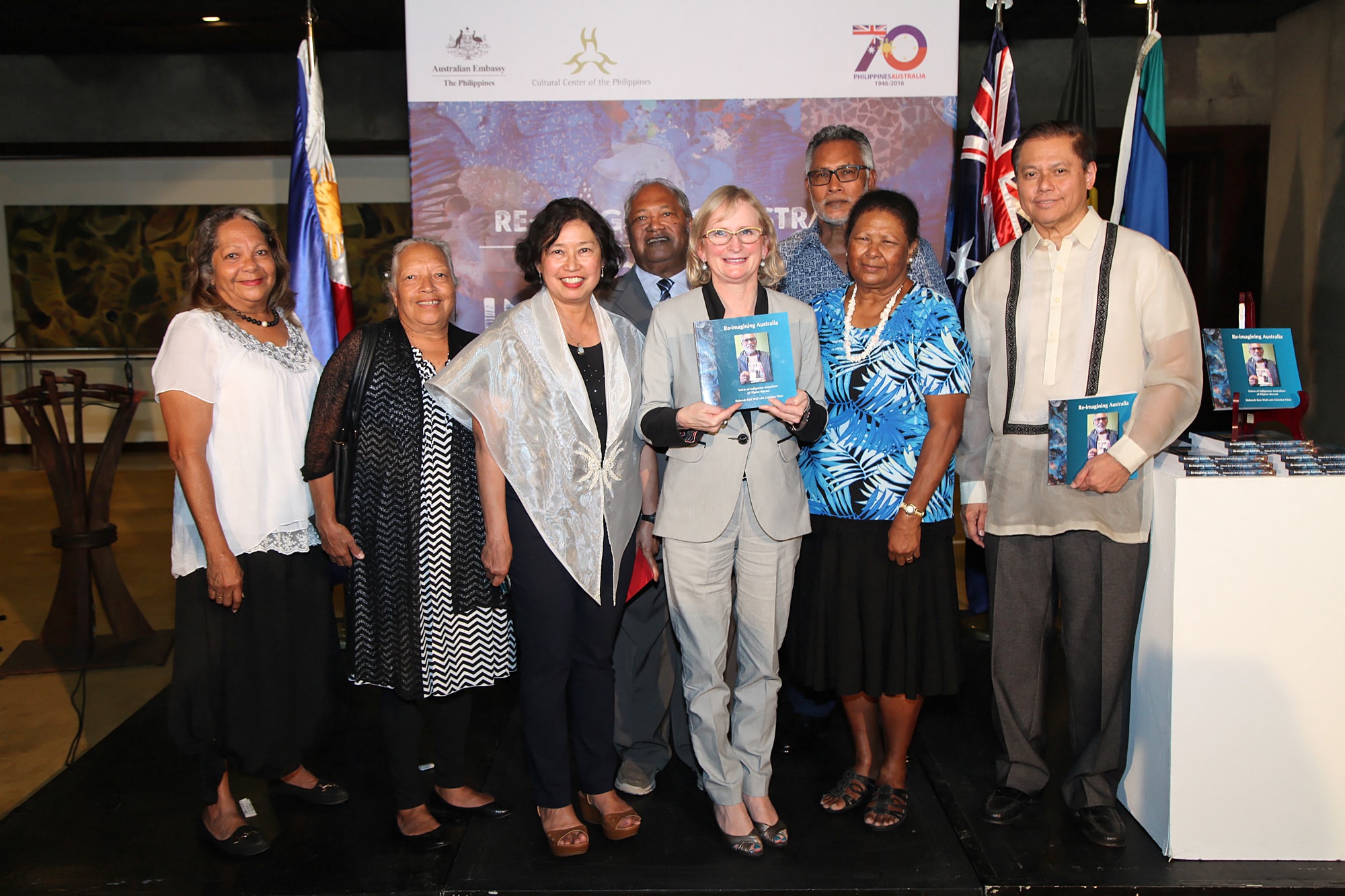 Australian Ambassador Amanda Gorely and CCP President Dr. Raul Sunico host book launch and exhibit of "Re-imagining Australia: Voices of Indigenous Australians of Filipino Descent" by Ms. Deborah Wall. (L-R) Book Narrators Roma Puertollano, Patricia Puertollano, Book author Deborah Wall, Narrator Kevin Puertollano, Ambassador Amanda Gorely, Peter Sabatino, Josephine Puertollano, and CCP President Raul Sunico.