PHILIPPINES AND AUSTRALIA CELEBRATE 70 YEARS OF FRIENDSHIP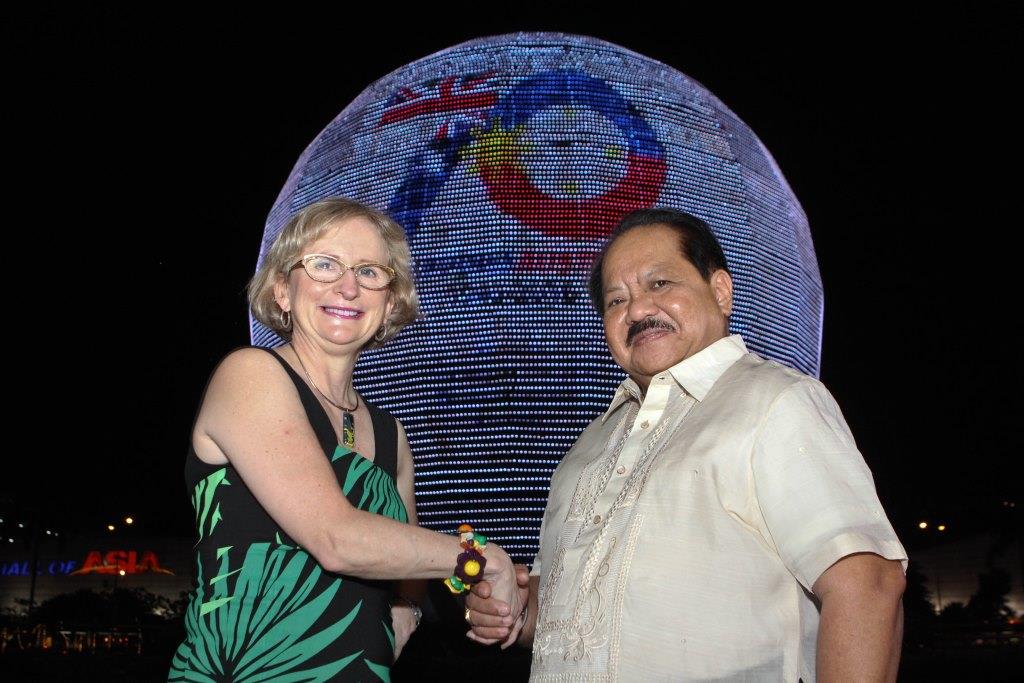 Australian Ambassador to the Philippines Amanda Gorely, SM Senior Vice President Millie Dizon and National Historical Commission of the Philippines Executive Director Vic Badoy witnessed the commemorative light up of the SM Mall of Asia (MoA) Globe with the 70th Anniversary Philippines-Australia Friendship logo. The globe also projected images of partnership between the two countries.
The event is a highlight of a year-long celebration led by the Australian Embassy to mark seven decades of bilateral ties. Formal relations between the two countries were established when Australia opened a Consulate General in Manila on 22 May 1946.
Ambassador Gorely said, "Our ties were forged during WWII when over 4,000 Australian service personnel fought alongside Filipino forces. The Philippines is an important partner for Australia in Southeast Asia and we cooperate closely on a range of global and regional issues. Our extensive trade and investment links are growing. Our defence forces and law enforcement agencies enjoy extensive cooperation. Australia's development assistance to the Philippines is focused on economic growth, education, social protection and, where necessary, humanitarian assistance."
"This is not a relationship that has been built overnight, but rather one that has evolved, over the decades, to fit the changing needs and circumstances of both countries," the Ambassador added.
The Executive Director of the National Historical Commission of the Philippines Dr Vic Badoy also shared "The historical ties between Australia and the Philippines are deep. Since the 1890s, Filipinos worked in the pearling industry of Northern Australia. More recent ties are from educational exchanges – from the Colombo Plan scholars of the 1960s and 1950s, to the 10,000 Filipinos studying in Australia in recent years."
The Ambassador also reflected on the Filipino community in Australia. "I am heartened by our warm people to people bonds. About a quarter million Filipinos now call Australia home. This means one in every 100 Australian is Filipino," added Ambassador Gorely.
The Ambassador also thanked SM for hosting the ceremony. "We are pleased to work with SM not only on this light up event, but also for the Say G'day at SM exhibition which has toured SM malls in Manila, Cebu and Davao over the past months."
SM Senior Vice President Millie Dizon responded, "SM is honoured to partner with the Australian Embassy for this milestone celebration. On behalf of SM, I would like to Congratulate the Australian Embassy and thank them for choosing to partner with us for the celebration of 70 Years of Philippines-Australia relations. We have had many collaborations with the Embassy int he past and look forward to working with them in the years to come."
The anniversary celebration has received support online with messages from Australia and the Philippines flooding the Australian Ambassador's Twitter account. "I invite everyone to join the celebration on social media by reflecting on our deep relationship and sending messages of friendship," the Ambassador said.