Australian horticulture industry CEOs in the Philippines
for "Now in Season Australia 2016"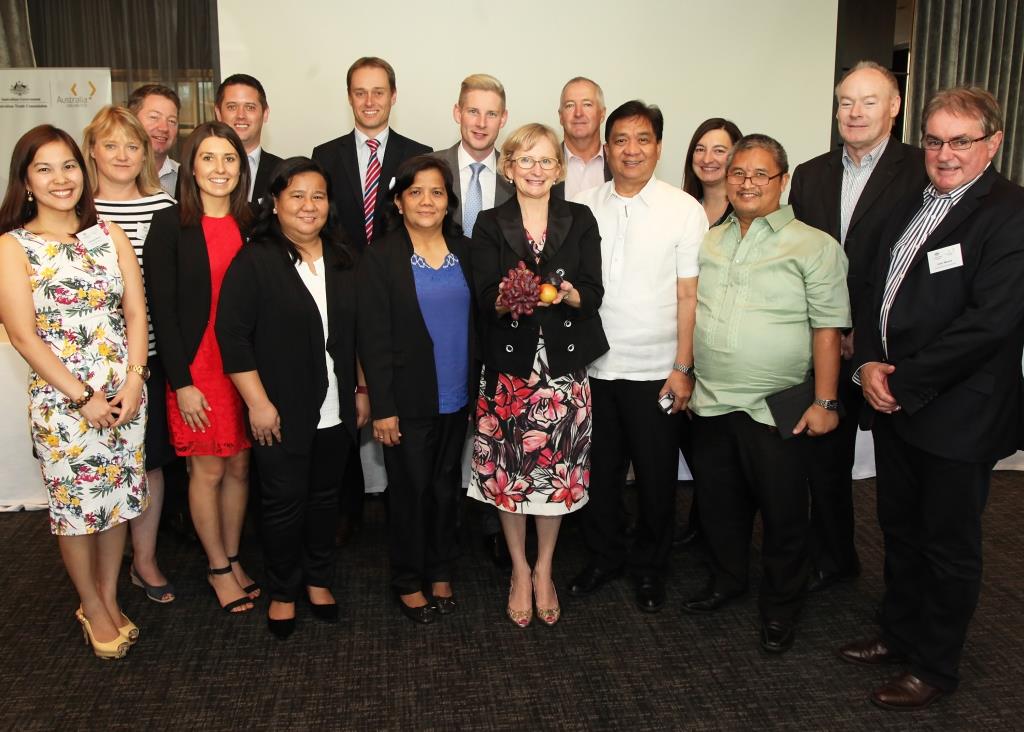 "Now in Season Australia", a multi-industry, multi-country promotion for Australian fruits, is back this year. With its whole-of-industry approach to promoting Australian fruits across a range of Asian markets including Thailand, Vietnam and the Philippines, the retail promotion brings Australia's fresh produce to local supermarket chains.
In the Trade and Industry networking lunch held at the New World Hotel Makati on Friday, 22 April 2016, Ambassador Amanda Gorely welcomed the high-level Australian horticulture delegation composed of industry representatives: Brendan Larkin and Jessica Beard from the Victorian State Government (Australia), Olivia Tait from Apple and Pear Australia (APAL), Jeffrey Scott from the Australian Table Grape Association (ATGA), Michael Coote from AusVeg, Tom Eastlake from Cherry Growers Australia (CGA), Judith Damiani from Citrus Australia, Sam Lawrence from Horticulture Innovation Australia (HIA), and John Moore from Summerfruit Australia. Local fruit importers and major retailers also attended the event.
"Recognising the Philippine market potential and the growing demand for imported seasonal fruits, the 'Now in Season Australia' campaign aims to promote Australian fruits as they become available in the market. Now on its third year, the campaign has helped profile Australian fruits among Filipino consumers while making Australian fruits available around the Philippines", said Ambassador Gorely.
According to Senior Trade Commissioner Anthony Weymouth, two factors have led to increased availability of Australian fruits in the country. "The ASEAN Australia New Zealand Free Trade Agreements (AANZFTA) has made it possible for temperate fruits from Australia, such as grapes, oranges, stonefruits, cherries, apples and pears to enter the Philippines tariff-free (0%). Also, the improvement of cold treatment protocols, which have been approved by the Philippines' Bureau of Plant Industry, reduces the transit time for Australian fruits, ensuring better quality once they reach the country", he explained.
Brendan Larkin, Market Engagement Manager of the Victorian Government, highlighted that this season has seen more horticulture exports due to favourable exchange rates and an excellent growing season, with favourable weather conditions leading to a superb crop. "Australia is widely acknowledged as a 'clean and green' producer of fruit and vegetables with Australian growers adhering to the highest international levels of food and environmental safety. Australian fruit is grown, stored and packed to the best safety standards, ensuring superior eating quality, for breakfast, lunch, dinner, dessert and snacking", he added.
"Now in Season Australia" brings Australian stonefruits and table grapes closer to Filipinos who can find them in key groceries and supermarkets until May. Shoppers and their families can enjoy the sweet, safe and healthy freshness through sampling activities every weekend in Metro Manila branches of S&R, SM Supermarket, SM Hypermarket, Robinsons Supermarket, Rustan's Fresh, Rustan's Supermarket, Rustan's Marketplace and Shopwise.