AUSTRALIA ANNOUNCES PHP5.8M GRANT TO SUPPORT WOMEN-LED MSMEs

On the eve of International Women's Day, the Australian Ambassador to the Philippines Amanda Gorely announced further grants to women-led micro, small and medium enterprises (MSMEs).

"Through the Australian Embassy's Direct Aid Program (DAP), we will support a further seven Filipina entrepreneurs to develop their businesses with funding of up to PHP5.8 million (AUD175,000)," said Ambassador Gorely.
This follows the launch on 29 February 2016 of a Gender Equality and Women's Empowerment Strategy by Foreign Minister Julie Bishop which establishes these objectives as core priorities in Australia's foreign and trade policy and its development program.

Ambassador Gorely made the announcement at the opening of the "Women Entrepreneurs: Building Stronger Communities" trade fair and exhibit at SM Aura. The event was attended by Vice Chairperson of SM Investments Corporation Teresita Sy-Coson and SM Supermalls President Annie Garcia.
The trade fair features eleven women-led MSMEs from across the Philippines that have received support from Australia to help develop their businesses.
Among the exhibitors are Katungod han Samareña Foundation Incorporated of Basey, Samar; the Lake Sebu Indigenous Women Weavers Association Incorporated; and the Philippine Christian Foundation in Tondo, Manila. Australia's support helped to revive the traditional mat weaving industry in Basey, Samar; preserve the tradition of t'nalak weave dyeing, an indigenous woven fabric made from abaca and a source of cultural pride for the T'boli; and trained women to turn rubbish at Smokey Mountain into high quality fashion accessories. Nearly 1,100 women were assisted with livelihood and skills training through these projects.
"The Australian government is proud to invest in entrepreneurial Filipino women. The International Labour Organization estimates that between USD42 billion and USD47 billion is lost annually in the Asia-Pacific region due to women's limited access to employment opportunities. To create prosperity, communities need to invest in women and support them to start a business or access jobs." Ambassador Gorely said.

Australia's support for Filipina entrepreneurs is part of its ongoing commitment to actively promote women's full participation in economic, social and political life. Since 2005 Australia has provided PH18.6 million (AUD538,000) to 51 women's empowerment projects through the DAP.
The Australian Embassy partnered with SM Cares to Celebrate International Women's Day in the Philippines. SM Cares is the corporate social responsibility arm of the SM Group. SM Supermall President Garcia said, "We are honored to have the Australian Embassy partner with us and privileged to be the venue for our women entrepreneurs to showcase their merchandise, to highlight their hard work and their passion in their creations. Building stronger communities highlight the thrust of the SM Cares Program on Women, to empower each and every Filipina."

Ambassador Gorely said, "The Australian aid program in the Philippines helps to empower women and girls. The support we have provided is in line with Australia's goals to enhance women's voices in decision-making, leadership and peace building; promote women's economic empowerment; and end violence against women and girls."
"On this International Women's Day, I encourage our partners in government, business and civil society to continue to support the economic empowerment of women and to promote greater gender equality," said Ambassador Gorely.
Commemorated on 8 March each year, International Women's Day is a global day celebrating the social, economic, cultural and political achievements of women. #
Follow Ambassador Gorely on Twitter: @AusAmbPH
_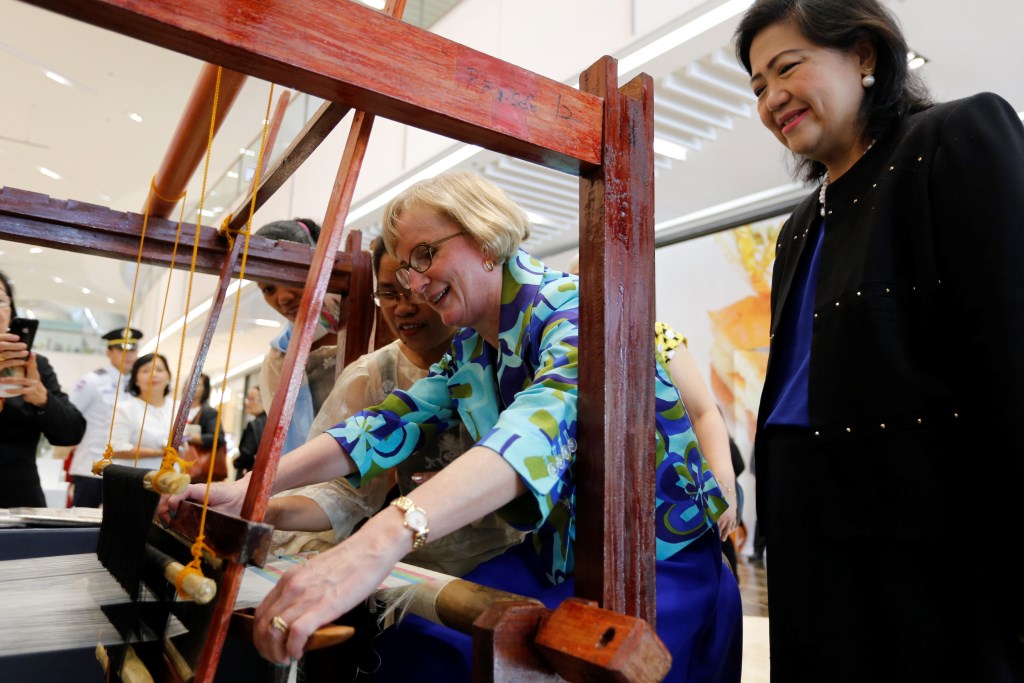 Australian Ambassador Amanda Gorely tries weaving pina fabric on a traditional loom. In photo, SM Supermall President Annie Garcia.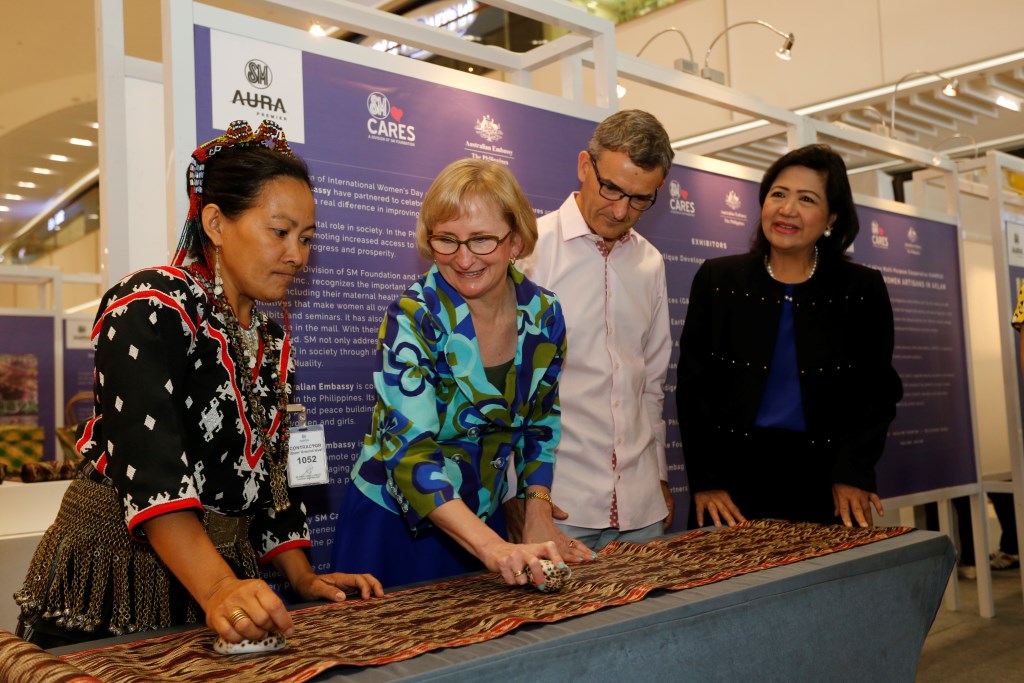 Australian Ambassador Amanda Gorely is shown how to burnish a t'nalak using cowrie shells. In photo, Stuart Hodge, the Ambasador's husband and Annie Garcia, SM Supermall President.