Top Australian university QUT strengthens academic partnership with Philippine universities
One of Australia's leading universities, Queensland University of Technology (QUT) has signed partnership agreements with nine Philippine universities to formalise an already transformative collaboration on the field of education, particularly in teacher training, educational leadership, curriculum and research capacity development.
The nine partner universities are De La Salle University, Mindanao State University, Philippine Normal University, University of the East, University of Mindanao, University of the Philippines, University of San Carlos, University of Santo Tomas, and University of Southeastern Philippines.
Australian Ambassador to the Philippines Bill Tweddell, who witnessed the MoU signing, said "the MOU signing between QUT and the nine prestigious Philippine universities here today is a testament to a mutually-beneficial partnership. It is our great hope that both Australians and Filipinos will reap the gains of this transformative program."
QUT Vice-Chancellor Professor Peter Coaldrake travelled to Manila to sign the partnership agreements in a move that will formalize and strengthen ties between QUT and the universities.
Professor Coaldrake said that program had identified universities as critical partners having a key role to play in ensuring that the new generation of teachers continue to promote 'inclusive teaching and learning'.
The formal partnerships stem from an earlier public sector linkages program on inclusive education that QUT implemented with the Philippine Department of Education and National Council for Disability Affairs.
QUT has actively collaborated with the Philippine Department of Education (DepEd) and the Commission for Higher Education to deliver professional development programs for their staff as well as higher education institution staff in support of the Philippines' Basic Education Sector Reform Agenda.
The agreements will also see QUT undertake capacity building activities with the universities in areas of governance, disaster management, trade and industry and organisational development.
QUT's collaboration with the local universities was facilitated by Philippines Australia Human Resource and Organisational Development Facility (PAHRODF) through its Institutional Partnerships Program. The Facility brokers academic collaborations between Australian and Philippine universities to provide tailor-made and contextually-relevant educational experiences for partner government organisations, including the DepEd.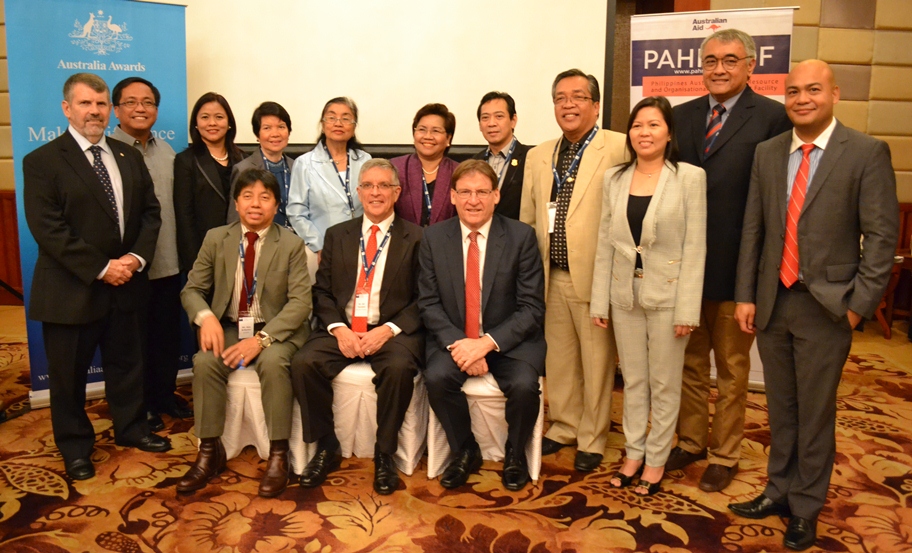 IN PHOTO: Front row (from left) :
Prof Alex Brillantes, CHED Commissioner
H.E. Bill Tweddell, Australian Ambassador to the Philippines
Prof Peter Coaldrake, Vice Chancellor/ President of QUT
Back row: (from left)
Mr Colin Melvin, Director of Office of Commercial Services, QUT
Fr. Anthony Salas, Vice President for Academic affairs, University of San Carlos
Dr. Clarita Carillo, Vice Rector for Academic Affairs
Dr Rosario Alonzo, Dean of College of Education, University of the Philippines Diliman
Dr Ester Garcia, President of University of the East
Dr Ester Ogena, President, Philippine Normal University
Dr. Alvin Culaba, Executive Director- External Relations and Internationalization, De La Salle University
Dr. Macapado Muslim, President of the Mindanao State University
Undersecretary Janette Lopoz, Executive Director of Mindanao Development Authority
Dr Guillermo Torres, Jr, President University of Mindanao
Mr. Nelson Salangsang, Manager- International Projects, QUT
Note to editors: Media enquiries on QUT's partnership agreements maybe addressed to: Rose Trapnell, QUT media team leader, 07 3138 2361 or 0407 585 901, [email protected]