Filipino public servants receive prestigious Australia Awards Scholarships
Twenty-two emerging leaders from the Philippine public sector have been awarded prestigious Australia Awards Scholarships.
The Filipino awardees, from the Department of Education (DepEd), Department of the Interior and Local Government (DILG), and the National Mapping and Resource Information Authority (NAMRIA), will head to Australia's world-renowned universities next year for post-graduate studies in key areas such as education, peace studies, disaster preparedness, and geographic information science.
Australian Ambassador to the Philippines Bill Tweddell said, "the Australia Awards Scholarships program provides a unique opportunity for future Filipino leaders to grow and advance their education at Australia's finest universities, and upon their return, to contribute to the development and prosperity of the Philippines".
"The professional excellence and dedication to public service of these awardees speak volumes about their commitment to the Philippines. I hope that the Australia Awards will further equip them with the expertise to spearhead change and make a difference in the Philippines", said Ambassador Tweddell.
The awardees recently attended a three-day pre-departure briefing organised by the Australian Embassy to help them prepare for student life in Australia and to define their re-entry action plan, or REAP.
Upon their return to the Philippines, Australia Awards scholars are expected to implement a REAP in their organisations. The REAP is an innovative feature of Australia's scholarship program in the Philippines. It enables awardees to apply the knowledge gained in Australia to spearhead positive change in their workplaces.
Previous returning scholars have successfully initiated change through their REAPs. DILG Region 6 Assistant Division Chief and 2013 Australia Awards scholar Dino Ponsaran assisted local government units in crafting investment and incentive codes, which in turn, helped create a business-friendly environment for local and foreign investors. "When a region has investments coming in, it means more job opportunities for its residents", said Ponsaran.
2011 Australia Awards scholar Angelo Arboleda's REAP helped NAMRIA deliver enhanced software for the distribution of geospatial information to the public. "When I returned, I implemented what we call the source code management system which tracks the quality of the software we produce. It is essential in helping NAMRIA reach its goal of delivering timely, accessible and accurate geospatial information," Arboleda said.
For over 50 years, Australia has supported the Philippines' best and the brightest to study and train at Australia's world-class universities on Australian Government-funded scholarships. The Australia Awards Scholarships program is open to talented Filipino leaders and achievers – regardless of gender, ethnicity or disability – who are passionate about sparking positive change and development in the Philippines.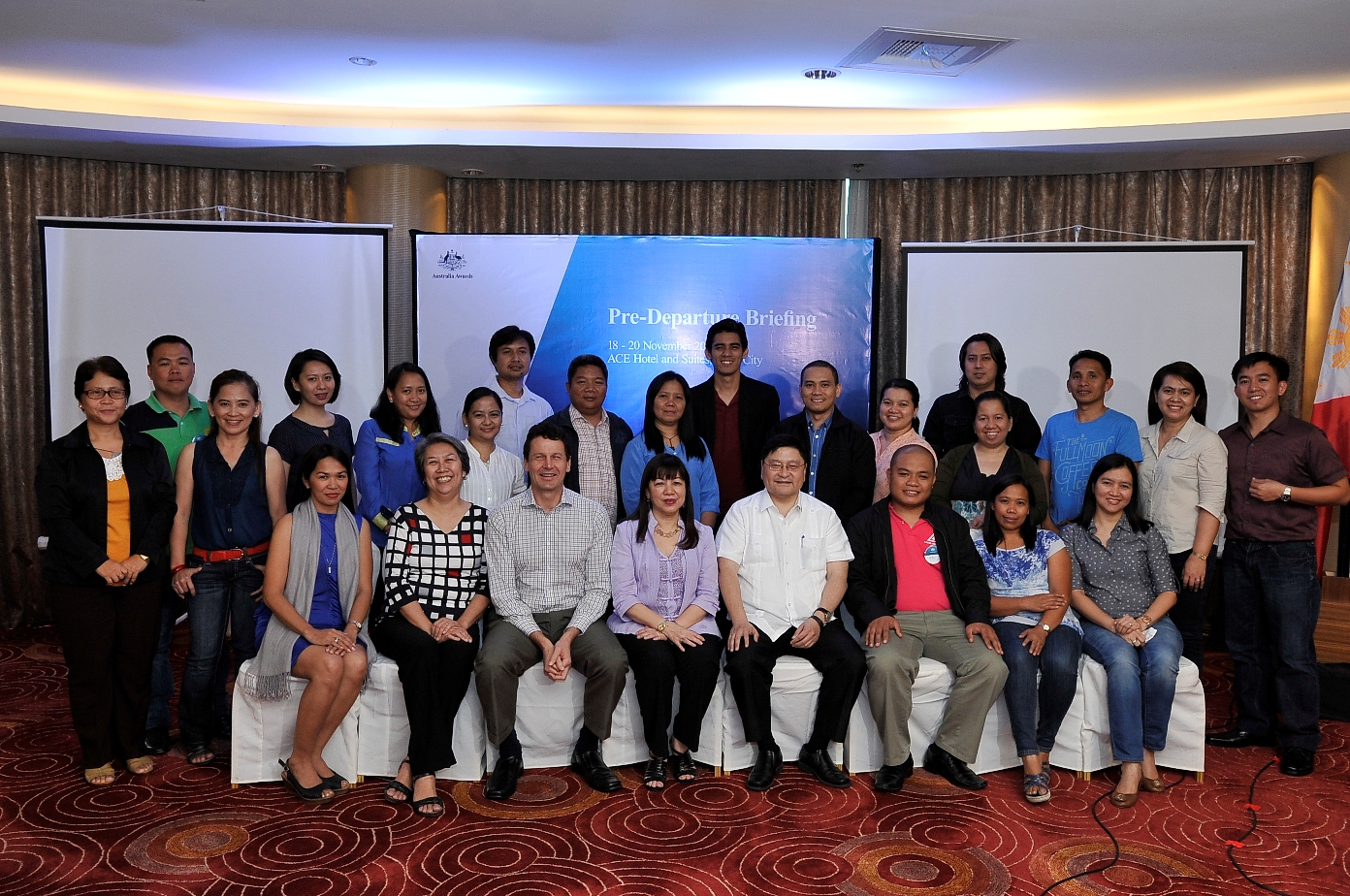 PHOTO: Twenty-two outstanding public servants from the Department of Education, Department of the Interior and Local Government, and National Mapping and Resource Information Authority have been awarded prestigious Australia Awards Scholarships. They were joined by Australian Embassy Counsellor Geoff King, Department of Education Undersecretary Lino Rivera and Philippines Australia Human Resource Organisational Facility Director Milalin Javellana at the Australia Awards pre-departure briefing held from 18 to 20 November, 2014.