Australia and The Philippines Strengthen Partnership to Counter Immigration Fraud and Trans-National Crime
A key initiative between Australia and the Philippine Bureau of Immigration has been given a major boost. New forensic document examination equipment and software has been provided by the Australian Government to bolster border security and improve the Bureau's capacity to combat irregular migration, people smuggling, human trafficking and terrorism.
"The Australian Embassy is very pleased with our continuing partnership with the Bureau of Immigration to counter trans-national crime and ensure only legitimate travellers with genuine documents are travelling through our borders," said Australian Ambassador to the Philippines Bill Tweddell on Tuesday at the signing of the deed of donation for the equipment.
The equipment will enable the Bureau of Immigration to set up three new Document Examination Laboratories at Ninoy Aquino International Airport Terminal 2, Clark International Airport and Mactan-Cebu International Airport.
"This equipment demonstrates Australia's continued partnership with the Philippines and reinforces our mutual commitment to deepening bilateral ties and increasing cooperation between our two countries," said Ambassador Tweddell
The Anti-Fraud Section of the Bureau of Immigration (BI) will use the equipment as part of a key initiative to enhance its border security capability. The donation from the Australian Government supports a Memorandum of Understanding with the Philippines for effective cooperation on migration management and border control.
"We are pleased to continue our long engagement with BI in developing their Document Examination capability. Particularly as BI authorities prepare for a more challenging 2015 with several international events, including the Pope's visit in January and the APEC Summit in November," the Ambassador said.
Australia's partnership with BI also includes ongoing training for BI officers. For example, this month, two specialist trainers from the DIBP Intelligence Analysis Section in Canberra were in Manila training more than 40 BI officers in the area of Border Intelligence. This training complements training delivered to BI in December 2013 in the areas of Forensic Document Examination and Border Intelligence courses delivered to BI in Cebu and Davao.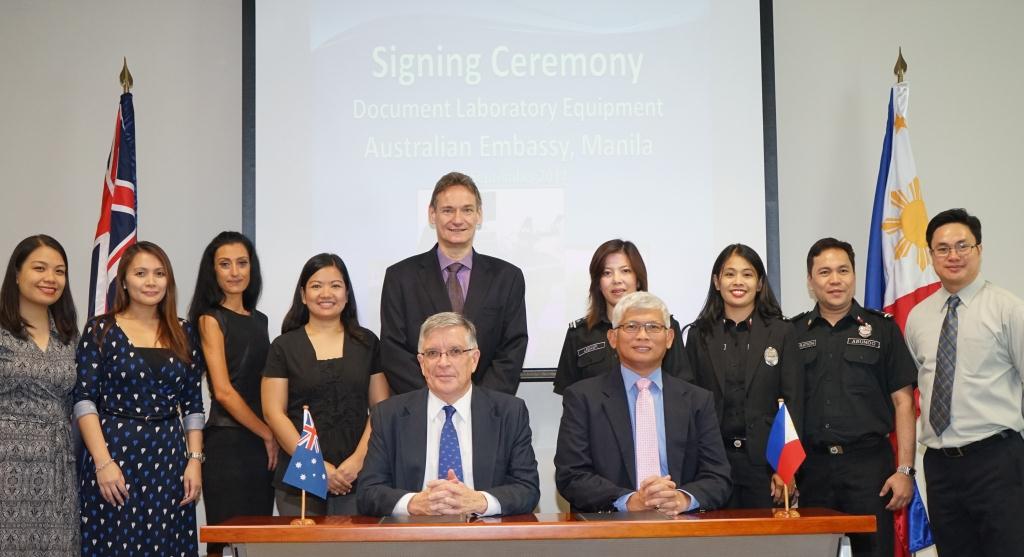 Australian Ambassador Bill Tweddell and Bureau of Immigration (BI) Commissioner Siegfred B. Mison (seated, centre) signed on Tuesday the Deed of Donation for document examination equipment. Witnessing the signing ceremony are Australian Embassy Counsellor and Chief Migration Officer Ken McArthur and BI Anti-Fraud Section Chief Maan Krista T. Lapid-Legaspi (back row, center). Also in photo (L-R) are Quennie Sto. Domingo, Natalia Ordas, Katrina Abood, and Gracia Gorgonia from the Australian Embassy; Hazeline Pia B. Barrosoa and Joseph A. Abundo of the BI, and Manny Picardal from the Australian Embassy.