Filipino scholars of prestigious Australia Awards return to Philippines to contribute positive change
Australian Embassy Deputy Head of Mission Dr David Dutton welcomed 34 Filipino scholars of the prestigious Australia Awards program on their return to the Philippines after having completed post-graduate studies at Australia's top universities.
"The Australia Awards provides opportunities for the Philippines' best and brightest to advance their education at Australia's world-class universities and, upon their return, contribute to the growth and stability of the Philippines," Dr Dutton said.
Dr Dutton congratulated the returning scholars at the REAP (Re-Entry Action Plan) Conference held recently in Davao City.
Australia Awards scholars are required to return to the Philippines upon completion of their post-graduate studies with a Re-Entry Action Plan or REAP. "The REAP is an innovative mechanism of the scholarship program in the Philippines to ensure awardees are able to use what they have learned to initiate genuine positive changes in their workplaces and in society", said Dr Dutton.
Scholars are expected to execute their REAPs within a year of arrival at their respective government agencies and local governments, or their chosen private companies and civil society organisations.
Of the 34 returning scholars, 13 are from government agencies, including from the Departments of Education, Interior and Local Government, and the Office of the Ombudsman; while the remaining are from the academe, private sector, and civil society.
Previous returning scholars have since gone on to make a difference in the organisations and sectors where their REAPs have been implemented. In 2013, Australia Awards scholar Wilmita Lyn Gupit was able to enhance the government's policy on recruitment and promotion. Gupit's REAP allowed her to serve as an external evaluator of the Civil Service Commission's (CSC) Competency Based Recruitment and Promotion Policy's pilot run. The results of the evaluation are crucial inputs to the recruitment manual for the replication of competency-based processes and procedures, which the CSC is planning to roll out to the regions and other government agencies soon.
The Australia Awards is a prestigious international scholarships program equipping emerging leaders with skills and world-class education to build a better future, not just for themselves, but also for their home countries.
The Australia Awards REAP conference is a 3-day event held annually to welcome back scholars and to finalise details of their REAP with their mentors or supervisors. This year's conference was held at the SMX Convention Center in Davao City from 9 to 11 September.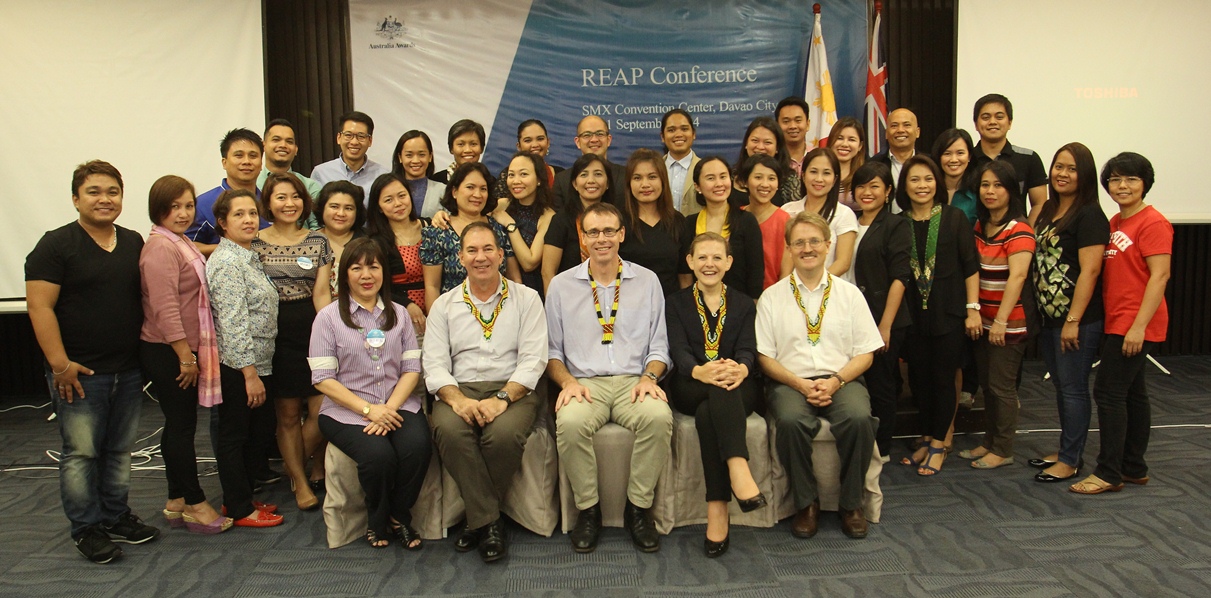 PHOTO: Returning Filipino scholars of the prestigious Australia Awards program at the REAP Conference with (seated from left): Philippines Australia Human Resource Organisational Facility Director Milalin Javellana, and Australian Embassy officials led by Deputy Head of Mission Dr David Dutton, Defence Attache Colonel Bruce Murray, Second Secretary Georgia Lovell, and Counsellor Paul Hutchcroft.
For media enquiries:
Tel (+63 2) 757 8327
Follow: www.twitter.com/AusAmbPH