Australian Embassy Hosts Iftar, Celebrates Ties with Philippine Muslim Community
Assalum Alaikum wa rahmatullahi wa barakatuh! (May the peace, mercy, and blessings of Allah be with you) said Australian Ambassador to the Philippines Bill Tweddell at the "iftar" (breaking of Ramadan fast) he hosted at his official residence on Tuesday. The iftar was a celebration of the strong ties between the Philippine Muslim Community and the Australian Embassy.
Ambassador Tweddell explained that strong partnerships have been formed over years of collaborative work, including in the peace process, Muslim education, and leadership exchanges.
The iftar reception was attended by around fifty people, including members of the Muslim community and some of those who worked towards the signing of the Comprehensive Agreement on the Bangsamoro.
"Australia is a staunch supporter of the process towards lasting peace, a process which will allow increased development in Mindanao and the Philippines as a whole," Ambassador Tweddell said.
In his remarks, Ambassador Tweddell spoke of the long-standing Australian Government support to conflict-affected areas of Mindanao. He said, "Since 1995, Australia has provided substantial assistance through our bilateral development program and through multi-lateral mechanisms such as through the Mindanao Trust Fund. Our key focus has been in increasing women's participation in the peace process; promoting peace education among youth; increasing capacity of communities and providing technical assistance to the negotiating parties in various stages of the peace negotiations."
In January of this year, the Australian Government announced an additional $6 million funding in support of the peace process. "Our Foreign Minister, the Hon. Julie Bishop MP, has expressed Australia's firm and continuing support to the efforts of the Philippine Government and MILF in achieving a just and lasting peace. Rest assured that Australia is with you for the long-haul," said Ambassador Tweddell. END.

Link to Ambassador Tweddell's Remarks, 22 July 2014
In photo: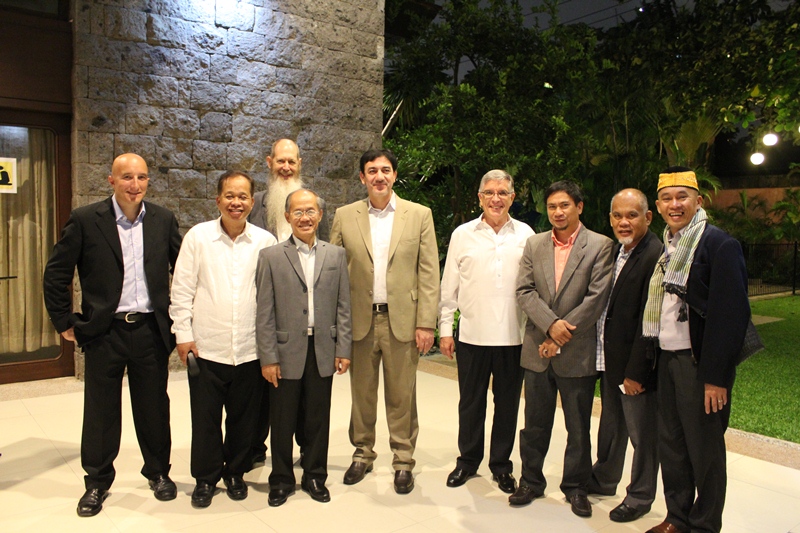 From left: Facility for Advisory Support for Transition Capacities (FASTRAC) Adviser Sam Chittick, Office of the Presidential Adviser on the Peace Process Undersecretary Yusuf Lorena, Australian Embassy First Secretary Warren Hoye, MILF Peace Negotiating Panel Member Abdulla Camlian, United Nations Industrial Development Organization Philippines Representative Fakhruddin Azizi, Australian Ambassador Bill Tweddell, National Commission on Muslim Filipinos Commissioner Salem Demuna, University of the Philippines Institute of Islamic Studies Professor Abdulhadi Daguit, and Police Superintendent Imam Ebrahim Moxsir.