New Colombo Plan to further strengthen Australia-Philippines education partnership
Australian Ambassador Bill Tweddell marked another milestone in the Australia-Philippines education partnership with the launch on 20 April of the New Colombo Plan, a flagship initiative of the Australian Government, in the Philippines.
"We celebrate another milestone in our strong and enduring friendship with the Philippines with the launch of this exciting initiative," Ambassador Tweddell said. "I am proud that the Philippines and Australia share a strong value for education, and proud that education continues to draw our people together today".
The prestigious program aims to increase understanding and appreciation of Australia's neighbours in the Indo-Pacific region in Australia, by supporting Australia's best and brightest undergraduate students to study and undertake internships in the region. In 2015 the program has been expanded to 35 countries in the region.
Joining Ambassador Tweddell to launch the program in the Philippines were: Commissioner Alex Brillantes, Jr of the Commission on Higher Education; Hon Willem Westra van Holthe, Deputy Chief Minister of the Northern Territory of Australia; representatives from leading Philippine universities; Australia's alumni; and the business sector.
"We want to inspire young Australians to be deeply engaged with the region; through the New Colombo Plan, some of our most talented students will have the opportunity not only to learn valuable academic lessons but also to experience working and living in our neighbourhood," Ambassador Tweddell said. "Over time, we hope that this sort of experience will become a rite of passage for Australian students and that the networks developed will further strengthen our people-to-people links in the region".
Ambassador Tweddell officially welcomed the inaugural Philippines Fellow, Ms Emily Pritchard. Under the New Colombo Plan, Ms Pritchard has been awarded a prestigious scholarship to study at the University of the Philippines-Los Baños. She is studying natural and physical sciences as part of her Bachelor of Social Science (Environment)/Bachelor of Environmental Science degree at the Royal Melbourne Institute of Technology (or RMIT).
In the Philippines, around 40 Australian students will participate in the program for 2015.
Education has long been an important part of the relationship between the Philippines and Australia. The Philippines was a partner country in the original Colombo Plan, a scholarship program of the Australian Government which saw over 20,000 talented young students from around the region studying in Australian universities and institution from the 1950s to the mid-1980s.
The Colombo Plan has produced distinguished Filipino alumni, including a former Secretary of the Department of Education; a Chancellor of the University of the Philippines-Visayas campus; multiple high-level government officials; and esteemed members of the academe who have pioneered fields of study in the Philippines.
20 April 2015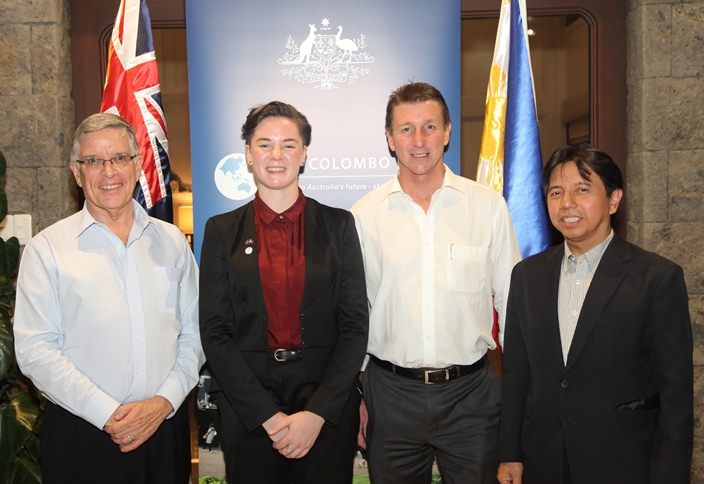 From left: Ambassador Bill Tweddell, New Colombo Plan Philippines Fellow Emily Pritchard, Hon Willem Westra van Holthe,
Deputy Chief Minister of the Northern Territory of Australia, and Commissioner Alex Brillantes, Jr of the Commission on Higher Education