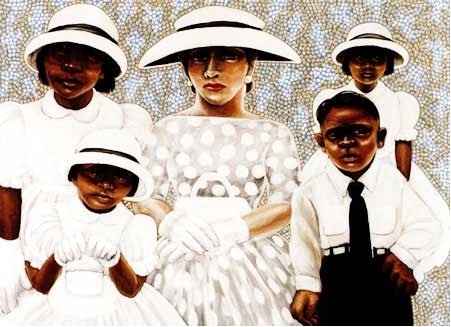 Australian exhibit echoes Indigenous journeys in today's urban societies
11 October 2013
Ongoing until 20 October at the Ayala Museum is an exhibition of selected works by eleven Australian indigenous artists living in urban areas. The exhibition, entitled "Message Stick: Indigenous Identity in Urban Australia," reflects collective and individual experiences and cultural expression in a contemporary urban society.
The exhibition is presented by the Australian Embassy, in generous cooperation with the Ayala Museum, to mark the Philippines' Indigenous Peoples' Month. It features selections from the Australian Government's Artbank collection that are personal, provocative and at the forefront of contemporary art practice. Established by the Australian Government in 1980 as an arts support program, Artbank features a significant collection of publicly-purchased works by leading Indigenous and non-Indigenous Australian artists.
During the opening ceremonies held on the evening of 10 October, Australian Ambassador Bill Tweddell said that "Australia is proud of its indigenous people and their achievements. This exhibition gives us an opportunity to continue our partnership with the National Commission on Culture and the Arts to celebrate the Philippines' Indigenous Peoples' Month. The exhibition underlines a key similarity between Australia and the Philippines - both countries have rich indigenous cultures that form a key part of our respective national identities."
Australia's partnership with the Philippines on indigenous issues extends to development cooperation. Australian Government assistance to Philippine Indigenous peoples has helped improve education with the implementation of targeted curriculum benefiting more than 60,0000 children under the Philippines' Response to Indigenous Peoples and Muslim Education (PRIME) programs with the Department of Education.
Since 2006, the Australian Embassy's Direct Aid Program has provided approximately PHP10 million to programs which contribute to indigenous people's welfare and income-generating capacity.
"Message Stick: Indigenous Identity in Urban Australia" has previously been presented by the Australian Government throughout the Pacific, Africa and is currently touring Asia. The exhibition will be in the Philippines until 20 October at the Ayala Museum.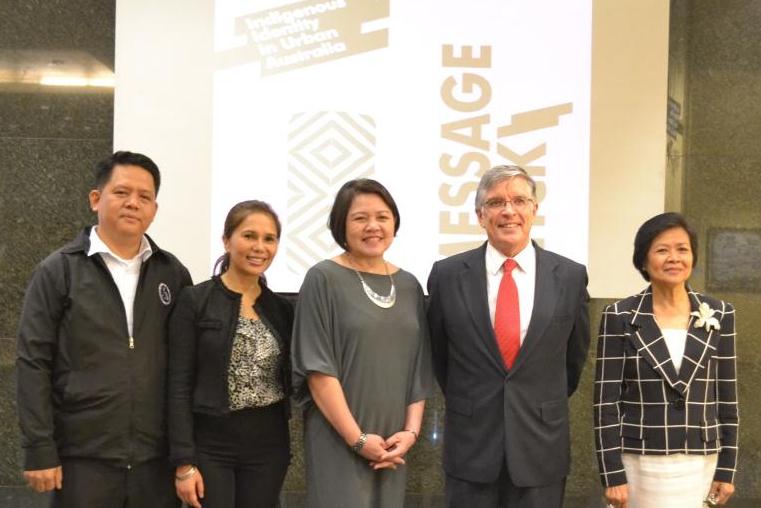 At the exhibit opening on 10 October 2013 at the Ayala Museum: (L-R) Erwin Caliba, National Commission on Indigenous Peoples; Rep. Nancy Catamco, 2nd District of North Cotabato; Mariles Gustilo, Senior Director, Ayala Foundation; Australian Ambassador Bill Tweddell; Emelita Almosara, Executive Director, National Commission for Culture and the Arts. Top photo shows Julie Dowling's "The Ungrateful", 1999.