Philippines, Australia ink MoU for real-time border verification system
10 July 2013
The Philippines and Australia recently signed a Memorandum of Understanding towards implementing a web-based iteration of the Regional Movements Alert System (RMAS), an initiative of the Asia Pacific Economic Cooperation (APEC) Business Mobility Group (BMG) to strengthen the collective capacity of border management agencies to detect lost, stolen and invalid travel documents and to prevent these from being used illegally.
RMAS provides convenience for travellers by enabling participating countries to quickly verify the status of travel documents, in real-time, directly with the issuing authority. It provides automated checking of passport data at time of airline check-in against the database maintained by the authority that issued the passport and alerts relevant agencies if coordination is needed.
"We have been coordinating with the APEC BMG to inform economies around the world about the benefits of this system, to encourage participation, and to explore possible technological options to reduce costs of start-up and continuing participation," said Australian Ambassador Bill Tweddell, who signed the MoU in behalf of the Australian government.
"Australia has been working with the Philippines from 2009 to design and implement a web-based version of RMAS, and this MoU marks another milestone in our deep and growing partnership, and in further strengthening capacity building between our Governments," Ambassador Tweddell added.
Commissioner Ricardo A. David, Jr., who signed the MoU for the Philippines' Bureau of Immigration, extended the BI's "earnest gratitude to the Australian government for their unending support to our good governance initiatives, most especially with the implementation of our key projects which are geared towards a more efficient and effective border control and management."
For the past several years, the BI has partnered with Australia's Department of Immigration and Citizenship for programs to strengthen BI's border control capacities, including a Workshop on Border Intelligence Operations concluded just last month in Davao City.
"The streamlining of procedures for legitimate tourists supports all the more the efforts to boost the tourism industry of the country, without compromising national security and public interest. A reconciliation of these two priorities is crucial to promote economic development and stability; and I believe that the advent of RMAS paves the way. This MoU is another proof that an effective and conscientious fulfilment of mandate also entails meaningful cooperation with partner agencies and foreign counterparts," Commissioner David concluded.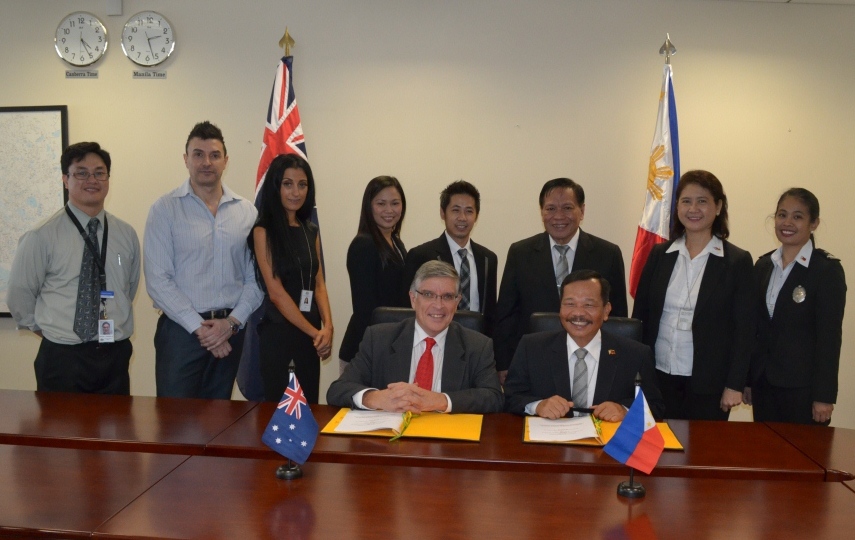 Australian Ambassador Bill Tweddell (seated, left) and Bureau of Immigrations (BI) Commissioner Ricardo A. David, Jr. (seated, right) signed the Memorandum of Understanding for the implementation of a web-based Regional Movements Alerts System (RMAS), which will strengthen the BI's capability in detecting lost, stolen and invalid travel documents, the prevention of their illegal use, and quick coordination with issuing authorities around the world. Other officers of the Australian Embassy and the BI, including Assistant Commissioner Abdullah Mangotara (standing, third from right), served as witnesses. Australia has been a constant partner in BI's good governance initiatives, especially projects towards developing more efficient and effective border control and management systems.