Australia provides more assistance to 'Pablo' victims
18 December 2012
The Australian Government today announced that Australia has increased its assistance to Php307 million (A$7.3 million) in response to the increasing humanitarian needs from Typhoon Pablo.
Australia's additional support will provide food, safe drinking water and temporary shelters to thousands of affected families, and will provide support to people with disabilities. In the worst hit areas, Australia will also support activities to protect and counsel traumatised children.
Australian Embassy Charge d' Affaires Andrew Byrne said, "The devastation caused by Typhoon Pablo is enormous and Australia will continue to assist the Philippine Government's well-coordinated efforts to address this crisis. The number of affected people requiring food, water and health services is staggering. Nutrition and health risks are also alarmingly increasing, especially among the most vulnerable of the affected populations, including children, women, the elderly and the disabled."
Australia's package of assistance now totals Php307 million (A$7.3 million) and consists of:
Php84 million (A$2 million) - prepositioned emergency, food, and health supplies through the Philippine Red Cross, World Food Programme, and UN Population Fund which are already being distributed to families in the worst-hit areas
Php126 million (A$3 million) - response to the UN appeal, including rice stocks through the World Food Program, emergency shelters through Habitat International, livelihood support through the International Labour Organization, and health supplies through the UN Population Fund
Php84 million (A$2 million) - to provide access to clean and safe water for 25,000 people, emergency shelter for 3,500 vulnerable families, and set up safe child-friendly spaces for 3,000 children through Oxfam Australia, Save the Children Australia and Caritas Australia.
Php12.6 million (A$300,000) - to non-government organisations working in Mindanao to assist specific emergency relief need of needs of persons with disabilities.
"This assistance reflects the Australian people's commitment to helping our friends in times of need," Mr Byrne said. "I hope Australia's humanitarian assistance can help some of the worst-affected families to rebuild their lives."
Australia places a very high priority on responding to natural disasters in its aid program to the Philippines.
"The Australian Government understands that humanitarian assistance is not enough. Australia's aid program also targets Php462 million of its annual aid program budget of Php5.5 billion on reducing disaster risk and enhancing disaster preparedness across the country," Mr Byrne said.
For more information about Australia's work on humanitarian and disaster response in the Philippines, visit: http://www.ausaid.gov.au/countries/eastasia/philippines/Pages/humanitarian.aspx.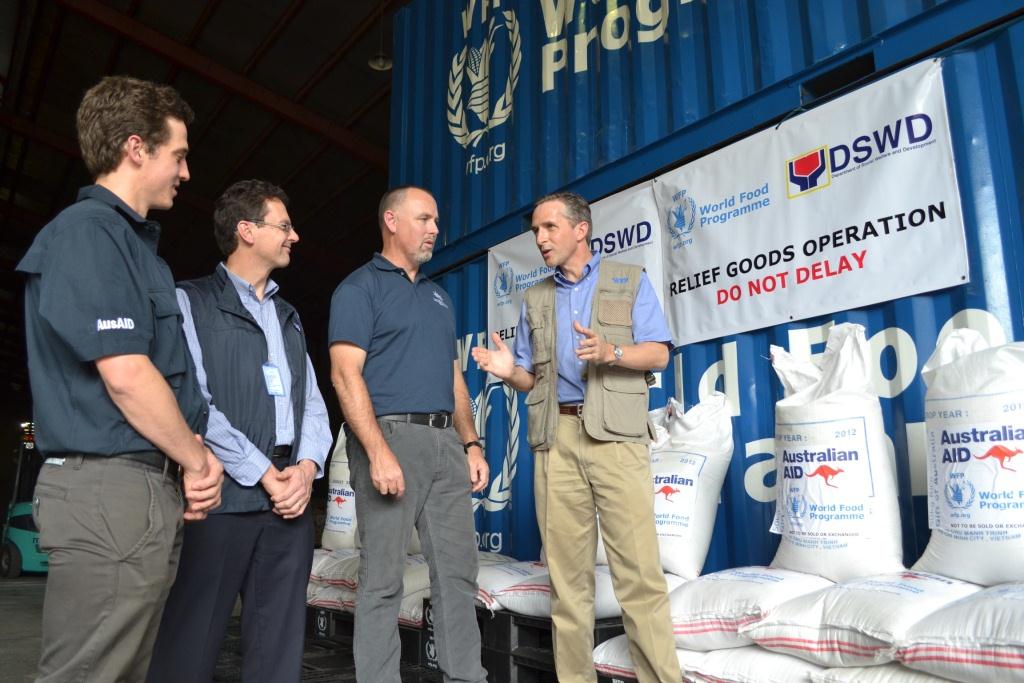 Australian Embassy officials, led by Chargé d'Affaires Andrew Byrne (2nd from right), AusAID Counsellor Geoff King (2nd from left) and AusAID Emergency Officer Charles Thursby-Pelham (left), get a briefing regarding relief operations from WFP Country Director Stephen Anderson (right) at the WFP Warehouse in Taguig earlier today, 18 December. The Australian Government announced today that it has increased its assistance to PHP307 Million in response to increasing humanitarian needs from Typhoon Pablo.