111 Filipinos receive Australia Awards scholarships for 2013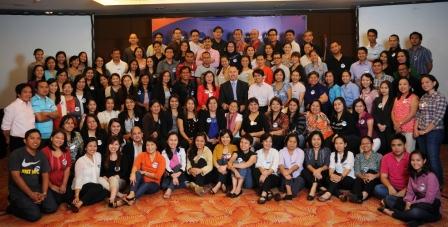 Australian Embassy Deputy Head of Mission Andrew Byrne (center) with the 2013 Australia Awards scholarship awardees during their pre-departure briefing.
A new batch of Australia Awards scholars from the Philippines is set to leave in January 2013 to pursue post-graduate studies in prestigious universities in Australia, home to 8 of the top 100 universities in the world according to the 2011-12 World University Rankings.
"Australia Awards will allow these Filipino leaders to further hone their skills and competencies in Australia's premier learning and research institutions. Their learning will equip them to take on more significant and more challenging roles in the development of the Philippines," said Andrew Byrne, Australian Embassy Deputy Head of Mission, who attended and congratulated the scholars at their recent pre-departure briefing.
Australia Awards are a cornerstone of Australia-Philippines relations and provide lasting contribution to Philippine development through education. Thousands of Filipinos have studied and trained in Australia since the 1950s.
"These 111 Filipino scholars represent the best and the brightest among Filipinos, and are aspiring leaders from both government and the private sector," said Mr Byrne.
The awardees recently attended a three-day pre-departure briefing to help them prepare for their student life in Australia. The scholars also defined their re-entry action plans (REAP), which include programs or projects that they will implement when they return, to put into practice what they learned from their studies in Australia. Hundreds of groundbreaking REAP projects have been implemented all over the country as the returning scholars enthusiastically share their learning with their communities or their sponsoring agencies.
A former scholar, Maximo Macalipes from the Department of City Economic Enterprise in Davao City, says of his scholarship: "The Australia Awards is indeed a life-changing experience. It is a package of prospects embraced in the atmosphere of fortification, cultural enrichment and academic excellence. The indisputable track record of Australian institutions and universities where grantees are enrolled shaped them to become leaders and change agents in their respective countries." Mr Macalipes took up a post-graduate course in Entrepreneurship and Innovation at the Swinburne University of Technology in Melbourne, Australia. When he returned, he developed a business plan that will serve as a guide for supervisors of public markets in the city and help them to contribute to increasing by at least 20% the city's local revenues.
Application for the next batch of Australia Awards scholarships for academic term 2014-2015 will commence on February 1, 2013. Further information on Australia Awards is available at www.australiaawards.ph.