Phil-Aussie Maritime Exercise Kicks-Off
The Philippine Navy (PN) and the Royal Australian Navy (RAN) formally opened the 12th annual Maritime Training Activity (MTA), dubbed as "LUMBAS 2012", on October 22, 2012 aboard Her Majesty's Australian Ship (HMAS) Sydney in South Harbor, Manila.
MTA LUMBAS 2012 is focused on maritime security training. It will include a series of subject matter expert exchanges followed by a fleet training exercise during which the two countries' ships will work together to improve interoperability in areas such as communications, helicopter operations and anti-terrorism. This training activity, hosted by the PN, also includes participation from the Philippine Coast Guard (PCG). It will run for five days in Manila Bay and environs.
"This maritime training activity shall aim to strengthen mutual relationship between both navies," said Vice Admiral Alexander P. Pama, Flag Officer in Command, PN. He added that "it should also enhance competency of the navies in naval and maritime security operations through subject matter expert exchange activities".
At the opening ceremony of MTA LUMBAS 2012, the Commanding Officer of HMAS Sydney, Captain Luke Charles-Jones said that "the ship's company of HMAS Sydney are excited to visit Manila and work together with the Philippine Navy and Philippine Coast Guard in MTA LUMBAS. This is the first visit since the Status of Visiting Forces Agreement came into effect on 28 September 2012 and is a great opportunity to share ideas, exchange techniques and strengthen relationships with our Filipino friends."
HMAS SYDNEY, an Adelaide Class guided missile frigate, will participate from the Australian side with around 200 RAN personnel. Participants from the PN include Barko ng Republika ng Pilipinas (BRP) General Mariano Alvarez (PS38), BRP Bienvenido Salting (PG112) and sailors from the Naval Special Operations Group. These, together with the PCG's BRP Pampanga (SARV 003) and sailors from the PCG Special Operations Group, will form the Philippine contribution to the activity.

While visiting the Philippines, the crew of HMAS SYDNEY will also have the opportunity to assist with refurbishing the Philippine Christian Foundation School in Tondo, enjoy sightseeing, play sport, and enjoy the camaraderie of their Filipino counterparts.

Photo 1: At the Opening Ceremony of MTA LUMBAS 2012. From left: GPCAPT Craig White – Defence Attaché, Australian Embassy Manila; CAPT Luke Charles-Jones, RAN – Commanding Officer, HMAS Sydney; CAPT Virme Torralba, PN – Deputy Commander, Fleet Marine Ready Force; and CAPT Leovigildo Panopio, PCG – Commander, Coast Guard Ready Force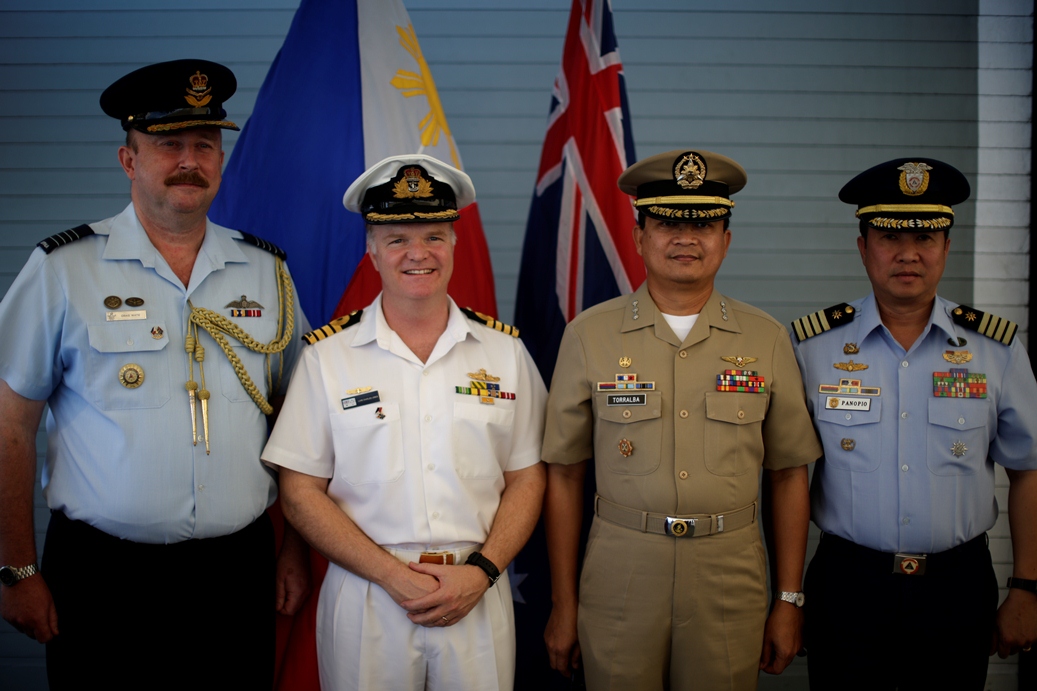 Photo 2: The HMAS Sydney IV