Australia supports 'teacher-leaders' to improve quality of teaching in the Philippines
Australia continues to help improve the quality of education in the Philippines. The latest among its education initiatives aims to strengthen the leadership and professional excellence of Filipino teachers.
Australia provided a two-week leadership development program for the 10 Outstanding Teacher awardees of the Metrobank Foundation for 2012 through first-hand exposure to globally-recognised teaching programs in Australia. The teachers learned about 'Smart Classrooms', which encourage the use of new technologies to improve teaching and learning. They also visited several primary and secondary schools in Queensland and Melbourne to observe and learn from different teaching strategies and approaches used in Australian schools.
"Australia is pleased to be working in close partnership with the Philippines towards achieving better learning outcomes for Filipino children. Our support to outstanding teachers stems from the fact that better teachers can produce better students," Australian Ambassador to the Philippines Bill Tweddell said.
"The leadership development program is perfectly timed especially as the Philippine Government rolls out the 'K to 12' program – we will rely on nothing else but the excellence of our beloved teachers," Department of Education Secretary Bro. Armin Luistro said at a reception held for the teachers upon their return from Australia.
"Australia is the single biggest and most important partner of the Department of Education, and I have not had any other opportunity to partner with any other country that supported education the way Australia does," Secretary Luistro said.
Civil Service Commission Chair Francisco Duque III, who was also at the reception, called the program "a brilliant initiative."
"Teacher-leader means empowering teachers to become agents of change by allowing them to continuously find ways to improve their teaching as that of their colleagues, to participate in decision-making, and mentor fellow teachers to explore ways on how their school can contribute to the community," said Duque.
"Education is the flagship initiative of Australia's development cooperation program with the Philippines. Building on the history of the Colombo Plan, I am extremely proud of the crucial contribution Australia continues to make in education, a key area of need for the future of the Philippines," said Ambassador Twedell.
The leadership program for Filipino teachers is part of Australia's broader support to government reform. The initiative falls under the human resource development and institutional strengthening program administered through the Philippines-Australia Human Resource and Organisational Development Facility.
As a way of 'paying forward', the 10 teachers will mentor 12 scholars who are taking undergraduate degrees in education under the Philippine Business for Education's "1,000 Teachers" program, which the Australian Government also supports.
The outstanding teachers have been selected as the best among the best in the education profession from the field of more than 500,000 teachers. Sent to Australia were: Teodora Conde, Andres Bonifacio Elementary School in Sta. Cruz, Manila; Vilma Ambat of Baguio National High School, Maricel Franco,Nueva Vizcaya General Comprehensive High School, Marcela Jingco, Angeles Elementary School; Buenaventura Luces, Lusacan National High School; Chelo Tangan, Gosi High School, Shena Faith Ganela of Philippine Science High School, Western Visayas campus; Djhoane Aguilar, Panabo Central Elementary School; Lora Añar, Bukidnon State University; and Mercelita Labial, Xavier University High School.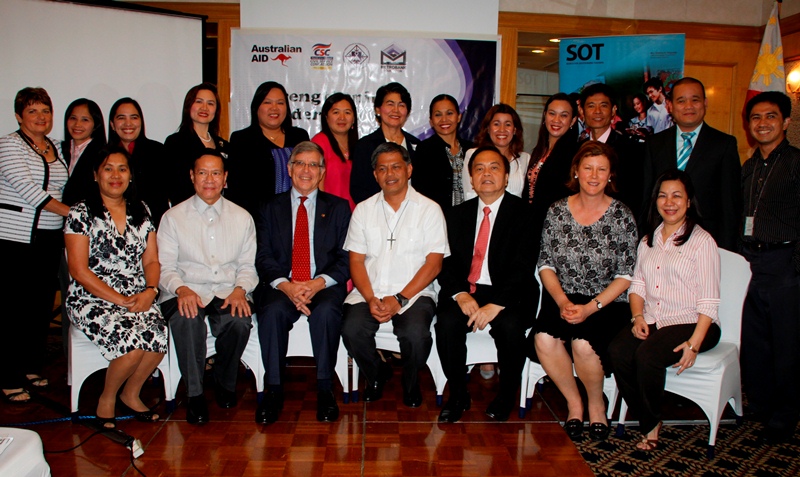 Teacher-Leaders. The 10 Outstanding Teacher awardees (back row) with (seated, L-R): National Economic and Development Authority's Susan Carandang, Civil Service Commission Chair Francisco Duque III, Australian Ambassador to the Philippines Bill Tweddell, Department of Education Secretary Bro. Armin Luistro, Metrobank Foundation Chair Chito Sobrepeña, AusAID Minister Counsellor Octavia Borthwick, Philippines-Australia Human Resource and Organisational Development Facility Director Milalin Javellana and AusAID Portfolio Manager Rod Sollesta (standing, extreme right).