Embassy Supports Partnership between Australian and Philippine Universities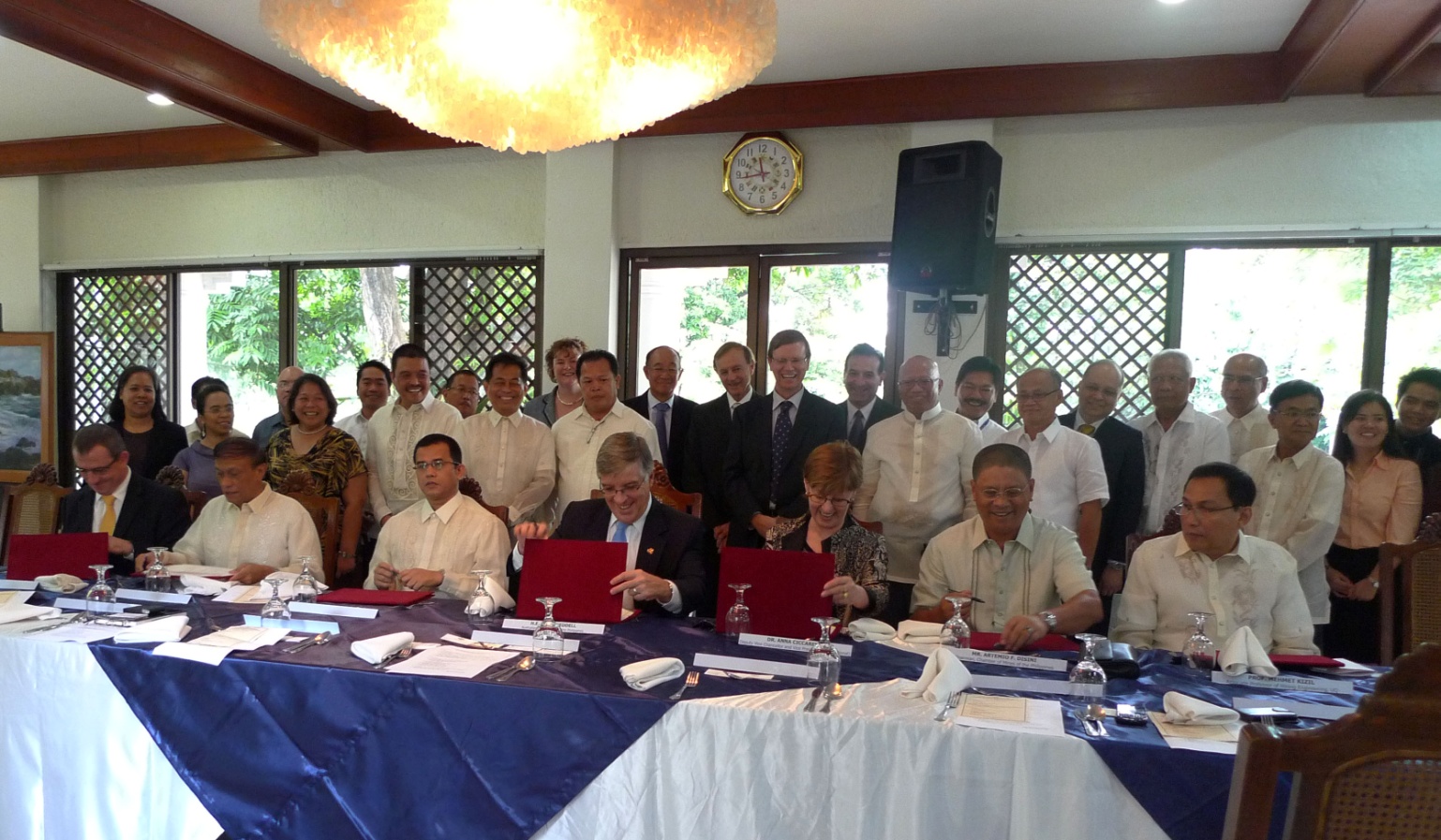 (Seated from left to right) Mr. John Loader, SMI Manager of Human Resource; Dr. Perfecto A. Alibin, USEP President; Dr. Caesar A. Saloma, UPD Chancellor; H.E. Bill Tweddell, Australian Ambassador to the Philippines; Dr. Anna Ciccarelli, UQ Deputy Vice Chancellor and Vice President (International); Dr. Sukarno D. Tanggol, MSU-IIT chancellor; and Atty. Abdurrahman T. Canacan, MSU-GSC chancellor, signing the Certificate of Partnership in UP Diliman.
Australian Ambassador to the Philippines Bill Tweddell recently witnessed the signing of a memorandum of understanding (MOU) between The University of Queensland (UQ) and four Philippine state universities: the University of the Philippines (UP) Diliman, the University of Southeastern Philippines, Mindanao State University–General Santos, and Mindanao State University–Iligan.
The five universities will undertake academic and research cooperation to develop, enhance and maintain high caliber academic programs in mining engineering, metallurgical engineering, geology, and other mining-related fields including relevant environmental and social sciences. It is the aim of this partnership to support the emergence of sustainable mining in the Philippines by building the capacity and expertise of University faculties, especially in Mindanao.
Ambassador Tweddell said in his remarks, "I would like to congratulate all involved in this unique and innovative partnership. I am unaware of any other partnership between academe, government and industry in the Philippines that has the potential to deliver real educational and employment outcomes that support responsible mining, like this one."
Four Filipinos are now undertaking post graduate education at the University of Queensland in fields such as metallurgy and plant science, and another three Filipinos are applying in the current round.
Guests at the ceremony included Artemio F. Disini, chairman of the Chamber of Mines of the Philippines; Engr. Rodolfo Velasco, chief of the Mining, Environment and Safety Division, Mines and Geosciences Bureau; Catherine Rees, First Secretary of the Australian Embassy; and Prof. David Mulligan, director of the UQ Center for Mined Land Rehabilitation, Sagittarius Mines, Inc.