Australia Presents Medals to Filipino Peacekeepers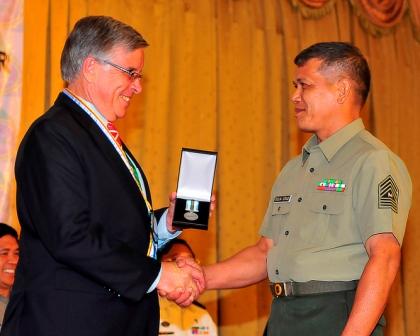 Ambassador Bill Tweddell presents the International Force East Timor (INTERFET) medal to Philippine Army Master Sergeant Reynaldo dela Cruz during an awarding ceremony at Fort Bonifacio on 31 March 2012. Sergeant dela Cruz was one of 537 Filipino officers and enlisted personnel who served in East Timor as part of the Philippine Humanitarian Support Mission to East Timor (PhilHSMET).

Ambassador Tweddell said, "The award of the INTERFET medal is a fitting tribute to the efforts of the members of the Philippine Humanitarian support mission to East Timor. They served the Philippines with distinction, and they made a demonstrable, practical difference on the ground for the benefit of the people of East Timor."
INTERFET was an Australian-led multinational peacekeeping taskforce mandated by the UN to restore peace and security in East Timor, to protect and support the UN Assistance Mission, and to facilitate humanitarian assistance to the territory.
The INTERFET medal recognises members of the peacekeeping and humanitarian mission in East Timor during the 1999-2000 INTERFET campaign. The medal was initiated by Australia, with eligibility extended to 16 participating nations including the Philippines.
"Our cooperation in INTERFET and in many other operations is a powerful symbol of our shared commitment to working together for the benefit of regional and international peace and security. Australia and the Philippines have a strong and longstanding tradition of bilateral defence cooperation, which we look forward to deepening further," said Ambassador Tweddell.
The Philippine Government deployed three PhilHSMET contingents to East Timor to provide humanitarian assistance. The contingent included doctors, nurses, dentists, construction engineers, explosive ordinance disposal personnel, agricultural specialists and mechanics.
Also in attendance were the Commanding General of the Philippine Army LTGEN Emmanuel T Bautista, former Commanding General of the Philippine Army LTGEN Jaime De Los Santos (Ret) and the Australian Defence Attaché, Group Captain Craig White.
Additional awarding ceremonies are planned in the future and eligible personnel who have not been presented with their medal are requested to provide their details to PhilHSMET MPC Chairman Colonel Alexis Tamondong by email [email protected] or to LT Efren Nero Tel 882-8422.