Australian Embassy supports Sanctuary for Abused Women and Children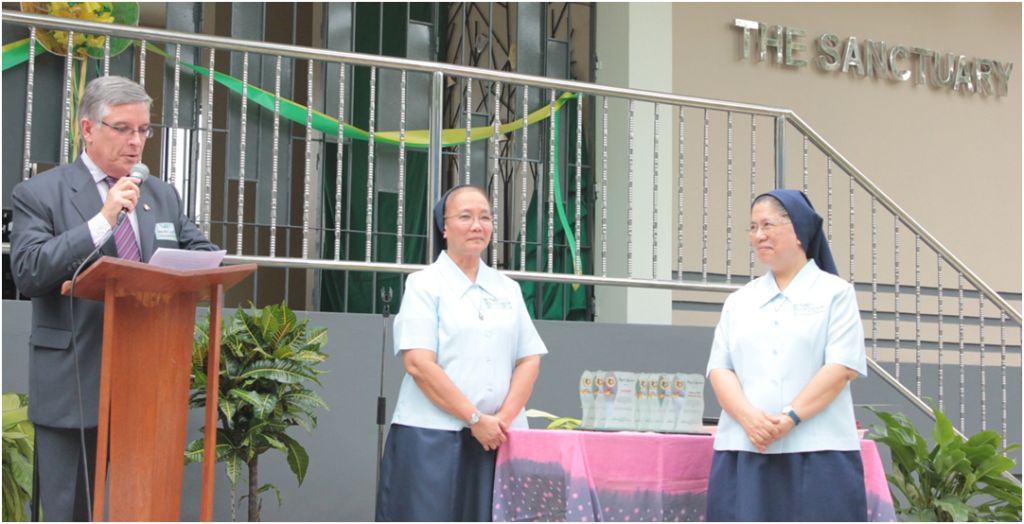 Australian Ambassador Bill Tweddell recently attended the inauguration of the Sanctuary for Abused Women and Children at the Hospicio de San Jose (HSJ) in Manila.
The Ambassador offered a message of support to the administrators of the women's sanctuary, including Daughters of Charity Visitatrix Sister Ma. Teresa Mueda (centre in photo) and the HSJ Administrator, Sister Ma. Socorro Pilar Evidente DC (right in photo).
"Through the Sanctuary, women in difficult circumstances are given renewed hope and inspiration to continue to realise their potential as individuals and as members of society," Ambassador Tweddell said.
Located within the HSJ compound and managed by the Daughters of Charity since 1865, the Sanctuary's construction was supported in part by the Embassy's Direct Aid Program (DAP). The Sanctuary will serve as a protective shelter for abused and disadvantaged women with a range of counselling services available to help address the impact of abuse to assist them move forward with their lives. Other donors to the Sanctuary include the Australian and New Zealand Association, a social non-profit organisation focused on helping the underprivileged, as well as Australian companies GHD, Sinclair Knight Merz (SKM) and the Australian-New Zealand Chamber of Commerce.
"As we observe International Women's Month, the Australian Government reaffirms its ongoing commitment to Filipino women. Actively empowering and supporting women's full participation in social, economic and political life is integral in driving development," Ambassador Tweddell said.
Support for women and gender equality are among the core goals of Australia's development cooperation program in the Philippines. In the last seven years, the Embassy's DAP has provided Php7 million to 29 projects directly benefitting women. These include projects with the National Council of Women in the Philippines to help prevent violence against women, and livelihood and training opportunities to women across the Philippines such as the potters in Sagada and weavers in South Cotabato.