The New Colombo Plan is a signature initiative of the Australian Government which is intended to be transformational for all, deepening Australia's relationships in the region, as well as ensuring a more regionally-aware Australian workforce for the future.
Over time, the Australian Government wants to see study in the region become a rite of passage for Australian students, and an endeavour that is highly valued across the Australian community.
Quick Facts
The New Colombo Plan includes a scholarships program for study of up to one year and internships or mentorships, and a flexible mobility grants program for short and long-term study, internships, mentorships, clinical placements, practicums and research.
The program is open to Australian undergraduates aged 18 to 28 studying at Australian universities, with capacity to include some students over 28 in the mobility program.
Internships and mentorships are integral to the New Colombo Plan. In addition to contributing to the students' academic qualifications, they offer students the chance to test their skills, gain insight into an organisation and build professional networks. Companies in the Philippines can get in touch with the Australian Embassy to discuss opportunities to host New Colombo Plan interns.
Arrangements for study, internships and mentorships are made by universities, their students and host institutions and organisations to suit the needs of all parties.
A New Colombo Plan internship network has been established to further support collaboration between universities, students and private-sector organisations in Australia and the region.
An alumni network will ensure connections made through the New Colombo Plan are long-lasting and provide ongoing opportunities for New Colombo Plan alumni to engage with the region.

>http://dfat.gov.au /new-colombo-plan
Twitter: @NewColomboPlan
NCP scholars in the Philippines
EMILY PRITCHARD
Emily Pritchard, the inaugural Philippines Fellow, was awarded a New Colombo Plan scholarship in 2015.
Her education program at the University of the Philippines in Los Banos focused on natural and social sciences, and will form part of her undergraduate degree on Environmental Science and Social Science at the Royal Melbourne Institute of Technology.
Emily has had two internships: first with the Palawan Council for Sustainable Development Staff (PCSDS) Planning Department, in Puerto Princesa; and second with the Institute for Climate and Sustainable Cities (iCSC) in Cubao. iCSC is a non-profit group and their focus is fair climate policy and renewable energy. Emily is currently working with the iCSC on facilitating municipal govenment proposals for renewable energy projects, as well as the Adaptation Finance Accountability Inititive (AFAI) which tracks climate adaptation finance in the Philippines.
"I couldn't have imagined the privilege it has been to hear stories from the lives and worlds of my classmates and professors – and to, through them, come to better understand the Filipino perspective."
"Crucially, all of this is also helping me to see a more global perspective, enhancing my capacity for empathy and my appreciation of diversity. This is exactly the ways in which the New Colombo Plan is transformational for the participants."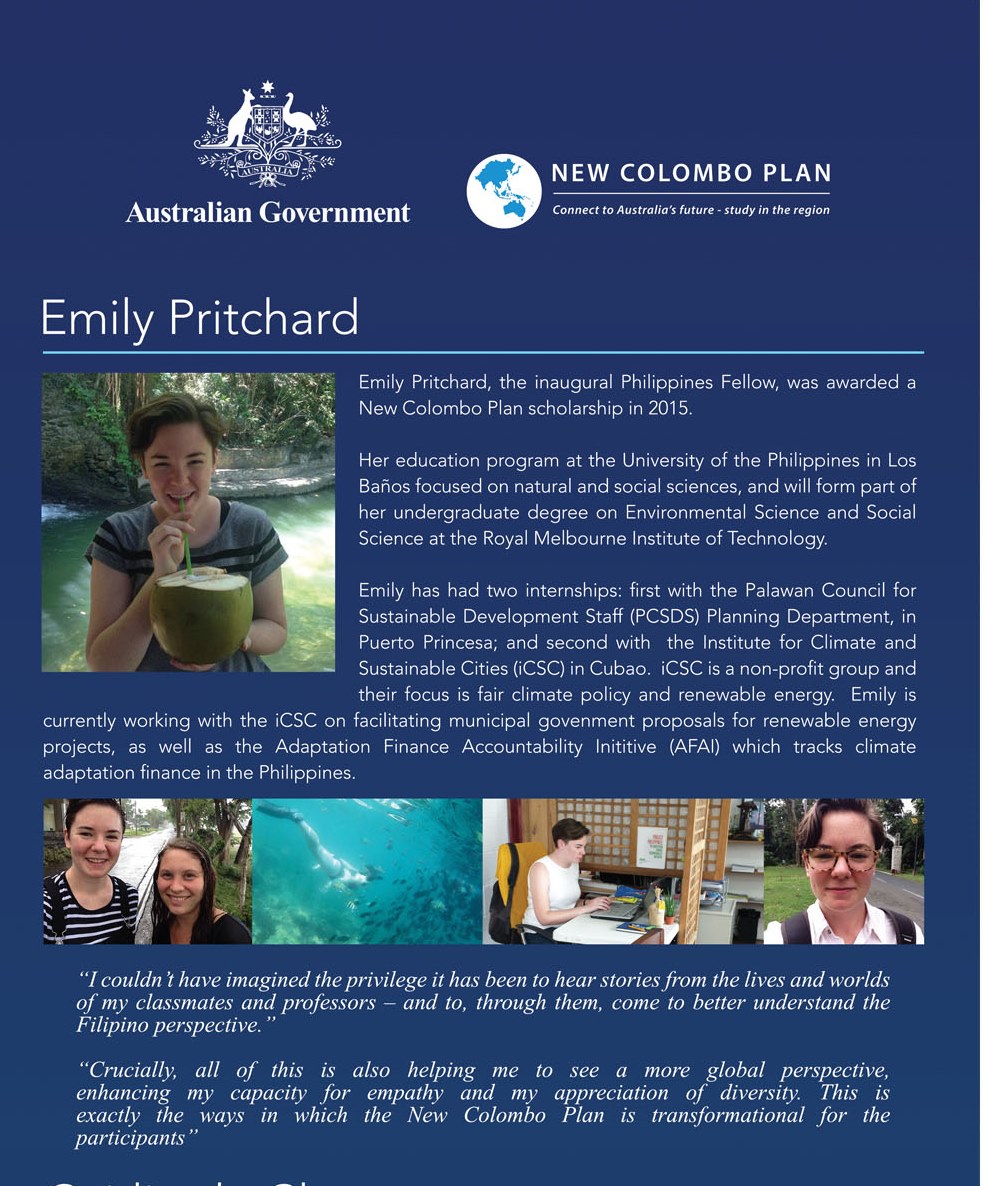 CAITLIN DU CHATEAU
Caitlin du Chateau is the second New Colombo Plan scholar to the Philippines.
Caitlin is currently studying Education at the Ateneo de Manila University in the Philippines as part of her Bachelor of Teaching (Primary) / Bachelor of Arts degree at The University of Newcastle.
Caitlin plans to undertake an internship teaching at a primary school.
"This scholarship is one of the most amazing experiences. It helps me a lot for employment opportunities that I've studied overseas. It's given me a lot of skills for my future career as a teacher in terms of working with staff and students from different cultures."
NCP internships and mentorships
The Australian Government's signature initiative, the New Colombo Plan, is boosting the number of Australian undergraduate students who study and work in the Indo-Pacific. By the end of 2016, around 10,000 Australian students will have been supported to live, study and work in the region under the New Colombo Plan, and these numbers will continue to grow.
The Australian Government is encouraging businesses and other organisations to become a part of the New Colombo Plan. By offering internships and mentorships overseas, your organisation will help develop graduates with the skills and experience needed to do business internationally, and join the future of Australia's engagement with our neighbours.
By offering internships and mentorships, organisations benefit by:
harnessing the skills of talented young Australians
accessing graduates who may be valuable future employees, volunteers and supporters
building awareness of the organisation's objectives, challenges and work environment
developing a workforce with the experience needed to work with the Indo-Pacific, and
joining the future of Australia's engagement with our neighbours.
Organisations can register their interest online by visiting the NCP Internship and Mentorsh