AUSTRALIAN AMBASSADOR AND OPAPP UNDERSECRETARY LAUNCH BOOK ON MINDANAO PEACE PROCESS
Australian Ambassador Amanda Gorely and Undersecretary for Operations Diosita Andot from the Office of the Presidential Adviser on the Peace Process led the book launch of Mindanao: The Long Journey to Peace and Prosperity yesterday at Discovery Primea, Makati City. OPAPP Secretary Jesus Dureza also joined the event.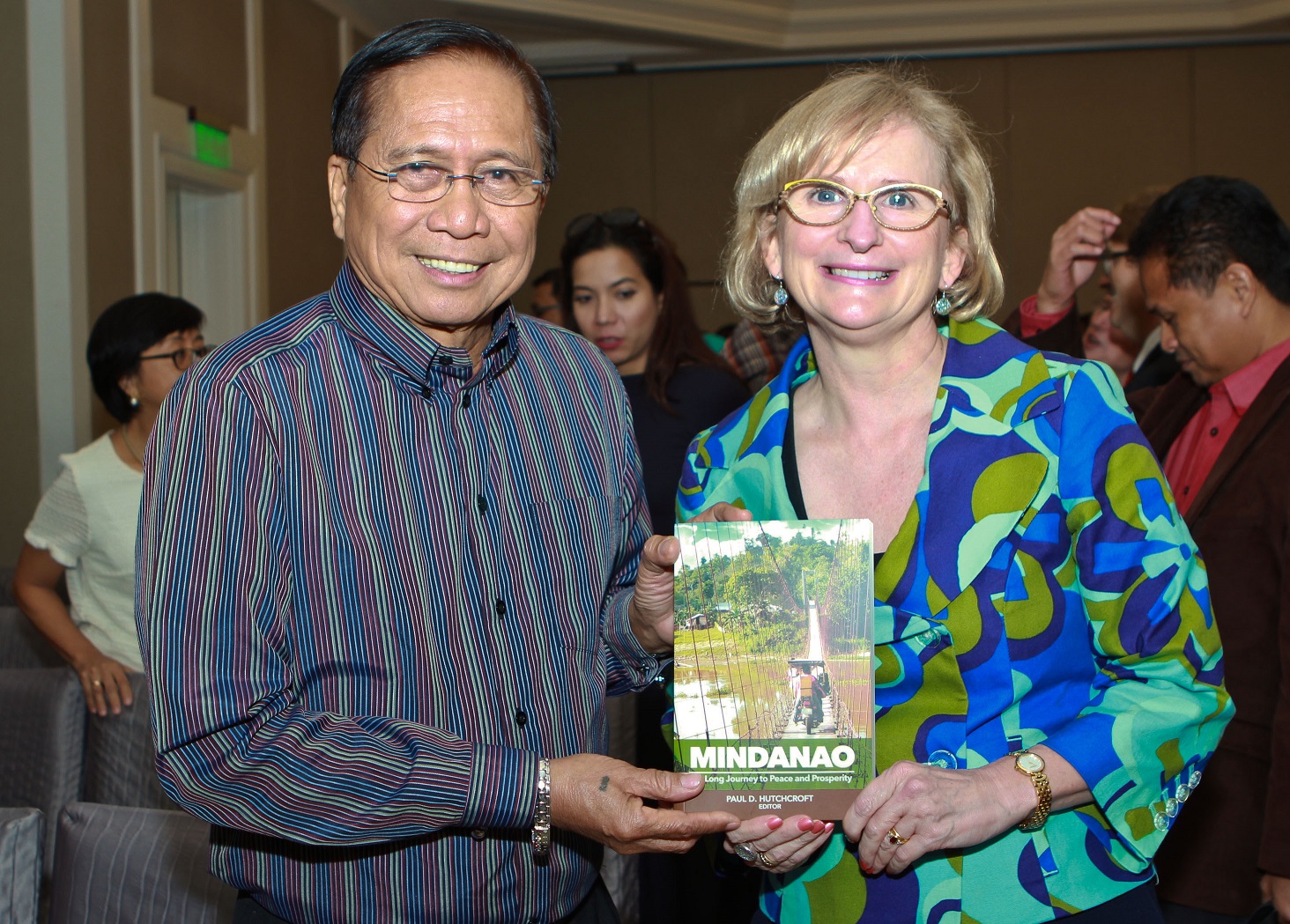 OPAPP Secretary Jesus Dureza with Australian Ambassador Amanda Gorely at the book launch.
"As a partner of change, Australia has been supporting peace and investing in development in Mindanao. Our support to the peace process is a significant aspect of our 70-year partnership with the Philippines," Ambassador Gorely said.
"As the peace process moves into a new phase with new approaches," book editor Dr. Paul Hutchcroft said "this volume will be an important foundational resource in the on-going quest for peace and prosperity in Mindanao. The book emerged from an Australian National University (ANU) project supported by Australian aid program and is a testament to the deep and extensive bilateral linkages between Australia and the Philippines." Dr. Hutchcroft is a professor in (and formerly founding director of) the ANU's Coral Bell School of Asia Pacific Affairs.
Also present at the event were leading personalities in the peace process: Professor Miriam Colonel-Ferrer, former chief GPH peace negotiator; Chair Mohagher Iqbal, chief MILF peace negotiator; and Amina Rasul, President of the Philippine Center for Islam and Democracy.
"This compendium of essays could not have come at a more appropriate time," explained Rasul. "The administration of President Rodrigo R. Duterte will certainly benefit from the analysis of the experts who have contributed to this volume."
Dr Steven Rood, Country Representative of The Asia Foundation and book contributor said, "I am pleased that The Asia Foundation can help launch this book. Mindanao: The Long Journey to Peace and Prosperity will be a great addition to understanding the recent dynamics of the peace process as well as the underlying historical, political and economic context of a conflict that is more than four decades old."
The Australian Government has invested almost A$150 million in peace and development in Mindanao, where Australia has been providing support to education, economic development, disaster risk reduction and the peace process since 1996.
"We will continue to support President Duterte's government as it advances the peace agenda. Our commitment to the people of the southern Philippines in their journey to peace and prosperity is steadfast," Ambassador Gorely added.
Photo from left: Professor Mirian Coronel-Ferrer, former GOP chief peace negotiator and book contributor; Undersecretary Diosita Andot, OPAPP; Dr Paul Hutchroft, book editor and Professor at Autralian National University; H.E. Amanda Gorely, Australian Ambassador to the Philippines; and Chairman Mohagher Iqbal, chief MILF peace negotiator.