WELCOME TO THE AUSTRALIAN EMBASSY IN THE PHILIPPINES WEBSITE
Latest news
The Australian Embassy will be closed on the following days over the Christmas and New Year period:
• Wednesday, 25 December
• Thursday, 26 December
• Friday, 27 December
• Saturday, 28 December
• Sunday, 29 December
• Monday, 30 December
• Tuesday, 31 December
• Wednesday, 1 January
We will resume normal business hours on Thursday, 2 January 2020.

For after-hours emergencies please call +63 2 7757 8100 and follow the prompts to transfer (toll free) to the Department of Foreign Affairs and Trade 24-hour Consular Emergency Centre in Canberra or call direct on +61 2 6261 3305.
Smartraveller has the latest, authoritative travel advice so you can be informed and prepared about overseas travel. Subscribe to receive travel advice updates - by simply supplying your name and email address – straight to your inbox.
You can now also subscribe to the new SMS service - by supplying your mobile number – to receive critical alerts in the event of a crisis overseas.
In a crisis, Smartraveller will activate a crisis page on its website. It will make it easier for you or someone you know to contact the Australian Government if you need help. It will supplement the consular emergency hotline.
Visit www.smartraveller.gov.au to subscribe or connect with Smartraveller on Facebook and Twitter.
Applying online is the fastest way to get an Australian visa.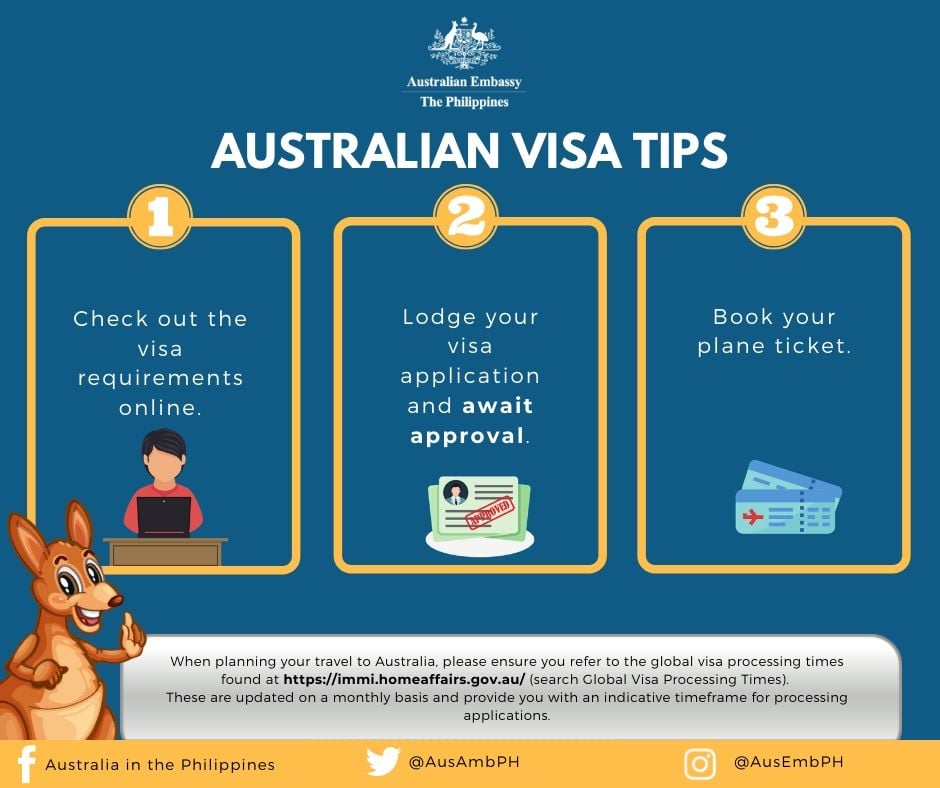 Australian Ambassador celebrates National Teachers Month by teaching for a day at Navotas National High School
Australian Ambassador Steven J Robinson AO took a day off his usual diplomatic duties to teach Grade 10 students at Navotas National High School. The Ambassador volunteered to teach for a day to highlight the importance of access to quality education for all Filipino children.
Visit of the Australian Ambassador for Counter-Terrorism
Australia's Ambassador for Counter-Terrorism, Paul Foley PSM, visited the Philippines on 5 to 8 August 2019 to underscore the importance placed by Australia on its security partnership with the Philippines.
Australia announces additional support to Marawi recovery
Today, Australian Ambassador Steven J Robinson AO announced an additional PHP 140 million or AUD 3.5 million to support the people of Marawi.
Philippines Australia Friendship Day in Cebu
The Australian Embassy brings to Cebu the Philippines Australia Friendship Day celebration.
"The Philippines Australia Friendship Day is an annual celebration that we take to different parts of the country," said Australian Ambassador Steven J. Robinson AO. "I am very pleased that we are holding this year's celebration in Cebu. It is not only an opportunity to share with Cebuanos the best of Australia, but also to celebrate our deep ties and enduring friendship."
Australian Culture, Fashion and Film at the Ayala Center Cebu
Cebu City – Get a taste of Australian culture, fashion and food at the Philippines Australia Friendship Day to be held on Saturday, 25 May at the Ayala Center Cebu.
Cebuanos will enjoy a full day of fun for family and friends with an interactive exhibit, information sessions, fashion parade and a free outdoor concert and film screening. Learn more here.
Australia Supports flagship DepEd program, builds Alternative Learning Centre prototype in Samar
Australian Ambassador to the Philippines Steven J. Robinson AO, attended the launch of the newly completed Alternative Learning System – Education and Skill Training (ALS-EST) Learning Centre in Lawaan, Eastern Samar.
"Australia is pleased to support the Department of Education's flagship ALS-EST program. It is an important way to provide education opportunities to equip out of school youth with skills to help them find work." Ambassador Robinson said.