WELCOME TO THE AUSTRALIAN EMBASSY IN THE PHILIPPINES WEBSITE
---

Follow Ambassador Gorely on Twitter: @AusAmbPH
---
For Australian passports and consular services for Australians – click here
For Australian visa and citizenship services – click here
---
GRANTS TO BE GIVEN TO AUSTRALIAN ALUMNI
The Australian Embassy announces the opening of the second round of the Alumni Grant Scheme (AGS). Proposals will be accepted from 26 January to 29 February 2016. The scheme will support short-term projects (3-5 months) and activities of the alumni that highlight Australian education, strengthen linkages between Australia and the Philippines, and contribute to the development of the Philippines.
Identified priority areas of the Australian Government:
Economic Growth
Governance
Peace and Stability
The AGS enables Australian alumni to harness their expertise towards projects that contribute to growth and prosperity of the Philippines, particularly in sectors that have been identified as priority areas for cooperation by the Australian and Philippine Governments. Click here to learn more.
There are over 10,000 Filipino alumni of Australian universities and institutions, with 3,000 alumni from the prestigious Australia Awards Scholarship program alone. Australian alumni continue to make a valuable contribution to a wide range of sectors in Philippine society, including in business, education and government, science and technology, medicine and health sciences, the arts and media.
Catch the Australian Food & Beverage promotion at Rustan's Supermarket
from 8 January to 4 February!
Click image for more information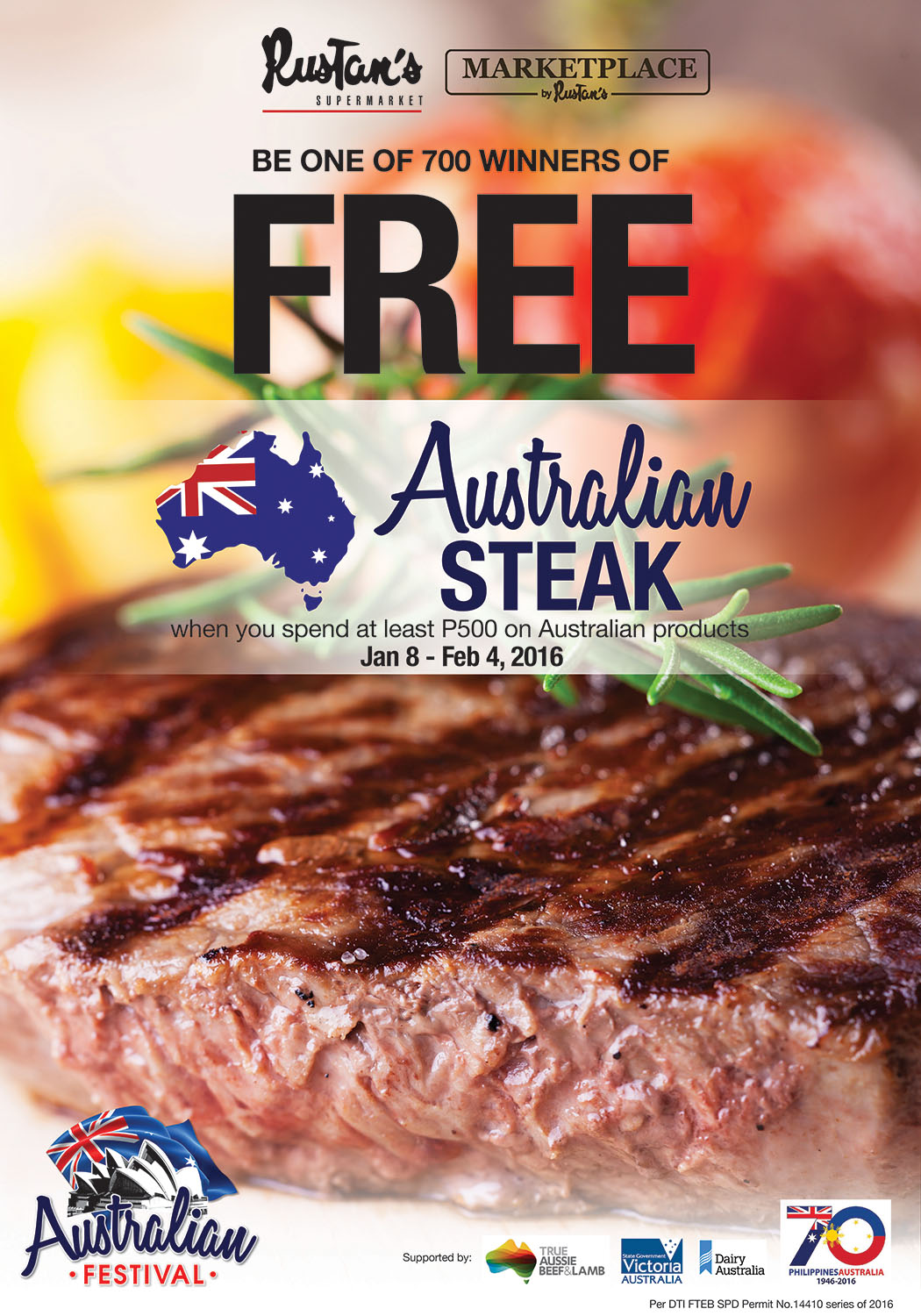 ---
Australia Day 2016: Marking the #First70Years of friendship and cooperation with the Philippines
"Australia Day is not just a celebration; it is also a time of reflection on where we have come from as a nation. It is only appropriate at this time that we also reflect upon the journey that the Philippines and Australia have shared over the past 70 years." - Ambassador Amanda Gorely [More...]
Outgoing Australian Ambassador Conferred the Order of Sikatuna
President Benigno S. Aquino III has conferred the Order of Sikatuna with the rank of Datu Katangiang Ginto (Grand Cross, Gold Distinction) on outgoing Australian Ambassador Bill Tweddell. [More…]
Australia provides up to A$500,000 (Php17.5 Million) in humanitarian aid following Typhoon Nona (Melor)
The Australian Government will provide A$500,000 or PHP17.5 million in humanitarian assistance for families affected by Typhoon Melor (locally known as Typhoon Nona). [More…]
DSWD receives Php104 million support from Australia to boost disaster response capacity
The Philippine Government and the Australian Government have partnered to strengthen the capacity of the Department of Social Welfare and Development (DSWD) to respond to natural disasters and emergencies through a Php104 million (AUD3 million) grant under a 3-year Support Program for Disaster Response. [More...]
70 Years in Photographs: Philippines and Australia launch 70th Anniversary Celebration of Bilateral Relations
The exhibition is the first in a series of events commemorating the 70th anniversary of diplomatic relations between Australia and the Philippines. Formal relations between the two countries were established when Australia opened its first Consulate General in Manila on 22 May 1946. [More...]
---
AUSTRADE