Australian Embassy
The Philippines
Embassy address: Level 23-Tower 2 RCBC Plaza 6819 Ayala Avenue, Makati City, 1200 - Telephone: 757 8100 - Fax: 757 8268
Welcome to the Australian Embassy Philippines Website

Connect with us on Facebook! Australia in the Philippines
---


H.E. Bill Tweddell
Australian Ambassador to the Philippines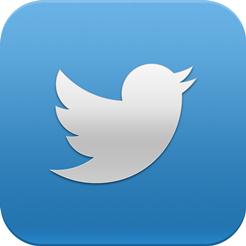 Follow Ambassador Tweddell
on Twitter: @AusAmbPH
Latest Speeches by the Ambassador
---
For Australian passports and consular services for Australians – click here
For Australian visa and citizenship services – click here
---
Fresh picks this season: Australian oranges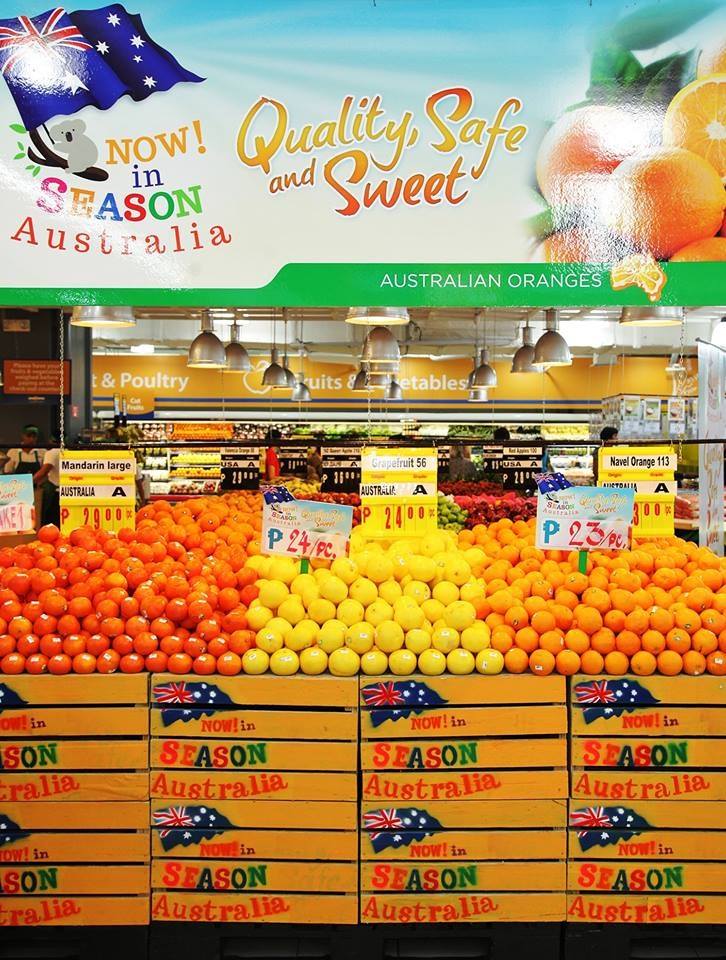 The Australian Embassy, in partnership with Citrus Australia and the Victorian Government, recently launched 'Australian Oranges - Now in Season', to mark the season and availability of Australian oranges in the Philippines. Filipinos can look forward to enjoying Australian oranges that are not only healthy, fresh, and safe, but also affordable. 'Australian Oranges - Now in Season' runs from 28 July to 31 August 2015 in key outlets of Landmark, Robinsons, Rustans, S&R, Shopwise, and SM Supermarkets.
1,533 families are benefiting from Australia's shelter recovery program after Typhoon Yolanda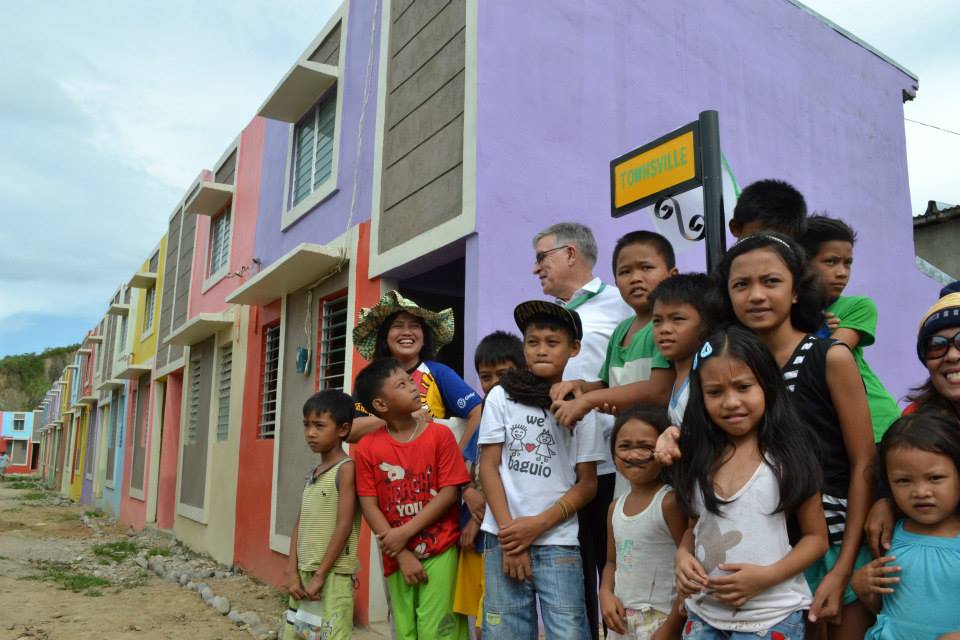 Almost 8,000 individuals or 1,533 families are benefiting from housing formally handed over on 27 July 2015 by the Australian Government as part of its broad assistance to communities affected by Typhoon Yolanda. The Php120 million Australian funding for shelter rehabilitation and construction was implemented by the Catholic Relief Services, Gawad Kalinga, and the Philippine Red Cross, in coordination with Palo Municipality, Tacloban City and the beneficiary and host communities.
Australian grass-fed beef showcased in top Manila restaurants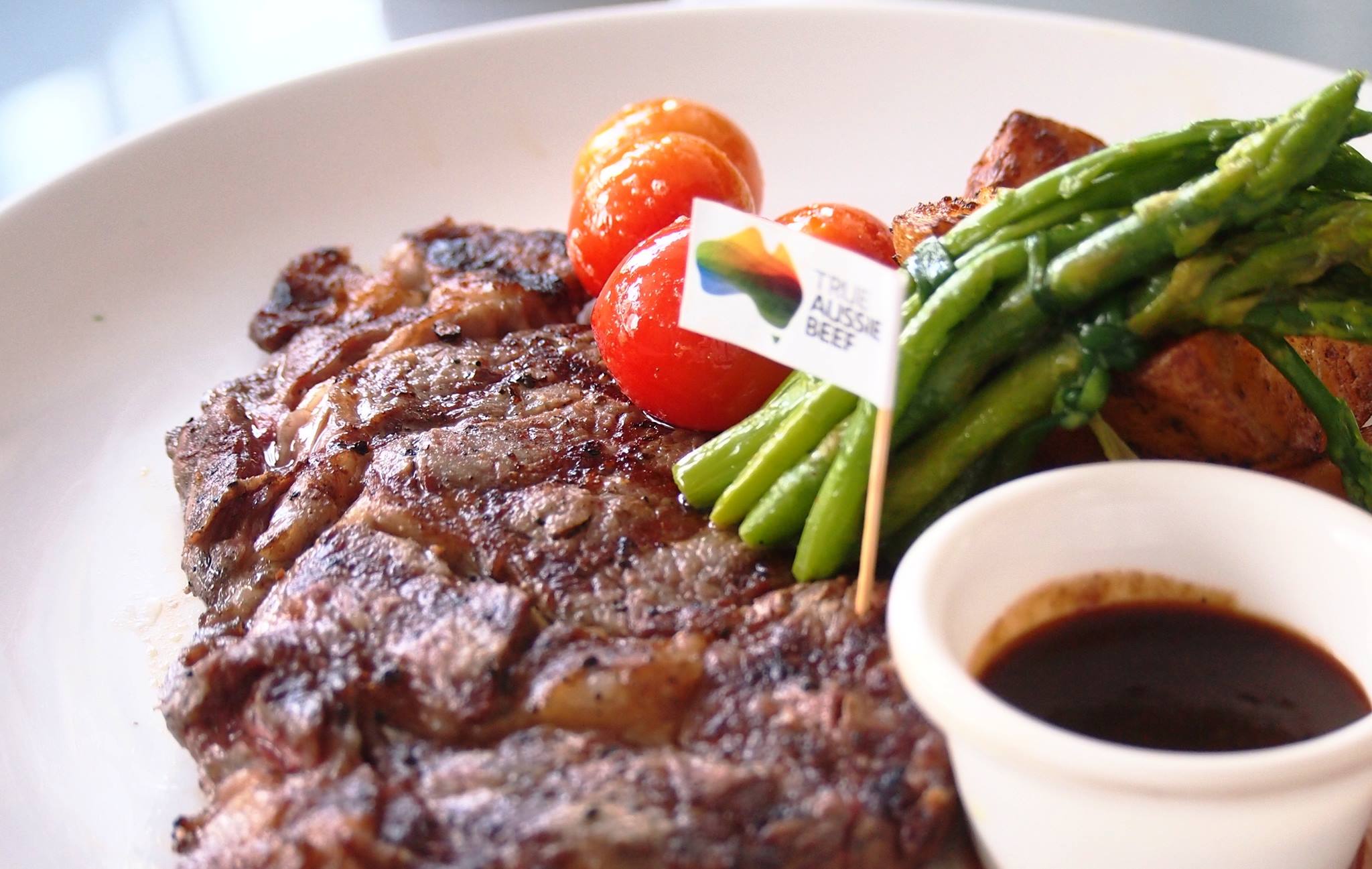 A culinary experience awaits diners all over Metro Manila as more than 35 top restaurants participate in the first ever-Australian grass-fed beef promotion. Featuring tailored menus, each restaurant will showcase the unique taste of Australian grass-fed beef, which has been raised exclusively on pasture. 25 July to 23 August 2015.
Australian skills saving lives in Boracay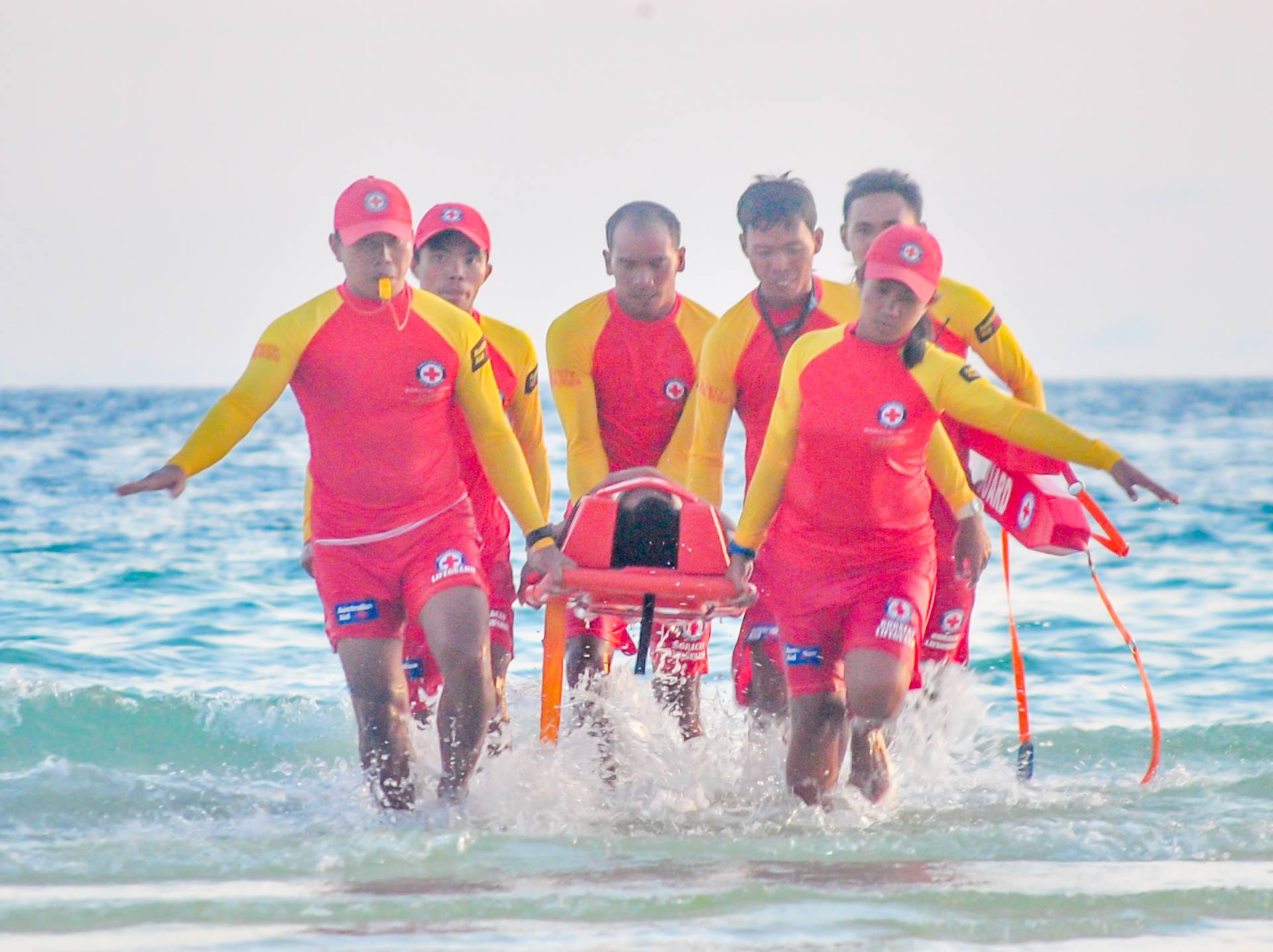 The Australian-modelled surf safety and lifesaving program has been highly successful. Since the program commenced there have been no drowning deaths on White Beach under the watch of the lifeguards. "This is an outstanding achievement and is a testament to the dedication of the Australian trainers and the ability of the Filipino lifesavers," Ambassador Tweddell said. Through the Australian Volunteers for International Development (AVID) program in the Philippines, Australia has supported the development of lifesaving capabilities across the country.
Australian Embassy supports Brigada Eskwela 2015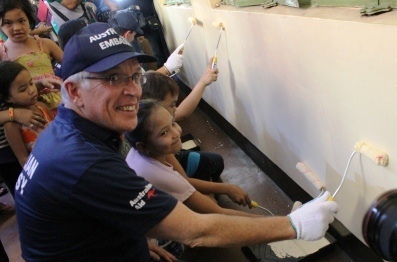 "We always look forward to Brigada Eskwela and working side by side with students, teachers, communities and DepEd to help schools get ready for the new school year", Ambassador Tweddell said. "Our volunteer work is in the true tradition of Australian mateship and in the spirit of Filipino bayanihan, which involves working together to reach a common goal. It is equality, generosity and fellowship."
Now in Season - Australian grapes, pears and stonefruit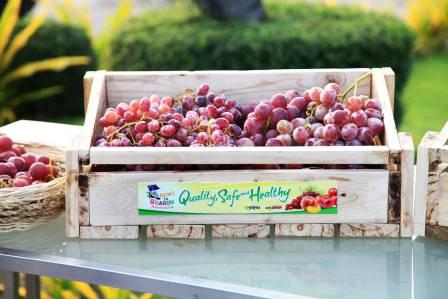 "With the growing awareness and demand for healthy and clean food options, more and more people are looking to Australia as a source of high quality, healthy and safe produce", said Ambassador Tweddell, "Australian farms enjoy a pristine growing environment and a clean environment ensures the freshest and best quality products." [More...]
ANZAC Day 2015 Centenary Commemoration in Manila – 25 April 2015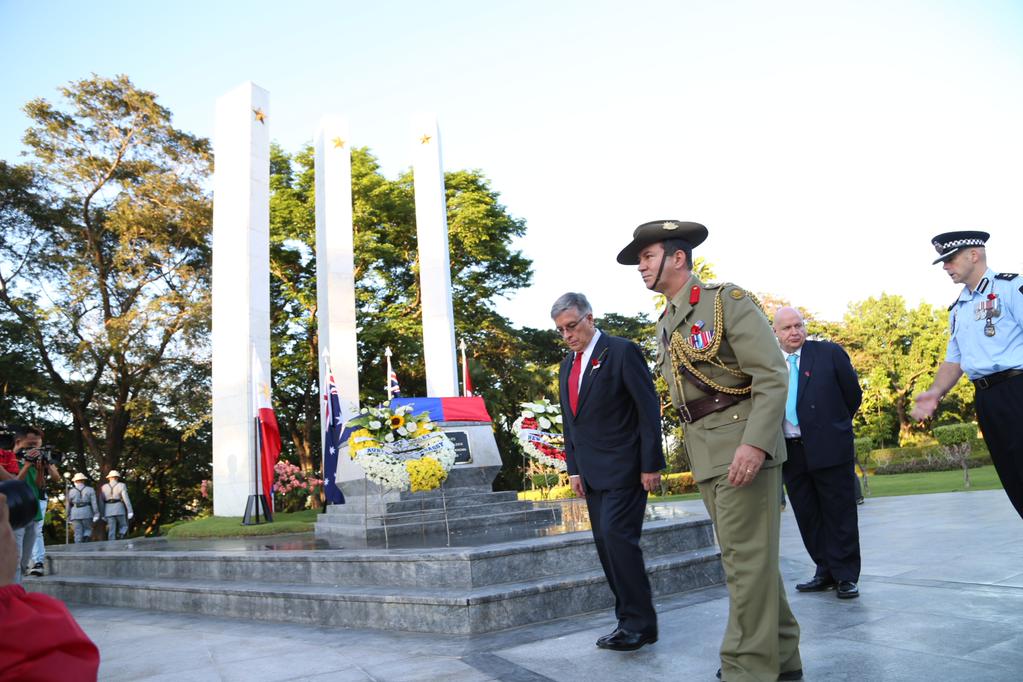 On Saturday 25 April 2015 the Australian and New Zealand Embassies in Manila will jointly host the Centenary of ANZAC Day Dawn Service ceremony, at the Libingan ng mga Bayani (Tomb of the Unknown Soldier), Fort Bonifacio, Makati City, Metro Manila. The Dawn Service will commence at 5:30am. [More...]
Top Australian university QUT strengthens academic partnership with Philippine universities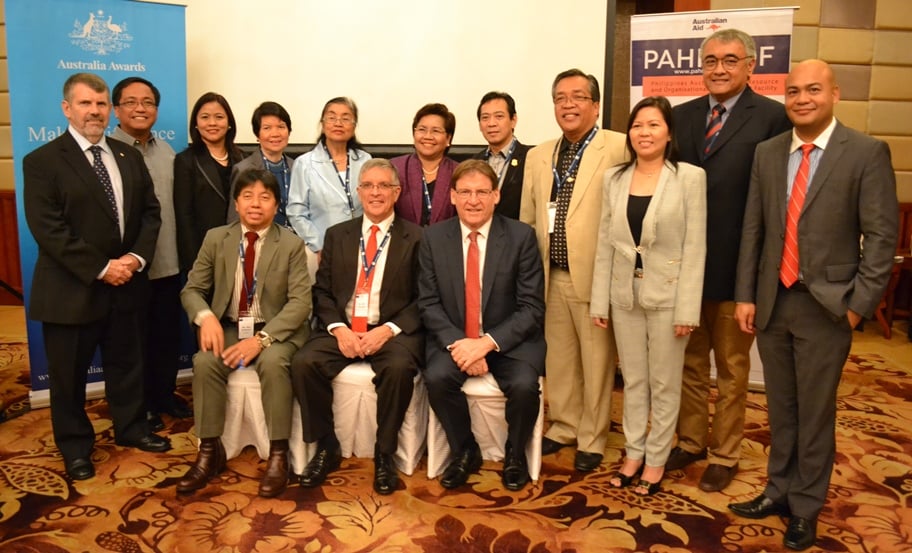 One of Australia's leading universities, Queensland University of Technology (QUT) has signed partnership agreements with nine Philippine universities to formalise an already transformative collaboration on the field of education, particularly in teacher training, educational leadership, curriculum and research capacity development. [More...]
Australian Defence Minister announces the gifting of two Landing Craft Heavy (LCH) to the Philippines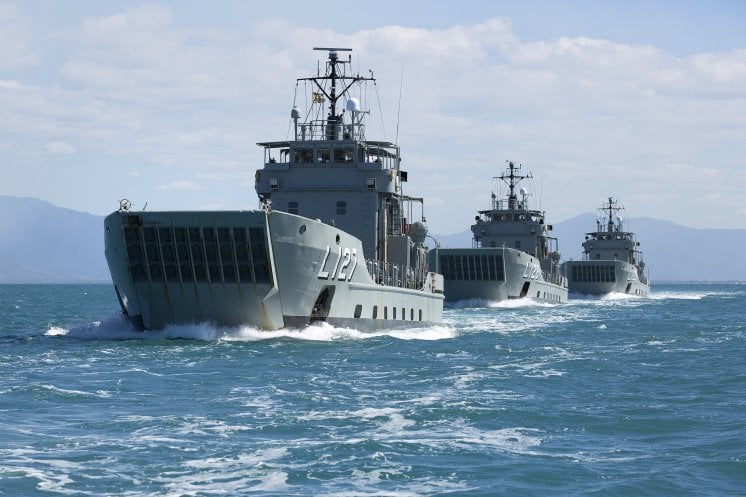 The Australian Government will gift two recently-decommissioned Landing Craft Heavy vessels, including a package of spare parts, to the Philippines Government, the Minister for Defence, Kevin Andrews, announced today. [More...]
Australian and Philippine universities forge academic collaboration to boost human resource management
Two high-quality Australian and Philippine universities will offer innovative study and exchange opportunities for outstanding Filipino undergraduate and graduate students through a new academic collaboration between the University of Newcastle (Australia) and De La Salle University (Philippines), under the Australia Awards Scholarships institutional partnership framework. [More...]
Australia provides further support to the Philippines after Typhoon Hagupit
Australia is saddened by the loss of life and damage to infrastructure in the Philippines due to Typhoon Hagupit, locally known as Ruby. In response to the Government's call to mobilise in-country resources, the Australian Government will provide further support to communities affected by the typhoon, delivered through our prepositioned stores with the United Nations Population Fund and the Philippine Red Cross. [More...]

---
Australia provides further support for recovery and reconstruction following Yolanda
Australia is providing a further Php292 million (A$7.3 million) to support the massive ongoing recovery and reconstruction activities in areas hit by Typhoon Yolanda in November last year. The additional contribution will be provided through the Resilience and Preparedness towards Inclusive Development (RAPID) Program jointly implemented by the Government of the Philippines through the Climate Change Commission, the United Nations Development Program, and the Australian Government. [More...]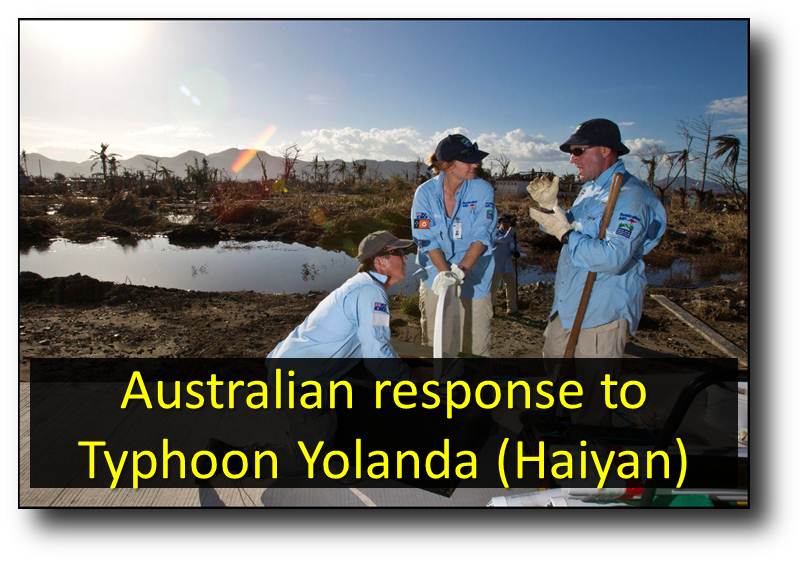 Typhoon Yolanda (international name: Haiyan) is estimated to be the strongest typhoon to make landfall in history. Its scale is immense; more than 13 million people have been affected and an estimated 4 million people have been displaced. Those who survived remain in need of food, shelter and health care.
Get the latest updates on Australian assistance to the people and communities affected by the typhoon here.
---
---
AUSTRADE