INAUGURAL PHILIPPINES-AUSTRALIA FRIENDSHIP DAY
Did you know? The Australia Global Alumni was a driving force behind the proclamation of the Philippines-Australia Friendship Day.
So come be part of the first official celebration of the friendship day on Saturday, 20 May 2017 at the Bonifacio High Street Ampitheatre in Taguig City. Sign up!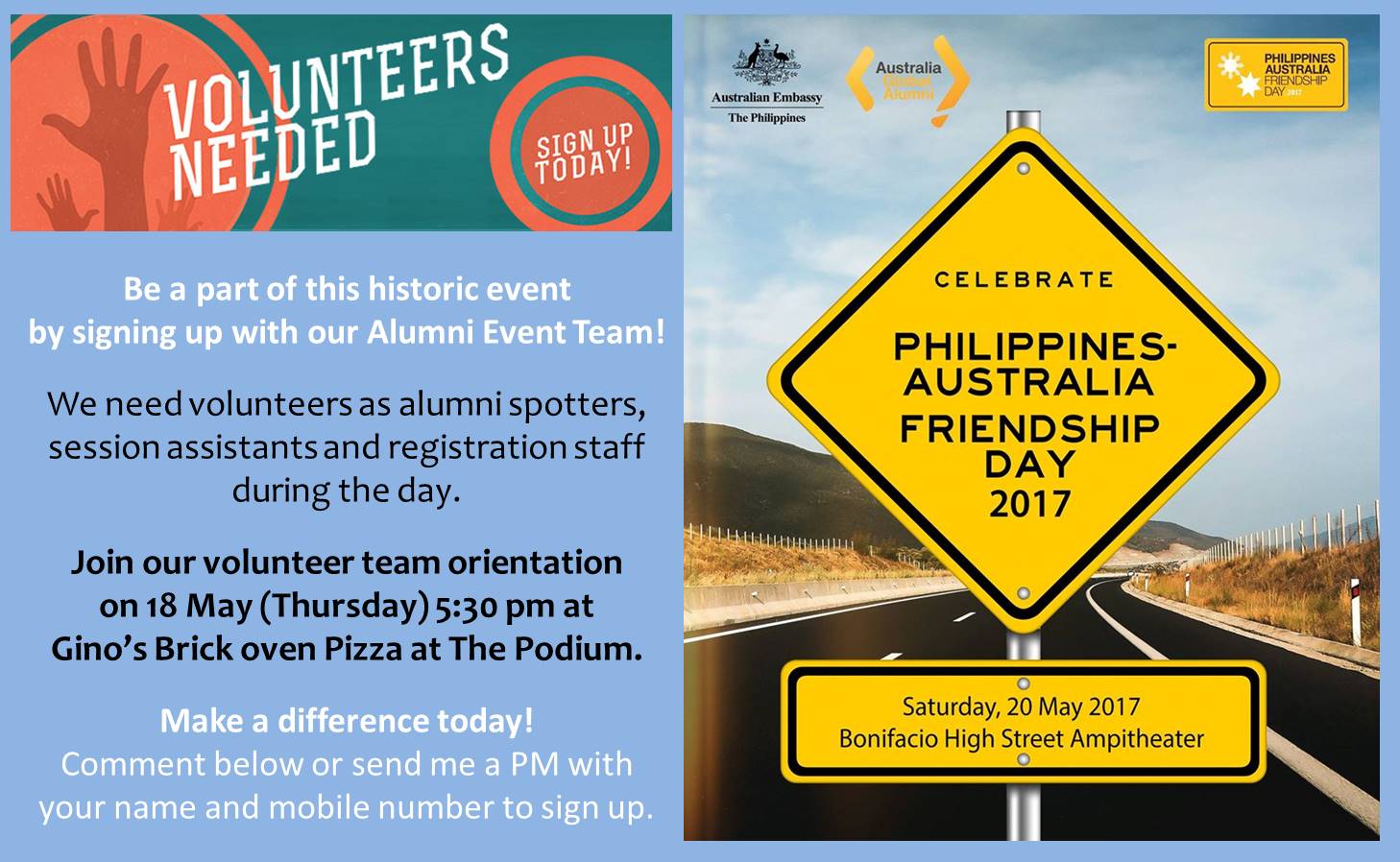 Come and reconnect with the larger Australian and alumni communities. Network and collaborate. Learn and share. Contact your Alumni Affairs Manager by email.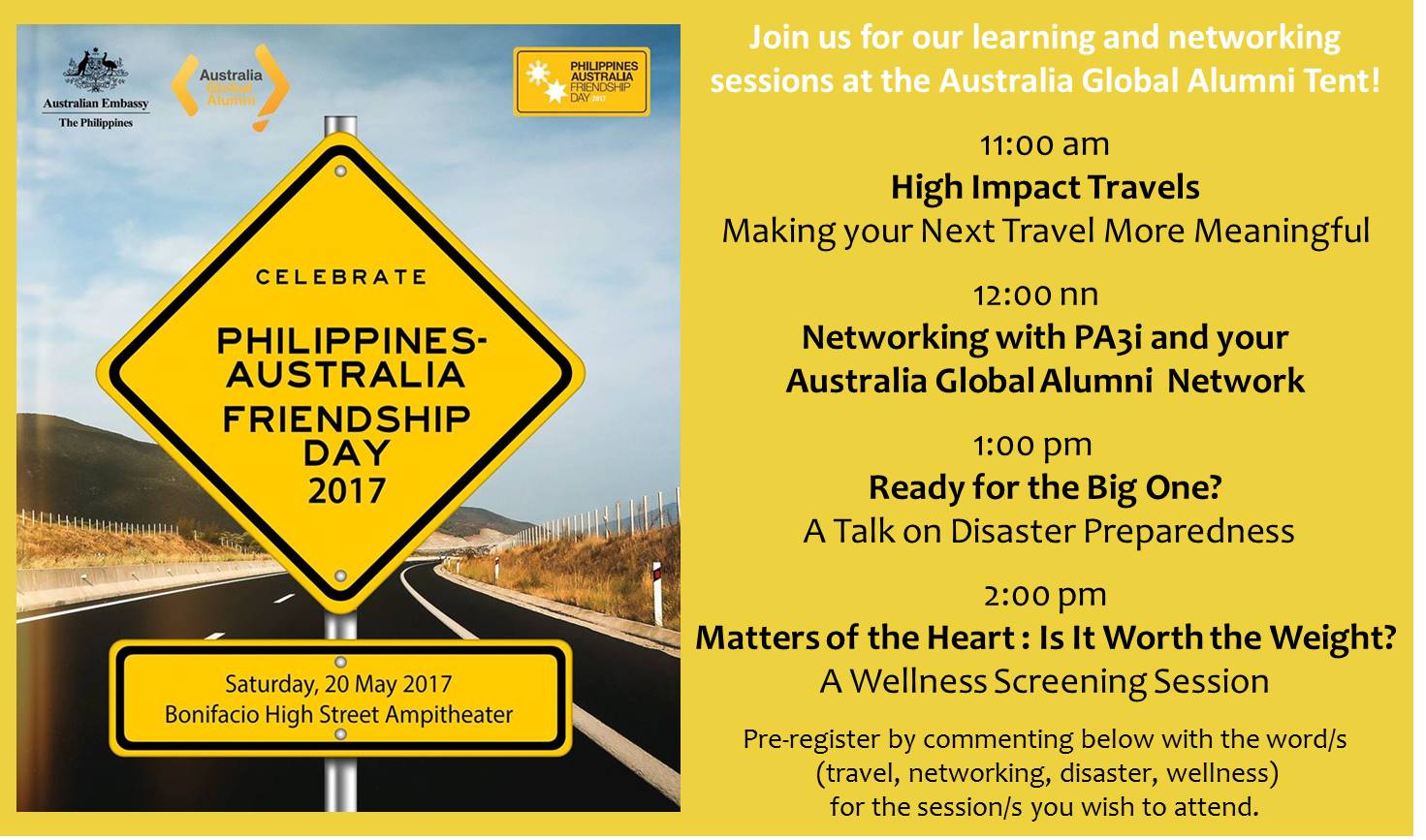 2017 AUSTRALIAN ALUMNI EXCELLENCE AWARDS
The Australian Embassy in the Philippines will honour the achievements of high performing Australian Alumni through the Australian Alumni Excellence Awards.
The Australian Alumni Excellence Awards will recognise alumni leaders who have used their Australian education to make positive contributions in their profession, industry, community or country through leadership and innovation.
The Australian Embassy will host a reception to congratulate the awardees and feature awardees on the Australia global alumni website.
The Australian Alumni Excellence Awards will:
recognise the significant contributions of alumni in their professional fields, industry and communities;
showcase the impact of an Australian education in fostering innovation and the pursuit of excellence;
inspire other alumni to create a significant impact in their organisation, community and country;
foster and strengthen people-to-people links between Australia and the Philippines; and
raise the profile of awardees, open wider opportunities for international engagement and expand their professional network globally.
Australian Alumni Excellence Award Categories
The Australian Alumni Excellence Awards recognise achievements in three categories, namely:
Alumni of the Year
Excellence in Innovation Award
Young Achievers Award
Who is eligible?
The Australian Alumni Excellence Awards are open to all Filipinos who have graduated from a recognised Australian educational institution or Registered Training Organisation (RTO). This includes participants in short-term courses.
All alumni except past winners may apply or be nominated.
How to apply?
Applications may be done through self-nomination or third-party nomination.
If you are an alumni, we encourage you to apply for an Excellence Award or nominate alumni who you think meet the qualifications and deserve recognition for their outstanding achievements.
We also encourage nominations from Australian educational institutions, employers, industry colleagues and community members.
All applicants must complete and submit an Australian Alumni Excellence Awards Nomination Form online.
Only one nomination per individual in each award category will be considered.
To support the nomination, we require evidence such as:
Nomination Form
Curriculum Vitae
Personal stories (experience of studying in Australia and how this has contributed to achievements)
Soft copy of award or certificates of achievement
List and contact details of individuals, organisations or institutions who have benchmarked against nominee's best practices
Links to research publications, news articles, multimedia/AV content, project websites
All applications or nominations for the 2017 Australian Alumni Excellence Awards should be submitted on or before 8 May 2017. All applicants and nominees will be notified of their nomination in writing by 15 May 2017.
Selection Criteria
Alumni of the Year
Demonstrated visionary leadership and best practice at a local or international level; and
Evidence of outstanding contribution to and recognition by their profession or industry.
Excellence in Innovation Award
Demonstrated innovation in their field or industry. This can include: creation of a successful enterprise or project; creative new ideas, designs or products for industry or government; or innovative research findings.
Evidence of outstanding contribution to and recognition by their profession or industry.
Young Achievers Award
Demonstrated excellent achievements and/or contribution in their chosen field that shows initiative and innovation;
At the time of application/nomination is aged 35 years or less; and
Has commendable aspirations and shows great potential to create future impact.
Other considerations:
The selection panel may also consider:
Degree of difficulty of the achievement and efforts invested;
Achievements as an individual or as part of a group or organisation; and
Magnitude and significance of impacts.
Selection Process
Nominations/applications will be accepted online until 8 May 2017. Shortlisted nominations will be evaluated based on the criteria given by a selection panel composed of an Embassy representative, notable alumni and a distinguished independent leader in the industry/community. Finalists may be called in for an interview, if deemed necessary.
Winners will be recognised and awarded at a Reception to be hosted by the Australian Ambassador in June 2017.

Philippine Australian Alumni Association, Inc (PA3i)
The Philippine Australian Alumni Association, Inc is a non-political, non-profit corporation organised for the purpose of fostering camaraderie among its members and through its activities promoting mutual understanding between Australia and the Philippines. The association provides a framework that supports business networking and socialising among alumni of Australian education and training institutes.

Membership is open to all Philippine-based individuals, regardless of citizenship, who have participated in either short or long term courses at an Australian education institution. Any Filipino citizen who has earned a certificate or diploma from an Australian training or educational institution is qualified to be a member.

For further information about the Philippine Australian Alumni Association, Inc and their activities, please call the Secretariat at 638-9686 loc 128 or visit their website at www.pa3i.org.ph