WELCOME TO THE AUSTRALIAN EMBASSY IN THE PHILIPPINES WEBSITE
Latest news
Visit of the Australian Ambassador for Counter-Terrorism
Australia's Ambassador for Counter-Terrorism, Paul Foley PSM, visited the Philippines 16 to 18 April to underscore the importance placed by Australia on its security partnership with the Philippines.
Philippines Hosts Bilateral Legal Consultations with Australia
The Philippines and Australia conducted Bilateral Legal Consultations at the Diamond Hotel in Manila on 13 March.
The legal consultations provided a platform for the Philippines' Department of Foreign Affairs (DFA) and Australia's Department of Foreign Affairs and Trade to exchange views on international law issues and share best practices, while exploring areas of possible collaboration. The talks were hosted by the DFA Office of Legal Affairs in close coordination with the DFA Office of Asia and Pacific Affairs.
Australian Ambassador Amanda Gorely Hands Over Zamboanga Recovery Project Housing and Livelihood Assistance to Beneficiaries
Zamboanga City - Australian Ambassador to the Philippines Amanda Gorely today led the ceremonial handover of housing and livelihood support to families affected by the 2013 Zamboanga crisis marking the completion of the Zamboanga Recovery Project. The Australian Government provided PHP 102 million (AUD 3 million) grant for the Zamboanga Recovery Project, a three-year project that addressed the long-term needs for the poorest and most vulnerable families displaced by the crisis.
Australia, ARMM roll out PHP3.6 billion education program in Mindanao
The Autonomous Region in Muslim Mindanao (ARMM) has rolled out its P3.6 billion Education Pathways to Peace in Mindanao (Pathways), a program funded by the Australian Government. Pathways is a nine-year program designed to improve the delivery of basic education and contribute to peacebuilding in the ARMM.
Australia, PPP-NEDA Ink Deal on Specialised Public Private Partnership (PPP) Scholarships
The Public-Private Partnership Center of the Philippines and Carnegie Mellon University in Australia (CMU-A) signed a Memorandum of Understanding (MOU) for Philippine government officials to pursue Masters of Science in Public Policy and Management and specialised courses on Public-Private Partnerships (PPP) at Carnegie Mellon University in Australia.
Australia and WFP Provide school meals to 50,000 Marawi school children
The Australian Government has provided PHP42.7 million (AUD1.1 million) to the United Nations World Food Programme (WFP) to support the Philippine Government's response to the Marawi crisis.

Minister for Foreign Affairs - Media Release - Humanitarian assistance for Mt Mayon evacuees
Australia will provide up to $775,000 in assistance through the Philippines Red Cross to help 30,000 people living in evacuation centres access tarpaulins, sleeping mats, blankets, mosquito nets, jerry cans and hygiene supplies.
Minister for Foreign Affairs - Media Release -Humanitarian assistance to The Philippines
Australia is providing $645,000 in assistance to help 25,000 people in urgent need. Our assistance will support the provision of tarpaulins, blankets, mosquito nets, hygiene items and jerry cans, through our partnership with the Philippine Red Cross, which is working closely with the Philippine Government.
Australian Prime Minister Turnbull gifts prepositioned relief stores to DSWD
Australian Prime Minister, the Hon Malcolm Turnbull MP, announced the gifting of PHP60 million (AUD1.5 million) worth of prepositioned relief supplies and associated funds to the Department of Social Welfare and Development (DSWD) during his visit to the National Resource Operations Centre (NROC) on 13 November 2017. "We have helped the people of the Philippines with the war in Marawi, now we're determined to help you win the peace, and that's our commitment," Australian Prime Minister Malcolm Turnbull said. Read more.
Philippine President Visits Australia's Largest Navy Ship
Philippine President Rodrigo Roa Duterte visited the HMAS Adelaide, the largest ship ever built for the Royal Australian Navy (RAN). Welcoming the President on arrival were Australian Ambassador Amanda Gorely, Australian Chief of Defence Mark Binskin and Commander Joint Task Group, Indo-Pacific Endeavour 2017, Captain Jonathan Earley (RAN). Read more here.
Spotlight
Your Australia Awards journey begins here.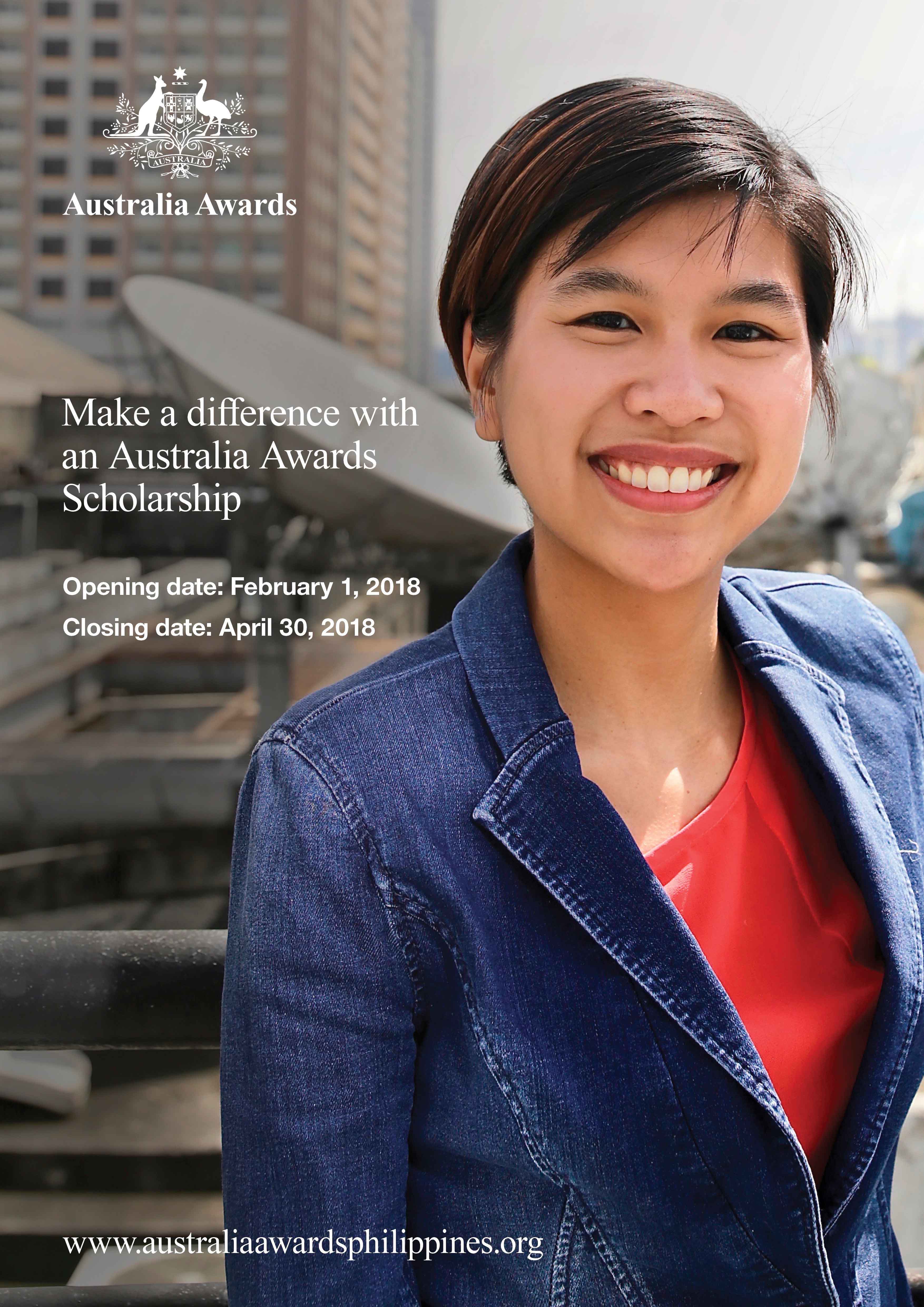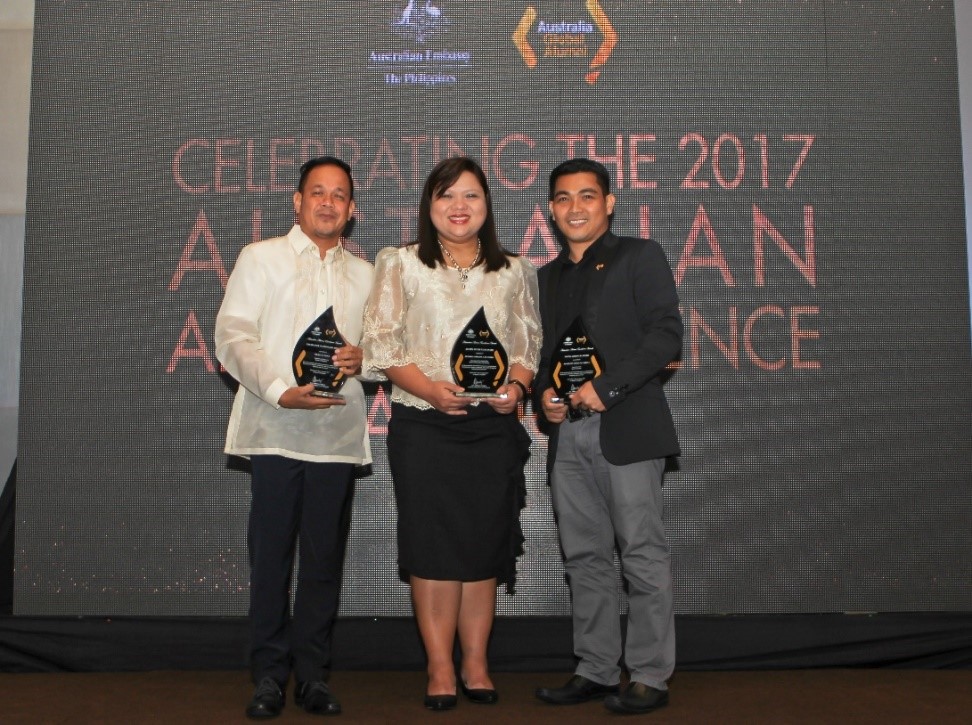 Nominations for the 2018 Australian Alumni Excellence Awards are now open. The awards recognise and celebrate the achievements of outstanding Australian-educated Filipinos in their field, industry or community. Thousands of Filipinos have completed undergraduate and postgraduate programs in Australia since the 1950s, and the Australian Alumni Excellence awards sets out to acknowledge their successes. Learn more.
Food Diplomacy
Ambassador Amanda Gorely and ANC's Annalisa Burgos discuss strong Australia-Philippines bilateral relationship over a meal of Aussie-inspired dishes.
ACIAR in the Philippines
Find out how ACIAR's project in the Visayas is bringing together researchers and farming communities to increase productivity, improve livelihoods and protect the environment.