WELCOME TO THE AUSTRALIAN EMBASSY IN THE PHILIPPINES WEBSITE
The Australian federal election will be held on Saturday 2 July 2016. It is now too late to enrol to vote for this election.
Online applications for a postal vote (for those already registered to vote) are available on the AEC website at www.aec.gov.au. Your application for a postal vote must be received by the AEC by 29 June 2016.

Early (in-person) voting will be offered at the Australian Embassy Manila from Monday 20 June 2016. Election arrangements including voting times are published on this page and updated regularly.

In the meantime, you can find information relating to being overseas at election time on the Australian Electoral Commission's website www.aec.gov.au.

Voting, Australian Embassy Hours of Operation:
In order to be granted access to the Embassy to vote in person you will need to bring your current Australian passport as identification. There are no exceptions to this policy.
Monday 20 June to Friday 24 June 9:00am – 3:00pm (closed for lunch 12:00-1:00pm)
Closed Sat 25 & Sun 26 June
Monday 27 June to Friday 1 July 9:00-3:00pm (closed for lunch 12:00-1:00pm)
Saturday 2 July ELECTION DAY 9:00-3:00pm
Contact Number: +632 7578100
Message from the Ambassador

Mabuhay!

Welcome to the official website of the Australian Embassy in Manila. I am honored to take up my role as Australia's Ambassador to the Philippines in 2016 coinciding with the 70th anniversary of our bilateral relationship.

Our ties were forged during WWII when over 4,000 Australian service personnel fought alongside Filipino forces. The breadth of our modern relationship is reflected in the Joint Declaration on Australia-Philippines Comprehensive Partnership signed by Prime Minister Turnbull and President Aquino in November 2015. The Philippines is an important partner for Australia in Southeast Asia and we cooperate closely on a range of global and regional issues.

Our extensive trade and investment links are growing. I am heartened by our warm people to people bonds and have met some of the 10,000 Filipino students studying in Australia each year. Our defence forces and law enforcement agencies enjoy extensive cooperation. Australia's development assistance to the Philippines is focused on economic growth, education, social protection and, where necessary, humanitarian assistance.

The Embassy also provides consular and passport services to Australian citizens living in or visiting the Philippines.

My mission in the Philippines is to represent modern Australia - our vibrant democracy, Indigenous heritage, multicultural society and robust, open economy. If you'd like to keep up to date on Australia's activities in the Philippines then like our Facebook Page and follow me on Twitter @AusAmbPH. Look out for our events to mark the 70th anniversary.

Come along and Say Gday!
Amanda Gorely
Australian Ambassador to the Philippines
Spotlight
Philippine Presidential Proclamation No 1282, Series 2016 declared 22 May 2016 and each year after as Philippines-Australia Friendship Day!
Find out more about the commemoration of 70 years of formal bilateral relations here.
#First70Years on Social Media
Our social media community also joined the celebration through the official #First70Years campaign.
The anniversary celebration has received support online with messages from Australia and the Philippines flooding the Australian Ambassador's Twitter account.
Hundreds of friends also adopted the #First70Years Twibbon to show their support to the anniversary celebration.
#First70Years helped unite Filipinos and Australians on social media in celebrating our deep links, our strong friendship, and our hopes for a prosperous future.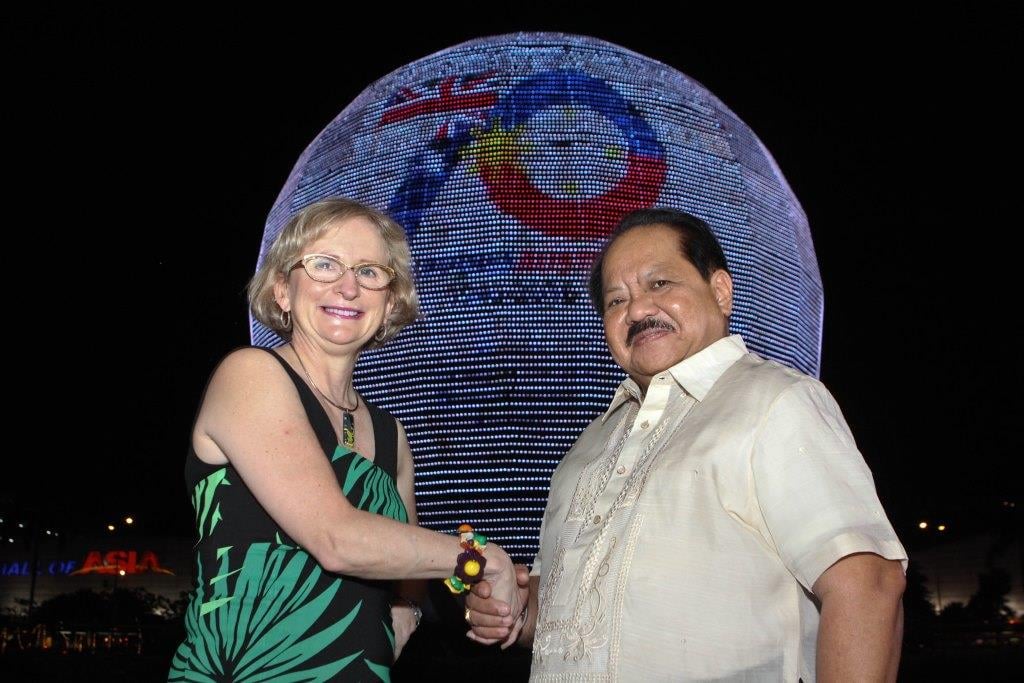 On the eve of the anniversary, Ambassador Gorely and National Historical Commission of the Philippines Executive Director Vic Badoy witnessed the commemorative light up of the SM Mall of Asia (MoA) Globe with the 70th Anniversary Philippines-Australia Friendship logo. The globe also projected images of partnership between the two countries.