WELCOME TO THE AUSTRALIAN EMBASSY IN THE PHILIPPINES WEBSITE
Message from the Ambassador

Mabuhay!

Welcome to the official website of the Australian Embassy in Manila. I am honored to take up my role as Australia's Ambassador to the Philippines in 2016 coinciding with the 70th anniversary of our diplomatic relationship.

Our ties were forged during WWII when over 4,000 Australian service personnel fought alongside Filipino forces. The breadth of our modern relationship is reflected in the Joint Declaration on Australia-Philippines Comprehensive Partnership signed by Prime Minister Turnbull and President Aquino in November 2015. The Philippines is an important partner for Australia in Southeast Asia and we cooperate closely on a range of global and regional issues.

Our extensive trade and investment links are growing. I am heartened by our warm people to people bonds and have met some of the 10,000 Filipino students studying in Australia each year. Our defence forces and law enforcement agencies enjoy extensive cooperation. Australia's development assistance to the Philippines is focused on economic growth, education, social protection and, where necessary, humanitarian assistance.

The Embassy also provides consular and passport services to Australian citizens living in or visiting the Philippines.

My mission in the Philippines is to represent modern Australia - our vibrant democracy, Indigenous heritage, multicultural society and robust, open economy. If you'd like to keep up to date on Australia's activities in the Philippines then like our Facebook Page and follow me on Twitter @AusAmbPH. Look out for our events to mark the 70th anniversary.

Come along and Say Gday!
Amanda Gorely
Australian Ambassador to the Philippines
Request for Quote - Preventive Maintenance And Minor Repair Services For Leased Residential Properties
The Australian Embassy in the Philippines invites property management / facility management companies to submit a quote to provide preventive maintenance and minor repair services for the Embassy's leased residential properties located in Makati City and Taguig City.
Click here for further details
Latest news
Australia supports Philippines Business Coalition for Women's Empowerment
Seven large corporations employing a total of 300,000 Filipinos have formed a new coalition to ensure gender equality within their businesses.
Australia's Foreign Minister, The Hon Julie Bishop MP, led the launch of the Philippines Business Coalition for Women's Empowerment (PBCWE) during her high profile visit to Manila on 16 March.
Australian Ambassador to the Philippines, Amanda Gorely, who welcomed the Minister, said, "We are very pleased that Minister Bishop was able to launch this key initiative during her visit to the Philippines. She is at the forefront of, and driving change, in Australia and the globe on empowering girls and women."

Promoting Peace and Stability Through Education in Southern Philippines

Davao City – Australian Foreign Minister Julie Bishop MP today announced Australia's new flagship education initiative in southern Philippines, Education Pathways to Peace in Mindanao ('PATHWAYS').

Australian Embassy, PRFU Youth Rugby Partnership: Scoring Goals for Gender and Development
The Australian Embassy leads a program handover ceremony to the Philippine Rugby Football Union (PRFU) on 9 March 2017 as part of its International Women's Day Celebration.
Australian Ambassador Amanda Gorely, together with PRFU Managing Director Matt Cullen, Senior Development Officer Rose Lanticse, and athletes of the Lady Volcanoes graced the event.
"Australia is pleased to support the PRFU in its 'Touch Rugby: A Sport For All' program that encourages young men and women to get active in sports," Ambassador Gorely said.

Tender – Trade and Inclusive Economic Growth Facility Philippines
DFAT has a Request for Tender (RFT) for the provision of Trade and Inclusive Economic Growth Facility Philippines. The goal of the Facility is to support the Philippines in building the foundations for sustained and inclusive economic growth. Read more.

Australia hands over permanent homes to 45 families in Tulungatung, Zamboanga City
Zamboanga City - Australian Embassy Deputy Head of Mission Mat Kimberley and Zamboanga City Mayor Beng Climaco today led the handover of permanent homes to 45 families in Barangay Tulungatung under the Zamboanga Recovery Project (ZRP). Steven Muncy, Executive Director of the Community and Family Services International (CFSI) and Matt MacGarry, Country Representative of the Catholic Relief Services (CRS) joined in the handover.

Celebrating Australia in Davao
Australian Ambassador Amanda Gorely is in Davao City to lead the launch of "Australia in Davao" promotions. The Australian Embassy collaborated with partners in Davao to offer a series of events to celebrate the longstanding partnership with Mindanao, and with the city of Davao.

Remarks by Foreign Minister Julie Bishop, MP on US – Australia Dialogue on Cooperation in the Indo-Pacific

In a keynote speech on Australia Day, the Minister for Foreign Affairs, the Hon Julie Bishop, highlighted ASEAN's role as the geographic and diplomatic centre of the Indo-Pacific. The speech underlines Australia's commitment to ASEAN, the countries of South-East Asia, and the ASEAN-led architecture.

Secretary Taguiwalo, Ambassador Gorely Inaugurate Australia-Supported DSWD Relief Goods Warehouse in Pasay City

Department of Social Welfare and Development Secretary Judy Taguiwalo and Australian Ambassador Amanda Gorely launched an enhanced humanitarian capacity of DSWD through the new Australian-funded warehouse at the DSWD National Relief Operations Center in Pasay City on 29 November 2016.
Spotlight
Australia Alumni Excellence Awards Deadline Extended
Nominations to the Australian Alumni Excellence Awards will be accepted until 23 June 2017. Know more about the awards and submit your nominations online at www.australiaawardsphilippines.org/alumni .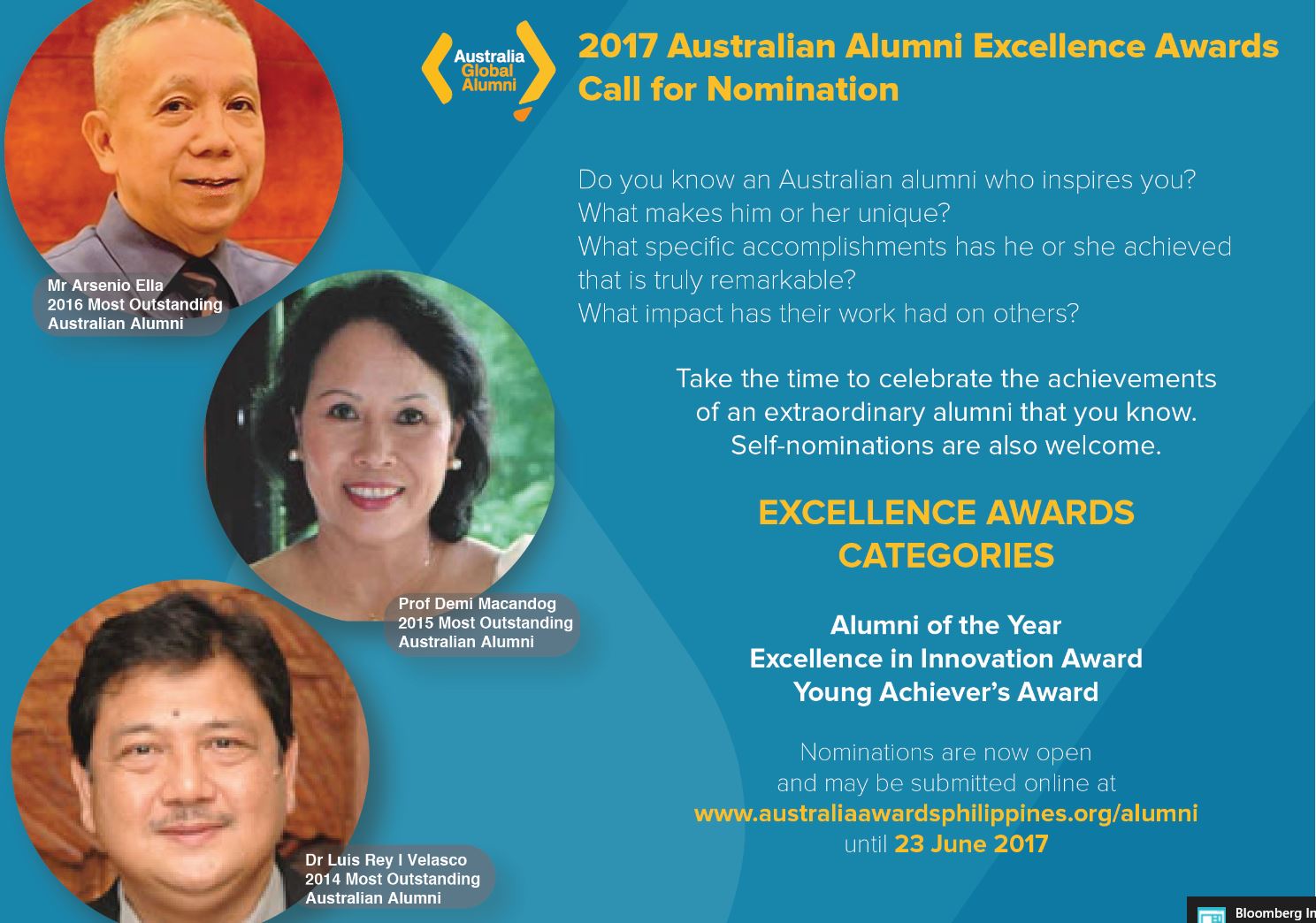 22 May is Philippine-Australia Friendship Day
Philippine Presidential Proclamation No 1282, Series 2016 declared 22 May 2016 and each year after as Philippines-Australia Friendship Day!
Find out more about the commemoration of 70 years of friendship here.